$350k Settlement Paid to Assistant Principal Who Was Demoted after Pregnancy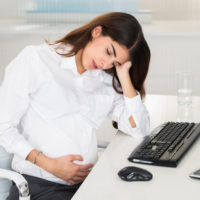 The Equal Employment Opportunity Commission (EEOC) has recently settled a lawsuit against the Palm Beach County School Board based on an employee's claim of pregnancy discrimination and retaliation. The discrimination victim, Anne Williams Dorsey, will receive $350,000 from the school board as settlement of her discrimination claims.
Dorsey had been an assistant principal at Turning Points Academy in 2010 when she informed her boss, principal Darren Edgecomb, that she was attempting to get pregnant. While Dorsey was in the hospital giving birth to her twin children, she was informed that she had been demoted and replaced by a younger man she had previously trained. She would later discover that her hours were slashed and her pay cut by $15,000 a year. When Dorsey asked Edgecomb why she had been demoted, she alleges that he explained he would be more comfortable with a man as assistant principal.
Dorsey reported the incident of discrimination to the Miami field office of the EEOC, which determined that there was reasonable cause to conclude that Dorsey had been the victim of illegal discrimination. Under the Pregnancy Discrimination Act of Title VII of the Civil Rights Act, employers are prohibited from committing discrimination against employees on the basis of pregnancy. Pregnancy discrimination is a subset of sex discrimination under the law. Vanita Gupta, the head of the Justice Department's Civil Rights division, said, "Federal law requires employers to maintain a workplace free of sex­based discrimination of any kind. No employee should be punished at work for the decision to start a family."
When the school district refused to resolve the dispute with the EEOC, the Department of Justice filed a lawsuit against the school district in May of 2016. The school board recently agreed to settle the lawsuit for $350,000 without admitting wrongdoing, stating that it was doing so "to avoid the burdens and risks of protracted litigation." The school board has also agreed to allow the Department of Justice to review its anti-discrimination, anti-harassment, and anti-retaliation policies, and has indicated that it now plans to include pregnancy as a protected class within its policies. Dorsey's $350,000 settlement includes $67,000 for back pay and $283,000 in damages.
If you have been the victim of retaliation, harassment, or illegal discrimination on the job in Florida, find out if you have a claim for money damages by contacting the experienced and aggressive Ocala employment discrimination attorney James P. Tarquin for a consultation, at 352-401-7671.