Are At-Will Employees Protected From Employment Discrimination?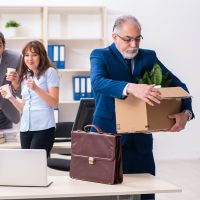 Having battled against employers who engage in discriminatory employment practices for more than two decades, our employment lawyers in Marion County, Florida know that many employees mistakenly believe that at will-employees are not protected from employment discrimination. This misperception is perpetuated and exploited by employers who routinely use at-will employment to deceive vulnerable employees. Employer deception regarding employment at-will employment often occurs in the context of employee termination.
When informing employees of their termination, many employers refuse to give employees a reason for firing them. When employees ask for the reason, employers tell employees they do not have to give at-will employees a reason for firing them and at-will employees can be fired for any reason. When referencing at-will employment like an employer-friendly judge in the termination context, employers are deceiving employees by creating the false impression that at-will employees have no legal protection against being fired. What employers never tell at-will employees in the termination context, however, is that they cannot be fired for an unlawful reason, such as a discriminatory or retaliatory reason. Even employer-friendly courts that seemingly derive immense satisfaction in sacrificing employees at the alter of at-will employment must acknowledge, as the court in Abel v. Dubberly, 210 F.3d 1334 (11th Cir. 2000) did, that "an employer may fire an employee for a good reason, a bad reason, a reason based on erroneous facts, or for no reason at all, as long as its action is not for a discriminatory reason."
In this article, our employment lawyers in Marion County, Florida explain how the decision in Deets v. Massman Construction Company,811 F.3d 978 (7th Cir. 2016) demonstrates that at-will employees are protected from employment discrimination and cannot be terminated for a discriminatory reason.
Employment Discrimination Lawsuit
In that case, a man named Deets brought an employment discrimination claim against his former employer consisting of three construction companies operating as a joint venture, Massman Construction Company, Taylor Brothers, Inc., and Alberici Constructors, Inc. ("MTA"), pursuant to Title VII of the Civil Rights Act of 1964 ("Title VII"). Deets claims that MTA laid him off because of his race in violation of Title VII.
In May 2012, MTA hired Deets, a member of the Illinois' operators' union, after the union had referred him as an oiler for a Manitowac crane on a federally assisted project to build a bridge. As an oiler, Deets was responsible for fueling, oiling, and greasing the crane and ensuring that it operated safely. Later that month, Deets was laid off because of a lack of work. He was the recalled later than month. On June 20, Deets was reassigned to work on a Liebherr crane, but by early July it became apparent that the Liebherr crane was going to go out of service because of insufficient materials. In anticipation of the shutdown, Todt, the project superintendent, asked Deets if he was interested in filling in for the Tower crane oiler who would be going on vacation in two weeks. On July 5, Deets moved over to the Tower crane. The Liebherr crane continued to operate on July 5 and 6, and then went out of service.
On July 17, the day before the Tower crane oiler was set to return, Deets claims that he was approached by Todt, who allegedly told Deets that he was being laid off at the end of the day. When Deets asked for a reason, Deets alleges that Todt told him "my minority numbers aren't right. I'm supposed to have 13.9 percent minorities on this job and I've only got 8 percent." That same day, a crane operator on the project swore in an affidavit, Todt told him that he "would have to terminate Deets' 40-hour minimum workweek because there was insufficient number of non-white workers at the worksite."
After he was laid off on July 17, Deets continued to rotate through a series of short-term assignments, being laid off and recalled, until he was terminated from the project in December 2012. The result of his July 17 layoff, Deets claims, was a drastic reduction in his work hours.
At-Will Employees Protected From Discrimination
The trial court dismissed Deets' race discrimination claim. The U.S. Seventh Circuit Court of Appeals reversed the trial court's dismissal and reinstated Deets' race discrimination claim. In reversing the trial court's decision, the appellate court declared that it was "puzzled" by MTA's argument that "the motivation behind Deets' layoff was immaterial because he was not entitled to work on the Liebherr crane when it went back into service." The court of appeals noted that "the parties do not dispute that Deets lost seniority on that machine when it went out of service." However, the appellate court pointed out, "just because Deets was not entitled to that position does not permit MTA to lay him off because of his race." Rather, the Seventh Circuit explained, "Title VII applies even to at-will employment and does not permit an employer to fail to hire or to fire workers based on race."
Marion County, FL Employment Lawyers
Based in Ocala, Florida and representing workers throughout Florida, our employment attorneys in Marion County, Florida have dedicated their practice to fighting for the rights of employment discrimination victims. If an employer has refused to give you a reason for termination or you have questions about your employee rights under federal employment discrimination law, please contact our office for a free consultation with our employment lawyers in Marion County, Florida. Our employee rights law firm takes employment discrimination cases on a contingency fee basis. This means that there are no attorney's fees incurred unless there is a recovery and our attorney's fees come solely from the monetary award that you recover.