Are Negative Performance Reviews Evidence Of A Retaliatory Termination?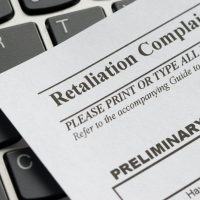 For more than two decades, our Marion County, Florida employment lawyers have fought for the rights of retaliation victims. Through their substantial experience litigating workplace retaliation cases, our Ocala, Florida employment attorneys know that a tactic commonly used by employers when targeting employees who complain about workplace discrimination for termination is to give them to an undeserved negative performance review. Having deliberately created a false, if not a fraudulent, negative performance review, the employer then uses the negative performance review to justify the employee's termination. Unfortunately, this employer tactic is particularly effective with employer-friendly courts, who point to the negative performance review as evidence of a pattern of performance or behavior problems which ultimately culminated in the employee's legitimate, non-retaliatory termination. In this article, our Marion County, Florida employment lawyers explain how the decision in Kirkland v. Cablevision Systems,  760 F.3d 223 (2d Cir. 2014) illustrates that some courts are unwilling to clothe negative performance reviews with a presumption of legitimacy and recognize that negative performance reviews are often the manufactured product of an employer's retaliatory animus.
Retaliatory Discharge Lawsuit
In that case, a man named Kirkland brought a retaliatory discharge case against his former employer, Cablevision Systems (Cablevision), pursuant to Title VII of the Civil Rights Act of 1964 (Title VII). Title VII prohibits employers from discriminating against employees because of race. To protect racial discrimination victims, Title VII also contains an anti-retaliation provision. Under Title VII, employers are prohibited from retaliation against employees for complaining about perceived racial discrimination in the workplace.
Kirkland, who is African-American, alleges that he was treated differently and less favorably from white employees. Kirkland further alleges that whenever he complained to his supervisor or human resources personnel about the racial discrimination, he was subjected to retaliation, through unsatisfactory performance evaluations and, ultimately, the termination of his employment.
For example, Kirkland was given an unsatisfactory annual performance evaluation for 2004. Kirkland maintains that the unsatisfactory performance rating was given to him in retaliation for complaining to his supervisor about racial discrimination because throughout the review period he was never informed his performance was not meeting requirements, and on several occasions, during the year, his supervisor had complimented his work. Likewise, Kirkland received an overall rating of "needs improvement" in his annual performance evaluation for 2007. Kirkland contends that since his supervisor never advised him during the review period that he was not meeting expectations, the annual performance evaluation was another act of retaliation directed at him for complaining about race discrimination in the workplace. Based on the negative performance evaluation for 2007, Kirkland was administered a "final written warning." After Kirkland complained that he was subjected to the final written warning because of his race, the final written warning was rescinded and replaced with a note in Kirkland's personnel file.
In November 2008, Kirkland lodged a complaint with the human resources department about the perceived racially discriminatory treatment he had experienced during his employment. On December 3, 2008, Kirkland's employment was terminated. When asked the reason for the termination, the human resources representative replied only that "the company has decided to end its employment relationship" with Kirkland.
Retaliatory Negative Performance Reviews
During the litigation, Cablevision asserted that Kirkland was fired because of an unsatisfactory work performance. Cablevision further claimed that Kirkland failed to improve his work performance after being counseled by his supervisors and human resources personnel. Adopting Cablevision's rationale for Kirkland's termination, the trial court dismissed Kirkland's retaliatory discharge claim. On appeal, the U.S. Second Circuit Court of Appeals reversed the trial court's dismissal and reinstated Kirkland's retaliatory discharge claim.
In reversing the trial court, the Second Circuit found that the trial court had ignored evidence establishing that Cablevision's justifications for firing Kirkland were a pretext for retaliation. Unlike the trial court, the appellate court observed that Kirkland "swore" that is supervisor and a human resources manager "falsified and back-dated documents that they used to support Kirkland's poor performance reviews" to cover up the real reason for firing him. The court of appeals found that Kirkland's claim was "made plausible" by testimony from the individual hired to replace Kirkland that Kirkland's supervisor had asked her to gather "negative information" on Kirkland "right after" Cablevision learned that Kirkland had sued. Kirkland's replacement further testified that when she told Kirkland's supervisor that she "didn't have that information for him," the supervisor turned against her.
Based on this evidence, the Second Circuit concluded, a jury could reasonably find that Kirkland was subjected to negative performance reviews and ultimately fired in retaliation for complaining about race discrimination.
Free Consultation For Retaliation Victims
One of the most critical decisions workplace retaliation victims must make is which employment law attorneys to consult with regarding their employee rights. As part of our law firm's dedication to helping retaliation victims, an experienced employment law attorney will speak with you personally and you will receive the individualized attention your case deserves. We offer free confidential case evaluations for employees, and you will not have to pay to speak with our employment law attorneys regarding your employee rights. We are available for consultation at your convenience, including scheduling telephone consultations for evenings and weekends.
Marion County, FL Employment Lawyers
Based in Ocala, Florida and representing workers throughout Florida, our employment attorneys in Marion County, Florida have dedicated their practice to fighting for employee rights. If you have been retaliated against for complaining about workplace discrimination or have questions about your rights as a victim of workplace retaliation, please contact our office for a free consultation with our employment lawyers in Marion County, Florida. Our employee rights law firm takes workplace retaliation cases on a contingency fee basis. This means that there are no attorney's fees incurred unless there is a recovery and our attorney's fees come solely from the monetary award that you recover.