Are Remarks Reflecting Age-Based Stereotypes Evidence Of Age Discrimination?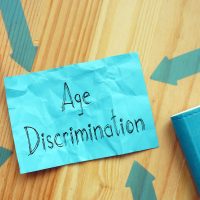 For more than twenty years, our Citrus County, Florida wrongful termination lawyers have fought for the rights of age discrimination victims. Through their decades of experience representing age discrimination victims, our Inverness, Florida wrongful termination attorneys know that older workers are frequently targeted for termination based on age-based stereotypes. For example, older workers are often subjected to comments about their inability to adapt or change, perceived lack of motivation or ambition, alleged declining productivity, or inability to use or understand new technologies. In far too many cases, employers use age-based stereotypes to justify the termination of older employees.
In Hazen Paper Co. v. Biggins,  507 U.S. 604 (1993), the U.S. Supreme Court observed that "it is the very essence of age discrimination for an older employee to be fired because the employer believes that productivity and competence decline with age." In passing the Age Discrimination in Employment Act (ADEA), Congress intended to protect older employees from adverse employment actions resulting from age-based stereotypes. As the U.S. Supreme Court in Western Air Lines, Inc. v. Criswell,  472 U.S. 400 (1985) explained, the ADEA mandates that "employers are to evaluate older employees on their merits and not their age."
In this article, our Citrus County, Florida wrongful termination lawyers explain how the decision in Smith v. M & M Management Co., Case No. 17-cv-7978 (D. N.J. March 28, 2019) illustrates that older employees can use remarks reflecting age-based stereotypes to prove they were fired because of age in violation of the ADEA.
Employee Claims Fired Because Of Age
In that case, a man named Smith brought an employment discrimination lawsuit against his former employer, M & M Management Co. (M & M), pursuant to the ADEA. Smith claims that he was fired because of his age in violation of the ADEA. Smith was fifty-seven years old when his employment was terminated.
M & M owns and operates thrift stores around the county. Every M & M store employs a fleet of truck drivers to collect donated customer goods for resale. In 1994, M & M hired Smith as a truck driver for its store in Trenton, New Jersey. In early 2013, Smith was promoted to the position of Transportation Supervisor. In this position, Smith was supervised by M & M's National Supervisor, a man named Tucker.
In October 2015, Tucker terminated Smith's employment. M & M maintains that Smith was fired due to poor performance and use of profane language towards a supervisor. Smith contends that approximately five weeks prior to his termination, Tucker made comments to him suggesting that he was incapable of using and understanding new technologies being implemented at M & M and referring to him as a "dinosaur." The "dinosaur" remark, according to Smith, reflected that Tucker believed he "was too old to comprehend the new technologies." Tucker denies he referred to Smith as a dinosaur at any time during Smith's employment with M & M.
Smith further claims Tucker "was making the job difficult" by increasing his workload. Smith contends that Tucker "brought somebody in that was younger" and told Smith that the younger employee was "there to help" him. Smith maintains Tucker used this arrangement to have him train the younger employee "to replace" him. Following Smith's termination, the younger employee assumed Smith's job as Transportation Supervisor on an interim basis.
"Dinosaur" Comment Reflects Age Discrimination
M & M filed a motion with the trial court seeking dismissal of Smith's discriminatory discharge claim. In support of its motion for dismissal, M & M argued that the evidence established that Smith was fired for legitimate, non-discriminatory reasons and not because of his age. The trial court denied M & M's motion for dismissal and ruled that Smith had presented sufficient evidence to proceed to a jury trial on the issue of whether he was fired because of his age in violation of the ADEA.
In denying M & M's motion for dismissal, the trial court focused on the age-based stereotyped remark allegedly made by Tucker to Smith. The trial court found that Tucker's alleged "dinosaur" comment "demonstrates antagonism towards Smith." The significance of this "antagonism" was heightened, the trial court reasoned, because Tucker's comment was made "in relation to Smith's job function merely weeks before Smith's termination." Tucker's antagonism towards Smith, the trial court observed, was evidence that M & M "acted with discriminatory animus" when deciding to terminate Smith's employment. The trial court also pointed out that a supervisor's discriminatory remarks are "relevant to demonstrate the culture of a work environment in which employment decisions are made, and as such, may be used to build a circumstantial case of discrimination." Based on this evidence, the trial court found that a reasonable jury could conclude that the proffered reasons for Smith's termination were merely a pretext for age discrimination and that Smith's age was the real reason for his termination.
Citrus County, FL Wrongful Discharge Lawyers
Based in Ocala, Florida and representing workers throughout Florida, our wrongful termination attorneys in Citrus County, Florida have fought for the rights of employees for more than twenty years. If you have been wrongfully fired or have questions about your rights as a wrongful termination victim, please contact our office for a free consultation with our wrongful termination lawyers in Citrus County, Florida. Our employee rights law firm takes wrongful termination cases on a contingency fee basis. This means that there are no attorney's fees incurred unless there is a recovery and our attorney's fees come solely from the monetary award that you recover.