Are Workers Protected From Religious Discrimination By Members Of Their Own Religion?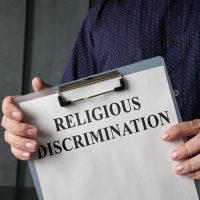 Having fought for the rights of employment discrimination victims for more than two decades, our employment lawyers in Citrus County know that a common employment law myth is that employees cannot be discriminated against on the basis of religion by members of their own religion. Based on this employment law myth, our employment attorneys in Inverness, Florida have learned, employers routinely argue that employees cannot be unlawfully terminated on the basis of religion when the decisionmaker is a member of their religion. In this article, our employment lawyers in Citrus County explain how the decision in Feingold v. New York, 366 F.3d 138 (2d Cir. 2004) demonstrates that employees are protected from religious discrimination by members of their own religion and that employees can still prove a religious discrimination claim when they are fired by a member of their own religion.
Employment Discrimination Lawsuit
In that case, a man named Feingold brought an employment discrimination case against his former employer, the New York State Department of Motor Vehicles (DMV), pursuant to Title VII of the Civil Rights Act of 1964 (Title VII). Title VII protects employees from discrimination on the basis of religion. Feingold, who is Jewish, claims that he was fired because of his religion in violation of Title VII.
Feingold was employed by the DMV as an Administrative Law Judge (ALJ). Feingold worked in the Manhattan North Office (MNO) of the Traffic Violations Bureau. Feingold claims that the MNO was permeated with anti-Semitic hostility. Feingold says that, rather than addressing him by his own name, other ALJ's would call him by other "Jewish sounding" names, often in a negative tone. Feingold also alleges that persons having business with the DMV were regularly categorized by one ALJ as "Jewish" or "not Jewish" and that this same ALJ referred to him as Jewish. Feingold further alleges that this same ALJ treated Jewish lawyers representing parties differently from non-Jewish lawyers, remarking at least once, "Can you believe it, I got me a Jewish lawyer. I didn't' even know he was Jewish."
Employee Fired By Member Of Same Religion
Feingold asserts that he complained about religious-based discrimination to his supervisor, Schulgasser. Feingold claims that Schulgasser admitted that Schulgasser himself had experienced anti-Semitism at the MNO, and that he advised Feingold to "sit tight" until a transfer could be arranged. Finally, Feingold alleges that, when the conversation concluded, Schulgasser indicated that he should keep quiet, saying "Oh, and Larry, we never had that conversation, keep that in mind."
While in a hearing room to prepare to adjudicate a contested traffic violation, Feingold realized that he had left his judge's stamp in another room. He told the witnesses, a police officer and a motorist, to wait while he retrieved it. When he returned, the police officer was no longer present because the officer had decided to move his car. Upon discovering that the police officer had left without permission, Feingold entered verdicts of "not guilty" on the charges against the next two motorists on the docket because both cases required testimony from the absent officer. The DMV claims that during this proceeding, Feingold stated that "they need to be taught a lesson," indicting that the "not guilty" verdicts were designed to "teach" the police officer. After the hearing, Feingold went to the judge's library. A pane in the library's glass-paned door shattered after he let go of the door. The parties dispute whether the shattering was Feingold's fault.
Less than a week later, Schulgasser met with Feingold and told him that his conduct was serious and that Schulgasser was recommending Feingold's termination. Feingold responded by complaining about discrimination. The next day, Feingold was terminated.
Religious Discrimination Can Still Occur
The trial court dismissed Feingold's claim that he was fired on the basis of religion in violation of Title VII. In dismissing Feingold's claim, the trial court reasoned that because the decision to terminate Feingold was made by Schulgasser, who like Feingold is Jewish, Feingold could not prove that he was fired because of his religion. In other words, the trial court believed an employee cannot be discriminated against on the basis of religion by a member of his own religion and, thus, Feingold could not establish that Schulgasser fired Feingold because of Feingold's religion. On appeal, the U.S. Second Circuit Court of Appeals reversed the trial court's decision and reinstated Feingold's discriminatory discharge claim.
The Second Circuit emphatically rejected the trial court's "suggestion that an inference of discrimination cannot be drawn because Feingold was fired by another" another Jewish individual. Unlike the reversed trial court, the appellate court accounted for binding precedent and noted that the "Supreme Court has rejected any conclusive presumption that an employer or, presumably, his agents will not discriminate against members of their own race or gender." Indeed, the Supreme Court explained in Oncale v. Sundowner Offshore Servs., Inc., 523 U.S. 75 (1998) that "because of the many facets of human motivation, it would be unwise to presume as a matter of law that human beings of one definable group will not discriminate against other members of their group." Applying Supreme Court precedent to the facts of the case, the Second Circuit concluded that "it is no more reasonable to presume that individuals will not discriminate against practitioners of their own religious faith."
Employment Lawyers In Citrus County
Based in Ocala, Florida and representing employees throughout Florida, our employment attorneys in Citrus County, Florida have dedicated their practice to fighting for the rights of employment discrimination victims. If you are an employment discrimination victim or have questions about whether you have been unlawfully discriminated against in violation of federal employment discrimination law, please contact our office for a free consultation with our employment lawyers in Citrus County, Florida. Our employee rights law firm takes employment discrimination cases on a contingency fee basis. This means that there are no attorney's fees incurred unless there is a recovery and our attorney's fees come solely from the monetary award that you recover.