Both Men And Women Are Protected From Sexual Harassment At Work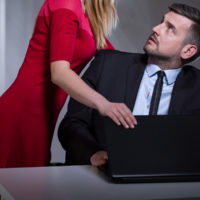 Title VII of the Civil Rights Act of 1964 (Title VII) makes sexual harassment which is sufficiently severe or pervasive to alter the terms and conditions of the victim's employment and create a hostile work environment unlawful. Having litigated sexual harassment cases for more than 15 years, our Central Florida sexual harassment attorneys have learned that a common myth associated with sexual harassment is that women are allowed to engage in sexual behavior towards men in the workplace. The decision by U.S. District Court for the Eastern District of New York in Garcia v. College of Staten Island, 2015 WL 1273468 (E.D. N.Y. Jan. 6, 2015) illustrates that men are protected from sexual harassment by women.
Alleged Harasser Claims She Can Because She Is A Woman
In that case, John Garcia (Garcia), a campus peace officer at the College of Staten Island, one of the constituent senior colleges of the City of New York (CUNY), brought claims against CUNY for sexual harassment and retaliation in violation of Title VII. Garcia's sexual harassment claim was based on the behavior of a female co-worker. Garcia alleged that the co-worker made sexually explicit verbal comments and physical gestures towards him, including rubbing her breast on his shoulder and neck. Garcia claimed that when he told the co-worker to stop it because it was sexual harassment, the co-worker stated, "I can do it because I'm a woman." Garcia alleged that the co-worker then proceeded to make "sexual pumping motions" while holding his body.
After the co-worker's alleged behavior occurred, Garcia claimed that he made a sexual harassment complaint to the Associate Director of Human Resources. Approximately three weeks after he reported the co-worker's behavior to the Associate Director of Human Resources, Garcia purportedly made offensive and insubordinate comments about the Vice-President of CUNY and other officers assigned to the Public Safety Office. That same day, CUNY commenced an investigation regarding Garcia's alleged behavior. During the course of the investigation, Garcia claimed that the co-worker told him that she was testifying against him because of his sexual harassment complaint. At the conclusion of the investigation, CUNY found that the allegations against Garcia were substantiated and suspended Garcia for 30 days without pay. 
CUNY filed a motion with the trial court seeking dismissal of Garcia's sexual harassment and retaliation claims. In doing so, CUNY asked the trial court to find that Garcia's claims failed as a matter of law and Garcia was not entitled to a jury trial. The trial court denied CUNY's motion for dismissal and found that Garcia's claims must be resolved by a jury.
Employer Did Nothing About The Harassment
In denying CUNY's attempt to dismiss Garcia's sexual harassment claim, the trial court observed that while isolated incidents of physical contact with the victim "constitute close questions" as to a work environment is sufficiently hostile to get the case to a jury, courts have nonetheless held that "even a single episode of harassment can establish a hostile work environment if the incident is sufficiently severe." The trial court determined that a reasonable jury could find that the co-worker's alleged behavior was sufficiently severe or pervasive to alter the conditions of Garcia's employment and create an abusive working environment. 
The trial court further found that Garcia had produced sufficient evidence establishing that CUNY could be held liable for the hostile work environment sexual harassment. The trial court determined that a reasonable jury could find that the Associate Director of Human Resources "had actual knowledge of the sexual harassment, and as Associate Director of [Human Resources], was charged with a duty to act on this knowledge and stop the alleged harassment, which she failed to do." Thus, the trial court held, there was a "sufficient basis upon which a reasonable jury could impute liability to [CUNY], because [it] knew of the harassment but did nothing about it."
Consult With Central Florida Sexual Harassment Lawyers 
Based in Ocala, Florida and representing employees throughout Central Florida, we have substantial experience representing employees who have been the victim of sexual harassment in the workplace. If you have been the victim of sexual harassment or have questions about your rights as a sexual harassment victim, please contact our office for a free consultation with our Ocala hostile work environment harassment attorneys. Our employee rights law firm takes sexual harassment cases on a contingency fee basis. This means that there are no attorney's fees incurred unless there is a recovery and our attorney's fees come solely from the monetary award that you recover.