Can An Employer Discourage An Employee From Taking FMLA Leave?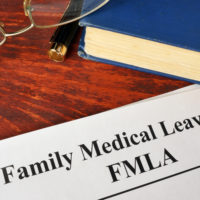 The Family Medical Leave Act requires employers to provide eligible employees a total of 12 weeks of leave during any 12-month period because of a serious health condition that makes the employee unable to perform the functions of the employee's position. The FMLA also requires employers to provide eligible employees with up to 12 weeks of leave because of the birth of a child and to care for a newborn child. An employee who takes FMLA leave is entitled to be restored to the same position or an equivalent position, with equivalent pay, benefits, and working conditions, upon returning from leave.
The two types of claims available under the FMLA are interference and retaliation claims. In an interference claim, the employee is claiming that the employer denied or otherwise interfered with his or her substantive rights under the FMLA. For example, the employee claims that the employer denied his or her request for FMLA qualifying leave. In an interference claim, the employee is claiming that the employer discriminated or retaliated against him or her for exercising FMLA rights. For example, the employee claims that he or she was fired in retaliation for taking an FMLA leave.
Scope Of FMLA Interference Claim
The FMLA prohibits employers from interfering with, restraining, or denying the exercise or attempts to exercise any rights protected by the FMLA. Under the FMLA, interference includes refusing to authorize FMLA leave, discouraging the use of FMLA leave, manipulation to avoid responsibilities under the FMLA, and changing the essential functions of the employee's job in order to prevent the taking of leave. To establish an FMLA interference claim, the employee must demonstrate that he or she was denied a benefit to which he or she was entitled to under the FMLA. If an employer interferes with an FMLA right, a deprivation of the right constitutes an FMLA violation regardless of the employer's intent. In other words, as explained by the U.S. Eleventh Circuit Court of Appeals in Strickland v. Water Works & Sewer Bd. of City of Birmingham, 239 F.3d 1199 (11th Cir. 2001), an employee is not required to prove that the employer intended to deny him or her an FMLA right because "the employer's motives are irrelevant" under an interference claim. "An interference action is not about discrimination," the Strickland court observed, "it is only about whether the employer provided the employee with the entitlements guaranteed by the FMLA."
Consequences Of Discouraging The Use Of FMLA Leave
In Evans v. Books-A-Million, 762 Fed.3d 1288 (11th Cir. 2014), the Eleventh Circuit addressed the consequences under the FMLA when an employer discourages an employee from taking FMLA leave. In that case, Tondalaya Evans (Evans) was employed by Books-A-Million (BAM) as a Payroll and Insurance Manager. Evans became pregnant and notified BAM that she wanted to take a FMLA maternity leave. Although Evans told her supervisor on several occasions that she intended not work after the birth of her child, Evans' supervisor told her that that she "really needed" Evans to continue to work on the implementation of a new payroll system. Evans' supervisor also notified Evans that she and other supervisors had decided that Evans would not go on leave but would work while on maternity leave. Evans was given a new laptop computer that would enable her to work from home after her delivery. Based on such circumstances, Evans believed she had "no choice" but to continue to work from home after the birth of her child.
After arriving home from the hospital after giving birth, Evans began immediately answering work-related calls from BAM employees. For a two-month period, Evans was required to work nearly full-time from home and, on some occasions, for more than 8 hours per day. During this period, Evans' supervisor also required Evans to attend meetings at BAM's offices. Evans was paid her full salary while she worked from home.
During this two-month period, Evans' supervisor expressed anger and frustration about the purported lack of progress in implementing the new payroll system. When Evans returned to work at BAM's office after working from home for two months, Evans was reassigned from her position as Payroll and Insurance Manager to a newly-created position, Risk Manager, because Evans' supervisor was unsatisfied with her performance in implementing the new payroll system. The Risk Manager position did not enable Evans to use her 10 years of experience in payroll management and involved travel despite her need to care for her newborn child. Several months later, Evans was formally reassigned to the Risk Manager position. Evans did not accept the Risk Manager position and was terminated for her refusal.
Although the trial court found that BAM interfered with Evans' FMLA rights by discouraging her from taking maternity leave, the trial court nonetheless dismissed Evans' FMLA interference claim on grounds that she did not suffer any "legal damages" because she was paid for her work. In reversing the trial court's decision and reinstating Evans' FMLA interference claim, the Eleventh Circuit recognized that the FMLA affords an employee a broad range of remedies when an employer interferes with his or her FMLA rights.
At the outset of its opinion, the Eleventh Circuit explained that an employee is only required to prove that he or she was "prejudiced" any FMLA violation when brining an FMLA interference claim. When an employee establishes the requisite prejudice or harm as a result of an FMLA violation, the FMLA provides for two categories of remedies: (1) damages, including compensation, benefits, and other monetary losses sustained by reason of the FMLA violation; and (2) equitable relief, including employment, reinstatement, promotion, and front pay. Turning to Evans' FMLA interference claim, the Court stated that "[i]t seems plain to us that if an employer coerces an employee to work during her intended FMLA leave period and, subsequently, reassigns her based upon her allegedly poor performance during that period, the employee may well have been harmed by the employer's FMLA violation." The court further explained that the prejudice or harm suffered by Evans could be remedied by reinstatement or front pay.
Evans illustrates that employers are prohibited from discouraging or coercing an employee from taking FMLA entitled leave. Evans also establishes that such discouragement or coercion may violate the FMLA even when the employee "consents" to continuing to work instead of taking FMLA leave. Evans further establishes that if an employee is prejudiced or harmed by the employer's discouraging or concerning him or her from taking FMLA leave, the employee is entitled to monetary damages or equitable relief.
Consultation With Employment Law Attorney
We have extensive experience representing employees who have been the victims of interference with their FMLA rights or retaliation for exercising their FMLA rights. If you believe that your FMLA rights have been interfered with or you have been retaliated against for exercising your FMLA rights, please contact our office for a free consultation.