Can Company Stockholders Sue Corporate Executives For Sexually Harassing Employees?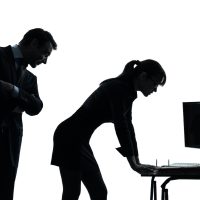 For more than two decades, our Citrus County employment lawyers have fought for the rights of sexual harassment victims. Through their extensive experience handling sexual harassment cases, our Inverness, Florida employment attorneys know that corporate executives who engage in sexual harassment are rarely punished. In the vast majority of cases, sexual harassment complaints against corporate executives are subjected to deliberate indifference. Even when sexual harassment complaints against corporate executives are investigated, the investigations are often an effort to whitewash the accused corporate executive or designed to reach a predetermined finding that no sexual harassment occurred. In this article, our Citrus County employment attorneys explain how the decision in In re McDonald's Stockholder Derivative Litigation, 2023 WL 387292 (Del. Ch. Jan. 26, 2023) demonstrates that company stockholders can hold corporate executives personally liable for subjecting employees to sexual harassment.
Stockholders Fight Sexual Harassment
In that case, stockholders of McDonald's Corporation (McDonald's) brought a derivative lawsuit on the company's behalf against a man named Fairhurst. Fairhurst served as Executive Vice President and Global Chief People Officer of McDonald's from 2015 until his termination with cause in 2019. In that position, Fairhurst was the executive officer with day-to-day responsibility for ensuring that the company provided its employees with a safe and respectful workplace. The stockholders claim that Fairhurst breached his duty of loyalty to the company by engaging personally in acts of sexual harassment.
During the year after Fairhurst took over as Global Chief People Officer, McDonald's began to face increasing public scrutiny about problems with sexual harassment and misconduct. In October 2016, more than a dozen McDonald's employees from restaurants across the nation filed complaints with the U.S. Equal Employment Opportunity Commission (EEOC) that contained disturbing allegations about sexual harassment and retaliation. In 2018, McDonald's faced another round of EEOC complaints, this time identifying both individual instances of misconduct and broader systemic issues throughout the company. Company employees claimed that the human resources department turned a blind eye to harassment.
Executive Officer Accused Of Sexual Harassment
In December 2018, the Board of Directors received reports that Fairhurst himself had committed acts of sexual harassment. During a company party in November 2018 for the human resources staff, Fairhurst allegedly pulled a female employee onto his lap. Over thirty company employees witnessed the incident, and several reported it to the Company's Compliance Department. The Compliance Department evaluated the reports and concluded that Fairhurst "put himself in a position inconsistent with the Company's Standards of Business Conduct."
On December 13, 2018, the Board's Audit & Finance Committee (Audit Committee) discussed Fairhurst's alleged misconduct. The CEO of McDonald's, Easterbrook, advised the Audit Committee that an employee described a prior incident of sexual harassment by Fairhurst in December 2016 that had not been reported to the Compliance Department.
The company ostensibly had a zero-tolerance policy for acts of sexual harassment. Under the company's policy, Fairhurst's actions allegedly qualified as sexual harassment. But Easterbrook recommended a deviation from the zero-tolerance policy. He proposed that Fairhurst's punishment should be "forfeiting 50% of his bonus payment for 2018" as well as "signing both an agreement regarding the conduct and a release." The Audit Committee approved Easterbrook's proposal. After the Audit Committee meeting, Easterbrook directed the Senior Vice President of Human Resources to inform "all participants in the event that management had appropriately addressed the issue."
"Last Chance" For Executive Officer
To document the arrangement with the company, Fairhurst executed a "Last Chance" letter. The Last Chance Letter stated that Fairhurst's actions violated the Company's Standards of Business Conduct and noted that the Fairhurst's alleged misconduct put the company "at significant risk." Despite those findings, Fairhurst continued to serve as the company's Global Chief People Officer.
In October 2019, the Board learned that Easterbrook was engaging in a prohibited relationship with an employee. That same month, the Board decided to negotiate a separation agreement with Easterbrook. During a meeting on November 1, 2019, the Board finalized the separation agreement and terminated Easterbrook without cause.
During the November 1, 2019 meeting, the Board also addressed "employment matters" related to Fairhurst. The Board terminated Fairhurst for cause. According to the trial court, "it is reasonable to infer at the pleading stage that Fairhurst engaged in an additional act of sexual harassment that violated the Last Chance Letter." Fairhurst subsequently entered into a separation agreement with the company, which documented that he would not be entitled to any severance pay or the payment of a bonus for 2018. In the agreement, Fairhurst purported to have tendered his resignation effective November 4, 2019.
Sexual Harassment Is Disloyal Conduct
Fairchild filed a motion with the trial court seeking dismissal of the claim by the stockholders that he violated his duty of loyalty to the company by personally engaging in acts of sexual harassment. The trial court denied Fairhurst's motion to dismiss and ruled that the stockholders had alleged sufficient facts to establish that Fairchild breached his duty of loyalty to the company by allegedly engaging personally in acts of sexual harassment.
At the outset of its decision, the trial court explained that corporate officers owe the corporation a "duty of loyalty," which "requires an undivided and unselfish loyalty to the corporation" and "demands that there shall be no conflict between duty and self-interest." To comply with the duty of loyalty, corporate officers "are not permitted to use their position of trust and confidence to further their private interests." When a corporate officer "intentionally acts with a purpose other than that of advancing the best interests of the corporation," the trial court pointed out, the corporate officer "acts in bad faith, which constitutes a breach of the duty of loyalty."
In applying these principles, the trial court determined that corporate officers "violate the duty of loyalty when they engage in harassment themselves." The trial reasoned that when a corporate officer engages in sexual harassment, the officer acts directly against the company's interest by harming an employee, jeopardizing the company's relationship with that employee and other employees, and subjecting the company to potential liability. In other words, the trial court explained: "Sexual harassment is bad faith conduct. Bad faith conduct is disloyal conduct. Disloyal conduct is actionable." Thus, when Fairhurst allegedly "engaged in sexual harassment, he was not acting to further the best interests" of McDonald's and his alleged sexual harassment constitutes a breach of the duty of loyalty.
Free Consultation For Harassment Victims
One of the most important decisions sexual harassment victims must make is which employment attorneys to consult with regarding their rights under federal employment discrimination law. As part of our dedication to helping sexual harassment victims, an experienced employment law attorney will speak with you personally and you will receive the individualized attention your case deserves. We offer free confidential case evaluations for employees, and you will not have to pay to speak with our sexual harassment attorneys regarding your rights. We are available for consultation at your convenience, including scheduling telephone consultations for evenings and weekends.
Citrus County, FL Employment Lawyers
Based in Ocala, Florida and representing workers throughout Florida, our employment attorneys in Citrus County, Florida have dedicated their practice to fighting for the rights of sexual harassment victims. If you have endured sexual harassment in the workplace or have questions about an employer's obligation to protect you from sexual harassment in the workplace, please contact our office for a free consultation with our employment lawyers in Citrus County, Florida. Our employee rights law firm takes sexual harassment cases on a contingency fee basis. This means that there are no attorney's fees incurred unless there is a recovery and our attorney's fees come solely from the monetary award that you recover.