Can Employment Discrimination Victims Be Forced To Take Leave After A Discrimination Complaint?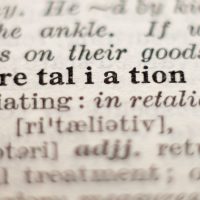 Throughout the past two decades, our Marion County, Florida employment lawyers have fought for the rights of employment discrimination victims. Through their extensive experience representing employment discrimination victims, our Ocala, Florida employment attorneys know that employees who complain about workplace discrimination are often targeted for retaliation. In the employment discrimination context, a common retaliatory tactic employers use is forcing employees who complain about workplace discrimination to take a leave of absence. When informing employees of the forced leave, employers will also explicitly or implicitly threaten their job, such as by stating or insinuating that the leave will be permanent if not taken or the failure to take the leave will be considered insubordination. In far too many cases, the employee's forced leave culminates shortly thereafter in the employee's termination. In this article, our Marion County, Florida employment attorneys explain how the alleged facts in Jacobsen v. Meron Medical, LLC, Case No. 20-cv-6357 (E.D. Pa. May 18, 2022) are illustrative of this employer tactic.
Workplace Retaliation Lawsuit
In that case, a woman named Jacobsen brought a retaliation lawsuit against her former employer, Meron Medical, LLC (Meron Medical), pursuant to Title VII of the Civil Rights Act of 1964 (Title VII). Title VII makes sexual harassment an unlawful employment practice. To protect sexual harassment victims, Title VII contains an anti-retaliation provision. Under Title VII, employees are protected from retaliation when they complain about perceived sexual harassment in the workplace. Jacobson claims that Meron Medical unlawfully retaliated against her in violation of Title VII by forcing her take leave and terminating her employment because she complained about sex-based harassment.
In the spring of 2016, Jacobsen began working for Meron Medical as an office manager. In early 2017, according to Jacobsen, a Meron Medical employee, Auon, began sexually harassing her in early 2017. Jacobsen claims that Auon's sexual harassment continued throughout 2018 and 2019. Auon's alleged sexual harassing behavior included: repeatedly prying into Jacobsen's dating life following her divorce; bragging in explicit terms about his own sexual exploits; telling Jacobsen that they would "hook up" if he was not married; making multiple sexual comments about Jacobsen's body; telling Jacobsen that women belong at home cooking meals; stating that women did not belong on the shop floor; and generally treating her with rudeness and disrespect because she is a woman.
Forced Leave Following Complaint
On September 16, 2019, Jacobsen lodged a written complaint with Meron Medical's president, Shegda, about Auon's sex-based harassing behavior. Shegda passed on Jacobsen's complaint to an HR specialist, Sargent. On September 20, 2019, an EEO specialist, Williams, documented a call between herself and Sargent wherein Sargent told her that Shegda was leaving the country and that Jacobsen was causing so much chaos that he wanted her to go out on two-week paid leave while he was gone.
On September 23, 2019, Shegda had a conversation with Jacobsen and Sargent in which he forced Jacobsen to take a paid, two-week leave of absence. Jacobsen claims that Shegda "outright" threated her job at his meeting by "insinuating that it could be a permanent leave if I didn't behave or if I didn't comply." Shegda testified that Jacobsen, rather than Auon, was put on leave because he needed a "physical separation" of the two employees and Auon's "skill set is very particular and pretty much irreplaceable."
In advance of Jacobsen's return to work from the two-week leave, Shegda and Sargent exchanged a series of texts discussing next steps. Sargent told Shegda that "there is a risk if you prevent return" to which Shegda responded, "At this point I am willing to risk. I cannot let this go on. I feel that she is going to sue me (or the company) whenever that day comes, it might as well be now." Shegda later stated that he understood the risk that Sargent mentioned to mean that if Jacobsen was not allowed to return to work, "the optics of that would be—could be interpreted as retaliatory."
On October 9, 2019, Jacobsen met with Shegda and Sargent, at which point they terminated her employment. Meron Medical contends that Jacobsen was fired because her position was eliminated due to an upcoming merger of Meron Medical with two other companies, which occurred in January 2020. Shegda testified that Jacobsen's position was eliminated because the "administrative end was overstaffed," Jacobsen's workload had been declining, and her role was "no longer needed."
Retaliatory Forced Leave & Discharge
Meron Medical filed a motion with the trial court seeking dismissal of Jacobsen's retaliation claim. In seeking dismissal, Meron Medical argued that the evidence established that Jacobsen was terminated for a legitimate, non-retaliatory reason—her position was eliminated—and not because she complained about sex-based harassment. The trial court denied Meron Medical's motion for dismissal and ruled that Jacobsen had presented sufficient evidence of retaliation to bring her case before a jury.
In denying Meron Medical's motion for dismissal, the trial court focused Jacobsen's forced leave. The trial court observed that three days after Jacobsen lodged her sex-based harassment complaint, "Shegda decided that he wanted [Jacobsen] to take two weeks paid leave because [she] 'is causing so much chaos he wanted to pay her for two weeks to stay home while he is out of the country.' " "Clearly," the trial court determined, "a reasonable juror could find that this forced leave was related to [Jacobsen's] complaint." Moreover, the trial court pointed out, when Jacobsen "protested and refused to take the leave, Shegda threatened her position."
Having found evidence of a retaliatory forced leave from work, the trial court also found there "is a wealth of evidence from which a reasonable fact finder could find that retaliation was the real reason" for Jacobsen's termination. The trial court pointed out that although Jacobsen was fired in September 2019, the merger did not take place until January 2020. When asked why Jacobsen could not have continued to work at Meron for the remainder of 2019, Shegda replied that, "the untenable situation that had been created was, you know, between with Meron Medical. Meron Medical was no longer able to function on an ongoing, you know, like in a viable way because of the turmoil caused by this." "A reasonable juror," the trial court concluded, "could interpret 'this' to refer to [Jacobsen's] complaint, thus indicating that her termination was in retaliation for her complaint." An interpretation, the trial court reasoned, "supported by the fact that no one else was terminated when Jacobsen was terminated."
Marion County, FL Employment Lawyers
Based in Ocala, Florida and representing workers throughout Florida, our employment attorneys in Marion County, Florida have litigated employment discrimination cases in Florida courts for more than two decades. If you have experienced workplace discrimination or have questions about your employee rights under federal employment discrimination law, please contact our office for a free consultation with our employment lawyers in Marion County, Florida. Our employee rights law firm takes employment discrimination cases on a contingency fee basis. This means that there are no attorney's fees incurred unless there is a recovery and our attorney's fees come solely from the monetary award that you recover.