Can Florida Workers Record a Conversation at Work?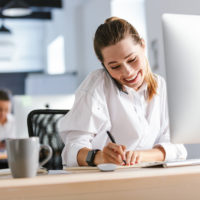 Having litigated employment harassment and discrimination cases for almost twenty years, our Citrus County, Florida employment law attorneys know that claims of workplace sexual harassment or discrimination can be tricky to prove without documentation, witnesses, and other evidence to back them up. If your employer seems to only make their discriminatory or harassing comments to you, with no one around, how can you prove discrimination or retaliation if something happens? One question that often arises: is it legal to record a conversation with my boss, and later use that evidence in court? Under the Florida recording law, the answer depends on the circumstances of the conversation.
Recording phone calls is generally illegal under Florida law
Florida has what is known as a "two-party consent" law for wiretapping. Under Fla. Stat. ch. 934.03, it is illegal to intercept or record a "wire, oral, or electronic communication" unless all parties to the communication consent. This means, as a general rule, you cannot record a phone conversation without everyone's consent, and doing so without consent can open you up to a civil lawsuit by the recorded party as well as possible criminal prosecution.
Recording a phone conversation to which you are a party should not, however, open you up to federal prosecution. The federal wiretapping law, 18 U.S.C. 2511, is "one-party consent," meaning you can record a phone conversation as long as at least one party to the conversation does consent. This means you can record your own conversations but not secretly tape other conversations in which you are not involved.
Recording conversations is allowed if there's no expectation of privacy
Whether the Florida statute prohibiting recording conversations applies depends on whether the person has a reasonable expectation of privacy. If the conversation happens in a public place where the person could reasonably be overheard, such as a common area in the workplace, then recording that conversation is not barred by the statute. In contrast, recording a conversation in someone's home is likely not allowed. This rule applies to both phone conversations and in-person conversations. 
Florida courts are split as to when and where exactly in the workplace, such as in a private office, someone has a reasonable expectation of privacy, so recording conversations there can be very risky; getting it wrong can lead to criminal charges. For example, a Florida woman was arrested in 2011 for releasing taped conversations from the office of the lieutenant governor. Some safer alternatives would be to make sure a witness is present, such as by calling someone else to listen to the conversation, or to take detailed factual notes during or right after the conversations.
There is also an exception that allows minors under 18 to record conversations in which they are involved if they have reason to believe someone will make a statement about unlawful sexual or physically violent acts against the minor.
Are recorded conversations admissible in court?
Under Fla. Stat. ch. 934.06, any recordings made in violation of the law are not admissible. Recordings made that do not violate the law may be admissible evidence, depending on the circumstances of the case.
Free Consultation With Marion County Retaliation Attorneys
Based in Ocala, Florida and representing employees throughout Central Florida, we have extensive experience representing employees who have been retaliated against for complaining about workplace discrimination.  If you have been subjected to retaliation for complaining about discrimination or have questions about a retaliation-based hostile work environment, please contact our office for a free consultation with our Marion County, Florida employment retaliation discrimination lawyers. Our employee rights law firm takes employment retaliation cases on a contingency fee basis. This means that there are no attorney's fees incurred unless there is a recovery, and our attorney's fees come solely from the monetary award that you recover.