Can Older Workers Terminated In A Reduction In Force Still Prove Age Discrimination?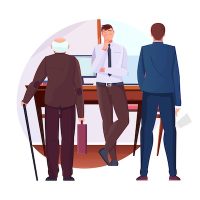 For more than twenty years, our Citrus County, Florida employment discrimination lawyers have fought for the rights of age discrimination victims. Having represented age discrimination victims for decades, our Inverness, Florida employment discrimination attorneys know that older workers are often targeted for termination in a reduction in force. In far too many cases, older employees with superior qualifications are terminated as part of a reduction in force while younger less qualified employees are retained. In this article, our Citrus County, Florida employment discrimination lawyers explain how the decision in Shields v. SMC Corp. of America, Case No. 1:20-cv-02348 (N.D. Ohio May 13, 2022) demonstrates that older workers can prove they were included in a reduction in force because of their age by showing that they possessed superior qualifications to those of younger workers who were retained. 
Age Discrimination Lawsuit
In that case, a man named Shields brought an age discrimination claim against his former employer, SMC Corporation of America (SMC), pursuant to the Age Discrimination In Employment Act (ADEA). Under the ADEA, employers are forbidden from discriminating against employees because of age. Shields claims that SMC violated the ADEA by terminating his employment because of his age.
SMC manufactures pneumatic and instrumentation components, which are used in factory automation. SMC maintains a sales force that sells SMC's components to customers for use in customers' own factories. In January 2005, Shields began working for SMC as a sales representative in SMC's Cleveland branch. Shields remained at SMC until December 2011, when he left to take a job with another company. In December 2013, however, Shields returned to SMC. Shields was rehired by a Bruschi, who remained Shield's direct supervisor until 2016. Shields was sixty years old when he was rehired by SMC.
Upon Shield's return in 2013, he became an Account Manager. In April 2019, Shield's title was changed to Corporate Account Manager. In both positions, Shields was responsible for encouraging large national and international corporations to design their factories with SMC components and/or approve SMC as a "preferred supplier." It can take a Corporate Account Manager more than a year to achieve these goals. As Corporate Account Manager, Shields reported directly to the Cleveland Branch Manager, Dawson. After Dawson left SMC in January 2020, Shields reported to SMC's Central Regional Manager, Lundgren.
Younger Employee Retained
In late 2019, SMC moved to fill a vacant Corporate Account Manager position in the Cleveland office. In October 2019, Dawson contacted SMC's human resources department, indicating that he wanted to hire a man named Williams as Corporate Account Manager. SMC hired Williams for the Corporate Account Manager position on November 18, 2019. Williams was 34 years old when hired. Per SMC's policy, Williams was placed on a 90-day introductory period, which lasted through February 2020.
On April 10, 2002, Lundgren notified Shields that his employment with SMC was terminated due to a COVID-19-related reduction in force. Shields was 66 years old at the time of his termination. Shields became upset and asked Lundgren if his termination was age-related. Lundgren refused to answer the question and told Shields to contact HR.
Ultimately, SMC laid off 127 employees from multiple divisions across the country. Williams, the other Cleveland-based Corporate Account Manager, was not terminated in the April 2020 layoffs. According to Lundgren, Williams' direct supervisor, he did not consider selecting Williams for termination even though Williams had only just completed his 90-day introductory period and had no performance reviews as of April 2020. Likewise, Bruschi did not consider laying off Williams.
Evidence Of Age Discrimination
SMC filed a motion with the trial court seeking dismissal of Shields' age discrimination claim. In support of its motion for dismissal, SMC maintained that Shields was selected for the reduction in force "based on his overall performance in connection with a companywide RIF as a result of the downturn in sales due to the COVID-19 pandemic." SMC claimed that it arrived at this decision after "Bruschi weighed many unbiased metrics and determined that Shields was the proper candidate for the reduction in force due to his performance." The trial court denied SMC's motion for dismissal and ruled that Shields has presented sufficient evidence of age discrimination to proceed to a jury trial.
In denying SMC's motion for dismissal the trial court focused on SMC's decision to terminate Shields despite his superior qualifications to those of Williams, a significantly younger worker who held the same position as Shields. The trial court pointed out that "Shields had significantly more experience managing corporate sales than Williams," and that Shields "possessed qualifications superior to those of Williams." Despite Shields' superior qualifications and experience, the trial court observed, "neither Bruschi nor Lundgren considered including Williams in the reduction in force" even though "Williams had only just completed his 90-day introductory period and had no real experience as a Corporate Account Manager." Based on this evidence, the trial court concluded, a jury could "find that SMC chose to terminate Shields, the better-qualified Corporate Account Manager, and retain Williams, the less qualified Account Manager, because Shields was significantly older than Williams."
Citrus County, FL Discrimination Lawyers
Based in Ocala, Florida and representing employees throughout Florida, our employment discrimination attorneys in Citrus County, Florida have litigated age discrimination cases in Florida courts for more than two decades. If you have experienced workplace age discrimination or have questions about your rights as a workplace age discrimination victim, please contact our office for a free consultation with our employment discrimination lawyers in Citrus County, Florida. Our employee rights law firm takes employment discrimination cases on a contingency fee basis. This means that there are no attorney's fees incurred unless there is a recovery and our attorney's fees come solely from the monetary award that you recover.