Can Racist Graffiti Create A Racial Hostile Work Environment?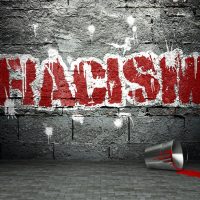 For more than twenty years, our Citrus County, Florida discrimination lawyers have fought for the rights of racial discrimination victims. Having decades of experience representing racial discrimination victims, our Inverness, Florida discrimination attorneys know that racial graffiti in the workplace remains an on-going, serious problem. In far too many cases, employees are required to work in an environment permeated with racist graffiti, with employers failing or refusing to take remedial action to correct the discriminatory work environment. In this article, our Citrus County, Florida discrimination attorneys explain how the alleged facts in Colvin v. M.J. Dean Construction, Inc.,Case No. 20-cv-01765 (D. Nev. June 10, 2022) demonstrate that racial graffiti can create a racial hostile work environment in violation of federal employment discrimination law.
Racial Harassment Lawsuit
In that case, a man named Colvin brought a racial harassment claim against his former employer, M.J. Dean Construction, Inc. (Dean), pursuant to Title VII of the Civil Rights Act of 1964 (Title VII). Under Title VII, employees are protected from discrimination on the basis of race. In construing Title VII, courts have consistently ruled that racial harassment is a form of race discrimination prohibited by Title VII. To violate Title VII, racial harassment must be sufficiently severe or pervasive to alter the conditions of the victim's employment and create a racially hostile working environment. Colvin, who is African-American, claims that Dean violated Title VII by creating and maintaining a racial hostile work environment.
In July 2019, Dean hired Colvin to work as a laborer on the Madison Square Garden Sphere project. Colvin claims that, beginning his first day and continuing onwards, his supervisor, Gutierrez, treated him poorly. In November 2019, Colvin confronted Gutierrez regarding his perceived mistreatment. In response, Colvin claims that Gutierrez started "screaming and yelling," and subjected him to a racial slur. Colvin complained about the incident to management, an investigation ensued, and Colvin was transferred to a new supervisor, Muti. Colvin worked under Muti for the remainder of his employment.
On December 24, 2019 and January 3, 2020, Colvin observed offensive racial graffiti in two separate restrooms on the jobsite. The racial graffiti consisted of racial slurs, race-based threats of physical harm, the phrase "white power," a possible swastika, and other vulgarities. Colvin reported the racial graffiti to safety personnel. Colvin alleges that the racial graffiti was removed from one of the bathrooms, but that he is unsure whether it was removed from the other.
In early April 2020, the Madison Square Garden Company directed the Sphere project to shut down by April 15, 2020 due to the developing COVID-19 pandemic. Dean laid off 500 employees during the shutdown. Colvin was among those laid off, receiving his termination notice from Gutierrez on April 6, 2020. Dean rehired 200 employees when work eventually resumed, but Colvin was not rehired.
Racial Graffiti Creates Hostile Work Environment
Dean filed a motion with the trial court seeking dismissal of Colvin's racial harassment claim. In support of its motion for dismissal, Dean argued that the alleged racial harassing behavior was not sufficiently severe or pervasive to alter the conditions of Colvin's employment and create a racially hostile working environment. The trial court denied Dean's motion for dismissal and ruled that Colvin had presented sufficient evidence of a racial hostile work environment in violation of Title VII to proceed to a jury trial.
In denying Dean's motion for dismissal, the trial court focused on the racist graffiti in the workplace. The trial court observed that the racial graffiti not only included racial slurs, but also involved threats of physical harm and symbols of racial violence. The threats of physical harm and symbols of racial violence, the trial court reasoned, enhanced "the severity of the harassment." "Given the totality of the circumstances," the trial court found, "a jury could conclude that a reasonable African-American in Colvin's situation would perceive [the work environment] to be hostile" and that "the hostility was sufficiently severe or pervasive that it altered the conditions of Colvin's employment."
Free Consultation For Employees
One of the most important decisions racial discrimination victims must make is which employment law attorneys to consult with regarding their rights. As part of our dedication to helping racial discrimination victims, an experienced employment law attorney will speak with you personally and you will receive the individualized attention your case deserves. We offer free confidential case evaluations for employees, and you will not have to pay to speak with our employment discrimination attorneys regarding your rights. We are available for consultation at your convenience, including scheduling telephone consultations for evenings and weekends.
Citrus County Discrimination Lawyers
Based in Ocala, Florida and representing workers throughout Florida, our discrimination attorneys in Citrus County, Florida have dedicated their practice to fighting for the rights of employment discrimination victims. If have experienced workplace discrimination or have questions about your employee rights under federal employment discrimination law, please contact our office for a free consultation with our discrimination lawyers in Citrus County, Florida. Our employee rights law firm takes employment discrimination cases on a contingency fee basis. This means that there are no attorney's fees incurred unless there is a recovery and our attorney's fees come solely from the monetary award that you recover.