Court Finds Evidence Of Pregnancy Discrimination Where Employee Fired Shortly After Disclosing Her Pregnancy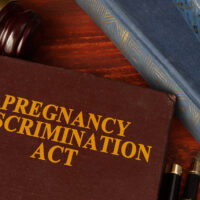 Having dedicated their practice to fighting for victims of employment discrimination, our Marion County, Florida pregnancy discrimination lawyers know that pregnant employees are often targeted for termination shortly after announcing their pregnancy. A tactic commonly used by employers to get rid of pregnant employees is to scrutinize their employment history in order to find something to justify their termination. In many cases, employers begin looking for a reason to justify the desired termination within days of an employee's disclosure of her pregnancy. The recent decision by the U.S. Second Circuit Court of Appeals in Lenzi v. Systemax, Inc., No. 18-979 (2d Cir. Dec. 6, 2019) is illustrative in showing that when an employee is fired shortly after disclosing her pregnancy, the inherently suspicious timing of the employee's termination is evidence that pregnancy discrimination was the real reason for the employee's discharge.
Employee Complains Of Unequal Pay
In that case, Danielle Lenzi (Lenzi) brought a pregnancy discrimination lawsuit against her former employer, Systemax, Inc. (Systemax), pursuant to the Pregnancy Discrimination Act (PDA). The PDA protects employees from pregnancy discrimination. Lenzi claims that Systemax violated the PDA by terminating her employment because of her pregnancy.
In January 2008, Lenzi began working for Systemax as Director of Risk Management. In 2011, Lenzi was promoted to Vice President of Risk Management. Lenzi's salary was set at $27,200 below the benchmark salary for her position. In contrast, the salaries of numerous male employees were set at tens of thousands of dollars above the benchmark for their positions. Throughout her employment tenure, Lenzi raised concerns about pay disparity. In 2013, after complaining about unequal pay, Lenzi was essentially demoted and subjected to a stricter attendance policy than male employees.
Employee Discloses Pregnancy & Then Fired
In mid-2013, Lenzi was confronted about a travel expense report and ordered to repay some of her hotel and car rental bills because she overextended her business trip. During a meeting on May 31, 2013, Lenzi informed her direct supervisor that she was pregnant. On June 10, 2013, Lenzi notified her supervisors that she was "sick with morning sickness and complete exhaustion from [her] first trimester of pregnancy," which caused her to extend her business trip.
Three days later, on June 13, 2013, one of Lenzi's supervisors instructed Systemax's Vice President of Internal Audit to conduct an internal audit of Lenzi's expense report. Such an audit into an expense report was the first of its kind at Systemax. On June 18, 2013, while the internal audit was being conducted, Lenzi's supervisor placed into Lenzi's personnel file several emails and a memorandum, which allegedly showed that Lenzi's job performance was deficient. Before this occurred, Lenzi had generally received positive performance evaluations. On June 20, 2013, Lenzi was given the option to resign. She refused, explaining that she was in no position to resign, in part, because she needed health insurance coverage "in view of her high risk pregnancy." On June 26, 2013, Systemax fired Lenzi based on the findings of its internal audit.
Suspicious Timing Reflects Discriminatory Discharge
The trial court dismissed Lenzi's pregnancy discrimination claim. In reversing the trial court's dismissal and reinstating Lenzi's pregnancy discrimination claim, the Second Circuit focused on the "temporal proximity between the time [Lenzi] disclosed her pregnancy and her termination." The appellate court observed that Lenzi first disclosed her pregnancy on May 31, 2013. On June 10, 2013, the court of appeals pointed out, Lenzi complained of morning sickness and exhaustion due to her pregnancy. "Three days later," the appellate court noted, Systemax then "turned a dispute over a reimbursement request into a first-of-its-kind internal audit" of Lenzi's expense report.
Then, while the internal audit was underway, Lenzi's supervisor placed into Lenzi's personnel file several emails and a memorandum that "sought to show that [Lenzi's] job performance was deficient." Systemax then fired Lenzi less than one month after she had disclosed her pregnancy. From this sequence of events, the Second Circuit concluded, Lenzi had produced sufficient evidence "to raise the inference" that Systemax discriminated against her because of her pregnancy. Having found evidence of Systemax's discriminatory motive, the Second Circuit sent the case back to the trial court for a jury trial.
Free Consultation With Ocala Discrimination Lawyers
Based in Ocala, Florida and representing employees throughout Central Florida, our Marion County, Florida pregnancy discrimination attorneys have almost two decades of experience representing employment discrimination victims. If you have been the victim of pregnancy discrimination or have questions about your protection against pregnancy discrimination, please contact our office for a free consultation with our Marion County, Florida pregnancy discrimination lawyers. Our employee rights law firm takes employment discrimination cases on a contingency fee basis. This means that there are no attorney's fees incurred unless there is a recovery and our attorney's fees come solely from the monetary award that you recover.