Court Rules That Treating A Pregnant Employee Worse Than Non-Pregnant Employees Is Pregnancy Discrimination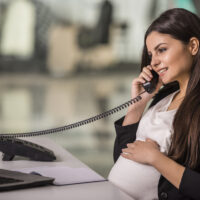 Having litigated pregnancy discrimination cases in Florida state and federal courts for more than twenty years, our Citrus County, Florida employee rights attorneys know that pregnant employees are often treated differently after disclosing their pregnancy. For example, employers will scrutinize their work performance, reduce their hours, subject them to disciplinary action, and enforce work rules against them that are not enforced against non-pregnant employees.
Under the Pregnancy Discrimination Act (PDA), employers are required to treat pregnant employees the same as non-pregnant employees. When an employer treats a pregnant employee differently or less favorably from non-pregnant employees, the unequal treatment is evidence of pregnancy discrimination. In this article, our Hernando, Florida employee rights lawyers explain how the decision in Peralta v. Roros 940, Inc.,72 F.Supp.3d 385 (S.D. N.Y. 2014) illustrates how an employer's less favorable treatment of a pregnant employee, in comparison with non-pregnant employees, is evidence that the employer acted with unlawful pregnancy-based discriminatory intent.
Worker Alleges Pregnancy Discrimination
In that case, Ashley Peralta (Peralta) brought a pregnancy discrimination lawsuit against her former employer, Roros 940, Inc. (Roros Inc.), pursuant to the PDA. Peralta claimed that Roros Inc. violated the PDA by firing her because of her pregnancy.
From April 2010 through September 20, 2011, Peralta worked as a delivery driver for Roros Inc., a FedEx subcontractor. In May 2011, Peralta learned that she was pregnant. Peralta claimed that she informed the owner of Roros Inc., a man named Roros, that she was pregnant in July 2011. Peralta contended that, as soon as Roros became aware of her pregnancy, he began to treat her differently. According to Peralta, Roros began to single her out by demanding that she (but not other drivers) make multiple attempts to deliver packages when initial attempts failed. Peralta also asserted that Roros expressed disapproval of her pregnancy and grew angry when she requested time off for pregnancy-related medical appointments.
Pregnant Worker Treated Worse Than Others
In late August 2011, FedEx initiated an investigation into a large package missing from Peralta's delivery truck. The package contained cellular telephones valued at $7,800. Peralta told FedEx investigators that she attempted to deliver the package on multiple occasions but was unable to do so because the shipment required payment on delivery, and the customer was unprepared with payment. Peralta stated that the package remained on her truck when she left for a one-week vacation around August 29, 2011, during which time two male employees, Valdez and Gibson, covered her route. As a result of the missing package, Roros made the decision to fire Peralta. Peralta was the only employee terminated due to the missing package. The other employees with access to the missing package, including Valdez and Gibson, were not disciplined. Gibson, in fact, was promoted to Peralta's position.
Worse Treatment Reflects Pregnancy Discrimination
Roros Inc. Filed a motion with the trial court seeking dismissal of Peralta's pregnancy discrimination claim. In support of its demand for dismissal, Roros Inc. argued that Peralta had produced no evidence that the company acted with discriminatory intent in firing her. The trial court denied Roros Inc's motion for dismissal and ruled that Peralta was entitled to proceed to a jury trial on her pregnancy discrimination claim.
In rejecting Roros' Inc.'s demand for dismissal, the trial court noted at the outset of its opinion that a pregnant employee fired for alleged misconduct can demonstrate an unlawful discriminatory motive by showing that non-pregnant employees engaged in "comparable misconduct but were not terminated." In applying this principle, the trial court observed that Roros Inc.'s only proffered reason for firing Peralta—her potential mishandling of a valuable package—"applied with equal force to a number of non-pregnant employees who had similar access to the missing package but nonetheless kept their jobs." Not only did they keep their jobs, the trial court pointed out, none of them were disciplined and Gibson was promoted to Peralta's position. Based on Peralta's allegations that Roros targeted her for unfavorable treatment after she disclosed her pregnancy, the trial court determined that a "reasonable juror could conclude that Roros harbored misgivings about [Peralta's] pregnancy and, once a shipment came up missing from her vehicle, doled out selective discipline to replace her with a non-pregnant employee." "That is discrimination," the trail court concluded, under the PDA.
Consult With Hernando, FL Employee Rights Lawyers
Based in Ocala, Florida and representing employees throughout Central Florida, our Citrus County, Florida employee rights attorneys have dedicated their practice to fighting for employment discrimination victims. If you have been discriminated against on the basis of pregnancy or have questions about your rights as a pregnant employee, please contact our office for a free consultation with our Hernando, Florida employee rights lawyers. Our employee rights law firm takes employment discrimination cases on a contingency fee basis. This means that there are no attorney's fees incurred unless there is a recovery and our attorney's fees come solely from the monetary award that you recover.