"Customer Preference" is Not a Defense to Employment Discrimination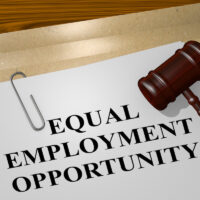 Title VII of the Civil Rights Act of 1964 (Title VII) protects employees from discrimination because of sex.Employers are not at liberty to make employment decisions or take adverse employment action against an employee based on their sex. That means that an employee cannot be fired, denied a promotion, or denied a bonus simply because they were a man or a woman, and an employer cannot refuse to hire someone just because they were a man or a woman. There are limited exceptions, where a "bona fide occupational qualification" requires characteristics that are less present in a certain gender–for example, a fire department's physical requirements may end up disqualifying most female candidates. Even there, however, if a female candidate can pass all of the rigorous physical tests, she would likely have to be considered for the job. 
Notably absent from the known "bona fide occupational qualification" exceptions: customer preference. A gentlemen's club in Pensacola, Florida, recently found itself in hot water after refusing to hire a male bartender, despite arguing that they were simply following the desires of their clientele.
Florida strip club settles claims with EEOC after refusing to hire male bartender
The U.S. Equal Employment Opportunity Commission (EEOC) is the federal agency tasked with defending employees around the country against discrimination. The EEOC recently announced a settlement with a Florida gentlemen's club based on alleged sex discrimination.
According to the EEOC, the gentlemen's club refused to even consider the application of a man for a bartender position because of his gender. When he attempted to apply for a bartender position at the club's Fort Walton Beach location, the club's general manager refused him an application and informed him that the club does not hire male bartenders. The man then filed a claim with the EEOC. The EEOC, in turn, filed a lawsuit against the gentlemen's club in Florida federal court on June 29, 2017, after pre-litigation settlement negotiations failed. The EEOC claimed that the club's actions constituted a clear violation of Title VII's prohibition on gender discrimination.
In December 2019, the gentlemen's club agreed to settle the sex discrimination lawsuit for $20,000 as well as equitable relief. As part of the settlement, the club must provide training to its employees on their legal obligations, including non-discrimination, and the club is prohibited from engaging in discrimination based on sex in the future.
Free Consultation With Citrus County Sex Discrimination Lawyers
Based in Ocala, Florida, and representing employees throughout Central Florida, we have substantial experience litigating sex and gender discrimination claims. If you have been the victim of sex discrimination or have questions about your protection against discrimination based on your sex, gender, or sexual orientation, please contact our office for a free consultation with our Citrus, Florida, sex discrimination attorneys. Our employee rights law firm takes sex discrimination cases on a contingency fee basis. This means that there are no attorney's fees incurred unless there is a recovery, and our attorney's fees come solely from the monetary award that you recover.