D.C. Circuit Court Poised to Expand Title VII Antidiscrimination Protections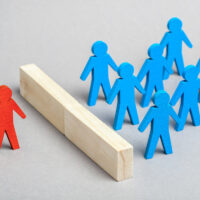 For over two decades, our Marion County, Florida racial harassment and anti-discrimination lawyers have fought for the rights of Florida employees who have been subjected to retaliation, discrimination, harassment, and other negative treatment in the workplace. Having extensive experience representing victims of workplace discrimination, our Ocala, Florida racial harassment attorneys know that proving discriminatory conduct or a hostile work environment can be a challenge, especially when employers point to alleged "facially neutral" reasons for an employment decision. Not every workplace decision objectively "hurts" an employee financially, but such decisions can still be harmful to an employee for personal reasons about which an employer is fully aware. An employer may transfer an employee to a different unit or location where they know the employee will be miserable, for example, even though it is technically a "lateral" move with the same pay and benefits.
Title VII of the Civil Rights Act of 1964 (Title VII) prohibits discrimination based on sex, race, and a number of other protected characteristics. For years, employers have defended against discrimination claims that did not cause the employee to suffer "material adverse consequences" even though employment decisions were clearly based on discriminatory animus. The D.C. Circuit is considering whether this defense still holds water in a case titled Chambers v. District of Columbia, No. 19-7098 (D.C. Cir. Feb. 19, 2021). The Circuit's decision could have far-reaching implications for anti-discrimination claims across the country, including those brought under other laws with similar language such as the Age Discrimination in Employment Act (ADEA) and the Americans with Disabilities Act (ADA).
D.C. Circuit Denies Discrimination Claim but Seeks En Banc Review
The case of Chambers v. District of Columbia  involves alleged sex discrimination and unlawful retaliation. The plaintiff has worked at the District of Columbia's Office of the Attorney General (OAG) for years and has made many requests for lateral transfers to a different unit. Her requests were always denied, almost immediately, and essentially without justification. She filed multiple charges of discrimination with the Equal Employment Opportunity Commission (EEOC), as well as claims alleging retaliation for her EEOC filings.
The trial court dismissed her claims. On appeal, the D.C. Circuit panel agreed that her claims were subject to dismissal based on D.C. Circuit precedent. Employment discrimination and retaliation claims require an "adverse employment action." According to precedent, an adverse employment action, in turn, requires "materially adverse consequences affecting the terms, conditions, or privileges of [the plaintiff's] employment or her future employment opportunities." Rejecting a lateral move request that would have no effect on pay or benefits or other tangible employment privileges does not constitute a "materially adverse consequence." The appeals court agreed that the plaintiff's claim could not survive because she failed to allege materially adverse consequences due to the employer's actions.
The plaintiff asked the circuit court to revisit its own precedent. The plaintiff alleged the court's precedent was "incompatible with the plain text of [Title VII] and inconsistent with a later Supreme Court decision, Burlington Northern & Santa Fe Railway Co. v. White, 548 U.S. 53, 64-65 (2006)."
The D.C. Circuit panel is bound by its own precedent without a review by the full D.C. Circuit (an "en banc" review). Two members of the three-judge panel issued a concurring opinion agreeing that while the court was bound by its precedent to decide as it did, it was high time to review this precedent. Pointing to other concurring and dissenting opinions within the D.C. Circuit, the concurrence stated it was "long past time for the en banccourt to make clear that transfers denied because of race, color, religion, sex, or national origin are barred under Title VII, and that any action by an employer to deny an employment benefit on such grounds is an adverse employment action under Title VII" (alterations omitted).
The judges believe that a lateral transfer made or denied for discriminatory reasons constitutes an adverse employment decision, regardless of whether any pay, benefits or other employment privileges are affected. If the D.C. Circuit decides to review the case en banc and overturns its precedent, there may be far-reaching implications for discrimination and retaliation claims across the country. Other laws with similar "adverse employment action" language such as the ADA would likely be affected. The EEOC, the DOJ, and other federal agencies are likely to follow the D.C. Circuit's interpretation of anti-discrimination laws. Other circuit courts may find the D.C. Circuit persuasive and reject the "materially adverse consequences" standard. Our Florida anti-discrimination legal team will be watching the D.C. Circuit with great interest to see what the court as a whole chooses to do.
Ocala, FL Workplace Discrimination Lawyers
Based in Ocala, Florida, and representing employees throughout Central Florida, our Sumter County, Florida workplace discrimination attorneys have litigated discrimination cases in Florida courts for more than two decades. If you have experienced unlawful discrimination at work or have questions about your protection against racial discrimination under the federal anti-discrimination laws, please contact our office for a free consultation with our Ocala, Florida racial discrimination lawyers. Our employee rights law firm takes discrimination cases on a contingency fee basis. This means that there are no attorney's fees incurred unless there is a recovery and our attorney's fees come solely from the monetary award that you recover.