Do Employers Perpetuate A Racial Stereotype When Telling African-American Employees To Ignore Racism?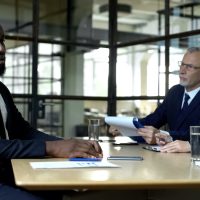 Throughout the past twenty years, our Citrus County, Florida race discrimination lawyers have fought for the rights of racial discrimination victims. Having represented racial discrimination victims for decades, our Inverness, Florida race discrimination attorneys know that employers often tell African-American employees they should ignore racism in the workplace—either for the purpose of advancing their career or continuing their employment. In this article, our Citrus County, Florida race discrimination lawyers explain how the recent decision in Milord-Francois v. N.Y. State Office of the Medicaid Inspector General,  2022 WL 480477 (2d Cir. Feb. 17, 2022) illustrates that telling African-American employees to ignore workplace racism is a form of racial stereotyping that can be used to prove a racial discrimination case.
Racial Discrimination Lawsuit
In that case, a woman named Milord-Francois brought a racial discrimination lawsuit against her employer, New York State Office of the Medicaid Inspector General (OMIG), pursuant to Title VII of the Civil Rights Act of 1964 (Title VII). Title VII prohibits employers from discriminating against employees because of race. Milord-Francois, a black lawyer of Haitian descent, claims that she was demoted because of her race in violation of Title VII.
In July 2010, Milord-Francois began working for OMIG as a Senior Attorney. In February 2015, Milord-Francois was promoted to an Associate Attorney. Associate Attorneys were responsible for overseeing Senior Attorneys. The permanency of the promotion was contingent on Milord-Francois receiving a satisfactory evaluation at the end of a one-year probationary period. Milord-Francois was ultimately demoted back to Senior Attorney after receiving a final, unsatisfactory evaluation report in September 2016.
Milord-Francois's racial discrimination claim arises from her interactions—both before and after her promotion—with a white Senior Attorney named Henzel. While Milord-Francois was a senior attorney, Henzel once asked Milord-Francois if she was "getting drugs in there?" when Milord-Francois entered a co-worker's office for aspirin. Henzel then told everyone at the office that "she was concerned about [Milord-Francois] taking drugs." Another time, during a parade in front of the OMIG building, Henzel approached Milord-Francois "out of the blue" and said, "oh my God, your black face, your black face scares me." On another occasion, Milord-Francois claims that she overheard Henzel telling other workers that she had to go to a funeral in Harlem and, if she did not return, then "they" killed her, which Milord-Francois understood to refer to black residents in Harlem.
Worker Told To Ignore Workplace Racism
After Milord-Francois' promotion, her interactions with Henzel fared no better. In May 2016, Henzel refused to accept an assignment from Milord-Francois. Henzel started screaming and yelled, "you shouldn't have been an Associate Attorney." Shortly after that incident, Milord-Francois' supervisor, a woman named Daniels-Rivera, convened a meeting to discuss how Milord-Francois could have been handled the situation differently. At that meeting, Milord-Francois told Daniels-Rivers that "there was nothing I could have done to alleviate the situation" because Henzel "calls me black face." About one week later, Daniels-Rivera again met with Milord-Francois to discuss what she was doing to 'fix the problem" with Henzel. Milord-Francois replied, "I cannot fix the problem. It is not me . . . This girl uses racial slurs towards me." According to Milord-Francois, Daniels-Rivera replied, "as a manager, you have to accept [it]—as a manager I have dealt with it. As a manager, I have experienced it. And as a manager, you have to deal with it."
In July 2016, Daniels-Rivera drafted a probation report for Milord-Francois, giving her an unfavorable rating with explanations of her shortcomings as a manager. In September 2016, Daniels-Rivera issued a negative final probation report for Milord-Francois and demoted her back to Senior Attorney. Milord-Francois claims that Daniels-Rivera demoted her after "she refused to ignore Henzel's discrimination" and thus imposed on Milord-Francois "a type of racial stereotyping" which includes "the belief that black people must excuse racism to advance their careers."
A Type Of Racial Stereotyping
The trial court dismissed Milord-Francois' racial discrimination claim. In doing so, the trial court ruled that OMIG had a legitimate, non-discriminatory reason for demoting Milord-Francois: her unsatisfactory performance as an Associate Attorney. On appeal, the U.S. Second Circuit Court of Appeals reversed the trial court's dismissal and reinstated Milord-Francois' racial discrimination claim.
In reversing the trial court, the Second Circuit focused on Daniel-Rivera's statements to "accept" and "deal with it" made in response to Milord-Francois' complaints of Henzel's racist comments. The appellate court explained that although "those statements may very well have been intended to convey to Milord-Francois nothing more than a view that she had responsibility as a manager to address racially charged comments by a subordinate, there is just enough ambiguity in those statements" for a jury to reasonably find that "Daniels-Rivera was instead perpetuating a racial stereotype by suggesting that Milord-Francois, as a black woman, should ignore racism." Because Milord-Francois' had produced evidence of race discrimination, the Second Circuit reasoned, a jury could conclude that OMIG's "reason for demoting her is pretextual and that this decision was based, at least in part, on her race."
Free Consultation For Discrimination Victims
The most fundamental decision racial discrimination victims must make is which employment law firm to contact for advice regarding their legal protection from workplace racial discrimination. As part of our law firm's dedication to vindicating the rights of racial discrimination victims, an experienced employment law attorney will speak with you personally and you will receive the individualized attention your case deserves. We offer free confidential case evaluations for employees, and you will not have to pay to speak with our employment law attorneys regarding your rights under federal employment discrimination law. We are available for consultation at your convenience, including scheduling telephone consultations for evenings and weekends.
Race Discrimination Lawyers In Marion County, FL
Based in Ocala, Florida, and representing workers throughout Florida, our race discrimination attorneys in Marion County, Florida have dedicated their practice to representing employment discrimination victims. If you have experienced racial discrimination in the workplace or have questions about your rights as a racial discrimination victim, please contact our office for a free consultation with our racial discrimination lawyers in Marion County, Florida. Our employee rights law firm takes racial discrimination cases on a contingency fee basis. This means that there are no attorney's fees incurred unless there is a recovery and our attorney's fees come solely from the monetary award that you recover.