Does An Employer's Use Of Code Words For Age Constitute Evidence Of Age Discrimination?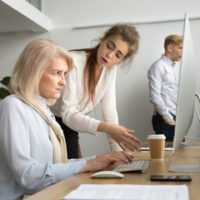 Having represented victims of age discrimination for nearly twenty years, our Alachua County, Florida employment discrimination attorneys have learned that employers often use code words for age when explaining employment decisions involving older workers. For example, when seeking to justify employment decisions regarding older workers, employers will characterize older workers as "low energy," "slow," "unimaginative," "inflexible," "unadaptable," or "resistant to change." The recent decision by the U.S. District Court for the Northern District of Texas in Owen v. Stmicrolectronics, Inc., No. 15-1186 (N.D. Tex. May 29, 2018) is instructive in showing that an employer's use of code words for age when explaining an employment decision involving an older worker is evidence that age discrimination was the real reason for the employment decision.
Too Much Experience Means Inflexibility
In that case, Charles Owen (Owen) sued Stmicrolectronics, Inc. (STM) pursuant to the Age Discrimination in Employment Act (ADEA). Owen claimed that STM failed to hire him because of his age in violation of the ADEA. Owen began working for STM in 2007. STM hired him on a temporary basis to perform in-house counsel duties while the employee who normally fulfilled those duties was on an assignment in China. Owen's duties included drafting and negotiating commercial contracts, licensing agreements, technology agreements, and real estate leases. Owen was also responsible for reviewing non-disclosure agreements. Owen's position ended when the employee returned from China.
In April 2013, an employee named Quill, who worked in STM's human resources department, contacted Owen about returning to the company. STM was seeking a temporary employee to review non-disclosure agreements because the paralegal normally responsible for those duties had left STM. Owen accepted the position and primarily worked with an employee named Blanchard.
That same year, Owen learned that a full-time, permanent corporate counsel position (the Senior Position) had opened up. Owen expressed interest in the Senior Position to Quill, STM's General Counsel, and Blanchard. STM's General Counsel notified Owen that Blanchard would be the ultimate decision-maker. Blanchard told Owen that, although he was "extremely qualified" for the job, STM did not want "someone with so much experience that they would be inflexible."
Blanchard drafted the posted job advertisement for the Senior Position, which stated that "the right candidate will have strong academic and employment credentials," and that big firm and in-house counsel experience was "preferred." Ultimately, STM did not select Owen for the Senior Position. Instead, STM selected an individual who was 36 years old. Owen was 64 years old when he sought and was rejected for the Senior Position. Soon thereafter, Owen's position at STM was eliminated because the legal department was fully staffed.
Code For Employee Being Too Old
STM filed a motion with the trial court seeking dismissal of Owen's age discrimination claim. In doing so, STM argued that Owen's age discrimination was meritless and Owen was prohibited from bringing his age discrimination claim before a jury for resolution. The trial court denied STM's motion for dismissal and ruled that a jury must decide whether STM failed to hire Owen for the Senior Position because of his age.
The trial court found that a jury could reasonably conclude that STM did not hire Owen for the Senior Position because of his age based on the comment Blanchard allegedly made to him while discussing Owen's interest in the position. The trial court explained that a "reasonable juror could find Blanchard's comment about experience and inflexibility to be indicative of age discrimination." In other words, the trial court observed, a reasonable jury could agree with Owen that Blanchard's comment "was simply code for Owen being too old."
The trial court also determined that a reasonable jury could find that STM's proffered reasons for not hiring Owen for the Senior Position were a pretext for age discrimination because they were "false or unworthy of credence." Although STM asserted that it did not hire Owen for the Senior Position because his performance when reviewing non-disclosure agreements was not satisfactory and, thus, he was not qualified for the position, the trial court observed that Owen claimed that "neither this nor any other criticism was communicated to him" during his tenure with STM. The trial court also pointed out that STM chose to hire Owen again after he worked for the company for a year in a position extremely similar to the one for which STM failed to hire him. Consequently, the trial court concluded that resolution of Owen's age discrimination claim was "more appropriate under the heat of trial and the bright light of cross-examination."
Free Consultation With Gainesville Discrimination Lawyers
Based in Ocala, Florida and representing employees throughout Central Florida, we have extensive experience litigating age discrimination cases in Florida state and federal courts. If you have been the victim of age discrimination or have questions about your rights under age discrimination laws, please contact our office for a free consultation with our Alachua County, Florida age discrimination attorneys. Our employee rights law firm takes age discrimination cases on a contingency fee basis. This means that there are no attorney's fees incurred unless there is a recovery and our attorney's fees come solely from the monetary award that you recover.