EEOC Age Discrimination Case Alleging Older Workers Were Targeted For Termination Settles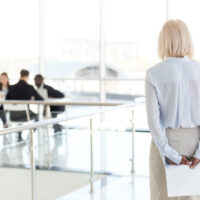 In a press release issued on December 11, 2020, the U.S. Equal Employment Opportunity Commission (EEOC) announced that it has entered into a Consent Decree resolving an age discrimination lawsuit against Computer Science Corporation (CSC). On December 9, 2020, the EEOC filed the case, U.S. Equal Employment Opportunity Commission v. Computer Science Corp.,  Case No. 1:20-cv-10372, in the U.S. District Court for the Southern District of New York. Before commencing the lawsuit, the EEOC first attempted to reach a pre-litigation settlement through its voluntary conciliation process. Unable to reach an acceptable settlement agreement, the EEOC exercised its statutory right to remedy the alleged unlawful employment practices by filing the lawsuit.
In the Consent Decree, which was approved by U.S. District Court Judge Sidney H. Stein on December 11, 2020, CSC agreed to pay $7000,000 to resolve the age discrimination lawsuit. In this article, our Ocala, Florida lawyers for age discrimination victims explain the EEOC's allegations of unlawful age-based discriminatory employment practices against CSC.
Protection For Age Discrimination Victims
The EEOC filed the age discrimination lawsuit pursuant to the Age Discrimination in Employment Act (ADEA) on behalf of a class of former employees of CSC. Under the ADEA, age discrimination is an unlawful employment practice. The ADEA forbids discrimination on the basis of age in all aspects of employment, including hiring, pay, training promotion, job assignments, layoff, and discharge. In order to be protected against age discrimination by the ADEA, an individual must be at least forty years of age. The EEOC claims that CSC violated the ADEA by targeting employees who were forty or older for termination in a series of reductions in force implemented nationwide.
Reductions In Force Target Older Workers
CSC is a technology consulting company. Starting in January 2011, according to the EEOC, CSC engaged in a series of reductions in force (RIFs) purportedly for cost-cutting reasons. At the same time, the EEOC alleges, CSC's Chief Executive Officer stated his desire for younger workers by using buzzwords like "transforming" the company, looking to be "more agile," and bringing in "high energy" people. During this period, CSC discharged employees in RIFs all over the country pursuant to instructions from senior management. The EEOC maintains that CSC's desire for a younger workforce was communicated down the company's chain of command and guided the selection of employees for those RIFs.
The RIFs resulted in the discharge of nearly twenty percent of employees over the age of forty, while only fourteen percent of CSC's younger employees were discharged as part of the RIFs. The EEOC contends that the chance older workers would have been fired at such a higher rate than their younger co-workers through an age-neutral policy is less than one in ten thousand. The EEOC further contends that the disproportionate share of older workers in the RIFs cannot be explained by their performance because older workers, in general, had higher performance ratings than younger workers.
Attorneys For Age Discrimination Victims
The EEOC is the administrative agency of the United States responsible for interpreting and enforcing federal employment and labor laws making age discrimination an unlawful employment practice. As part of its efforts to eradicate discriminatory employment practices from the American workplace, the EEOC files lawsuits on behalf of employment discrimination victims, including age discrimination victims. In a press release issued by the EEOC on December 11, 2020 regarding the case, the Director of the EEOC's New York District Office, Judy Keenan, explained that "unfortunately, age bias remains prevalent in the technology industry." In commenting on the case, a Regional Attorney for the EEOC's New York District Office, Jeffrey Burstein, stated that the EEOC "remains committed to enforcing federal law to ensure that people are not targeted for layoffs because of their age."
Age Discrimination Lawyers In Ocala, FL
Based in Ocala, Florida and representing employees throughout Central Florida, our Marion County, Florida attorneys for age discrimination victims have litigated age discrimination cases in Florida courts for more than two decades. If you have been discriminated against on the basis of age or you have questions about your rights as an older worker under the federal employment discrimination laws, please contact our office for a free consultation with our Ocala, Florida lawyers for age discrimination victims. Our employment and labor law attorneys take age discrimination cases on a contingency fee basis. This means that there are no attorney's fees incurred unless there is a recovery and our attorney's fees come solely from the monetary award that you recover.