EEOC Claims Employee Was Fired Because Of Age After She Was Called "Old Lady" & Told It Was Time "To Rest"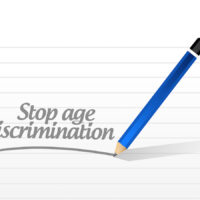 In a press release issued on September 26, 2019, the U.S. Equal Employment Opportunity Commission (EEOC) announced that it has filed an age discrimination lawsuit against M1 5100 Corporation, d/b/a Jumbo Supermarket pursuant to the Age Discrimination in Employment Act (ADEA). The ADEA makes it unlawful for an employer to discriminate against any individual with respect to the terms, conditions, or privileges of employment on the basis of age. The protection against age discrimination extends to all employees and applicants for employment. In order to be protected against age discrimination by the ADEA, an individual must be at least 40 years of age.
On September 26, 2019, the EEOC filed the lawsuit, U.S. Equal Employment Opportunity Commission v. M1 5100 Corp., d/b/a Jumbo Supermarket, Case No. 9:10-cv-81320, in the U.S. District Court for the Southern District of Florida after initially attempting to reach a pre-litigation settlement through its statutorily mandated conciliation process. The EEOC has brought the age discrimination lawsuit pursuant to the ADEA on behalf of a former employee of Jumbo Supermarket, Angela Araujo Guerrero (Guerrero). The EEOC claims that Jumbo Supermarket fired Guerrero because of her age in violation of the ADEA. In this article, our Marion County, Florida age discrimination lawyers explain the EEOC's allegations against Jumbo Supermarket.
Employee Claims Discriminatory Discharge
In June 2016, Guerrero began working for Jumbo Supermarket as a Cook Manager. In late 2016, a new General Manager, Peralta, took over the store where Guerrero worked. Shortly after Peralta took over, Guerrero arrived to open the store one morning for her regular shift and discovered a new employee was working there performing her job. The new employee was more than twenty years younger than Guerrero. No one had informed Guerrero that she was replaced or that another person had been hired to do her job.
Peralta, along with his secretary, met with Guerrero in his office. Peralta, according to the EEOC, told Guerrero something along the lines of, "old lady, what are you doing here?" and asked Guerrero to take off her apron. Peralta then allegedly told Guerrero that she was too old already and that it was time for her to rest. Peralta told Guerrero if she did not want to leave Jumbo Supermarket, he could assign her to work as the assistant of her replacement, which would have resulted in a reduction in pay for Guerrero. Eventually, Guerrero's former General Manager, Perez, intervened and offered to transfer Guerrero to another store where he was the General Manager.
Accepting the offer, Guerrero was then transferred and began working at the store were Perez was the General Manager. A few months later, however, Peralta replaced Perez as General Manager. In March 2017, Peralta fired Guerrero. Peralta had already hired Guerrero's replacement, an employee over twenty years younger than Guerrero. When terminating her employment, according to the EEOC, Peralta told Guerrero something along the lines of, "look old lady, we have to give opportunities to new people, old lady what is that you are looking for her . . . it's time for you to rest."
EEOC Fights Discriminatory Discharge
The EEOC is the administrative agency of the United States responsible for interpreting and enforcing federal laws prohibiting employment discrimination. In enforcing the federal anti-discrimination laws, the EEOC is also authorized by federal law to bring lawsuits on behalf of employees who are unlawfully fired because of their age. In a press release issued by the EEOC regarding the case, a Regional Attorney for the EEOC's Miami District Office, Robert E. Weisberg, stated that the "ADEA protects older workers from being forced out by employers because of their age." "The EEOC will continue to fight for the rights of employees," Mr. Weisberg added, "to not have their employment ended because they reach a certain age."
Free Consultation With Ocala Age Discrimination Lawyers
Based in Ocala, Florida and representing employees throughout Central Florida, our Marion County, Florida age discrimination attorneys have been litigating age discrimination lawsuits in Florida state and federal courts for almost twenty years. If you have been discriminated against because of your age or have questions about your protection against age discrimination, please contact our office for a free consultation with our Marion County, Florida age discrimination lawyers. Our employment and labor law attorneys take age discrimination cases on a contingency fee basis. This means that there are no attorney's fees incurred unless there is a recovery and our attorney's fees come solely from the monetary award that you recover.