EEOC Claims Employee Was Fired Because Of Age Where Employer Asked "When Are You Going To Retire?"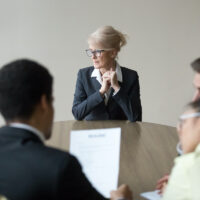 In a press release issued on February 19, 2020, the U.S. Equal Employment Opportunity Commission (EEOC) announced that it has filed an age discrimination lawsuit against Burrow Global Services, LLC (Burrow). On February 7, 2020, the EEOC filed the age discrimination lawsuit, U.S. Equal Employment Opportunity Commission v. Burrow Global Services, LLC, Case No. 4:20-cv-00423, in the U.S. District Court for the Southern District of Texas after initially attempting to reach a pre-litigation settlement through its statutorily mandated conciliation process.
The EEOC has brought the age discrimination pursuant to the Age Discrimination in Employment Act (ADEA) on behalf of a former employee of Burrow, Michael Raibon (Raibon). Under the ADEA, employers are forbidden from discriminating against employees on the basis of age. The EEOC claims that Burrow violated the ADEA by firing Raibon because of his age. In this article, our Marion County, Florida age discrimination attorneys explain the EEOC's allegations against Burrow.
Employee Alleges Age Discrimination
In January 2014, Raibon, who was born in 1953, began working for Burrow. Raibon held the position of I & E Design Coordinator. Although employed by Burrow, Raibon was assigned by Burrow to work at a Chevron Phillips chemical plant in Baytown, Texas.
In February 2017, a man named Orellana became Raibon's supervisor. At one of Raibon's first meetings with his new supervisor, Orellana asked Raibon if he was saving for retirement. Orellana frequently stated to Raibon that Raibson was old enough to retire, and asked Raibon questions such as, "When are you going to retire?" and "What are you doing with your money now, just saving for retirement?" One time, after Raibon called into to work to advise that he would be late, Orellana told Raibon upon his arrival, "I thought you had retired."
On June 22, 2017, Orellana sent an email to upper management employees notifying them that he was going to prepare a performance review for Raibon and place Raibon on a "formal process improvement plan." However, Orellana never advised Raibon that he was being placed on a process improvement plan. On July 3, 2017, Raibon received a copy of the performance review, but was not notified that he had been placed on a process improvement plan. Although the performance review stated that Orellana would "revisit evaluation in 60 days," Raibon understood that to mean that Orellana would meet with him to discuss his work performance sixty days from the evaluation.
On August 17, 2017, Orellana sent an email to an upper management employee stating that he was "planning on releasing Michael today." In the weeks preceding the email, Orellana had fired two other workers who were older than 45 from a work group that had approximately 15 workers. Later that day, Orellana called Raibon into his office and told Raibon that "Burrow Global no longer needs your services." Raibon asked why his employment was being terminated. Orellana refused to answer. Ultimately, Burrow replaced Raibon with an individual who was in his thirties.
Enforcing Employee Rights
The EEOC is the administrative agency of the United States responsible for interpreting and enforcing federal laws prohibiting employment discrimination. In enforcing the federal anti-discrimination laws, the EEOC is also authorized by federal law to bring lawsuits on behalf of employees who were unlawfully fired because of their age. In a press release issued by the EEOC on February 19, 2020 regarding the case, the Director of the EEOC's Houston District Office, Rayford O. Irvin, pointed out that "more and more frequently employees are choosing to remain in the workforce into their sixties and seventies." "Employers cannot discriminate," Mr. Irvin added, "by pushing aside those experienced and competent employees against their will."
Consultation With Ocala Age Discrimination Lawyers
Based in Ocala, Florida and representing employees throughout Central Florida, our Marion County, Florida age discrimination attorneys have almost two decades of experience representing victims of unlawful age discrimination. If you have been mistreated on the basis of age or have questions about your protection against age discrimination under the federal anti-discrimination laws, please contact our office for a free consultation with our Ocala, Florida age discrimination lawyers. Our employment and labor law attorneys take age discrimination cases on a contingency fee basis. This means that there are no attorney's fees incurred unless there is a recovery and our attorney's fees come solely from the monetary award that you recover.