EEOC Claims Employee Wrongfully Fired When Employer Fired Her Within Days After Learning Of Pregnancy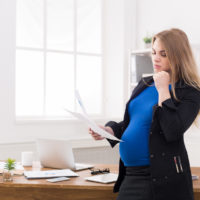 Having litigated pregnancy discrimination lawsuits for almost twenty years, our Marion County, Florida wrongful discharge attorneys have learned that employers often terminate pregnant employees shortly after they disclose their pregnancy. Under the Pregnancy Discrimination Act (PDA), employers are forbidden from discriminating against women on the basis of pregnancy, childbirth, or related medical conditions. The PDA also prohibits employers from making employment decisions on the basis of pregnancy-related stereotypes. For example, it is unlawful for employers to fire pregnant employees based on stereotypes about pregnant employees' ability to work, dedication to the job, reliability, or need for leave from work. Under the PDA, as determined by the U.S. Supreme Court in UAW v. Johnson Controls, 499 U.S. 187 (1991), the "decision to work while [ ] being pregnant . . . is reserved for each individual women to make for herself" and "pregnant women who are able to work must be permitted to work under the same conditions as other employees."
In a press release issued on June 26, 2019, the U.S. Equal Employment Opportunity Commission (EEOC) announced that it has filed a pregnancy discrimination lawsuit against Cassone Leasing, Inc. (Cassone) pursuant to the PDA. On June 26, 2019, the EEOC filed the pregnancy discrimination lawsuit, U.S. Equal Employment Opportunity Commission v. Cassone Leasing, Inc., Case No. 2:19-cv-3721, in the U.S. District Court for the Eastern District of New York after initially attempting to reach a pre-litigation settlement through its statutorily mandated conciliation process. The EEOC has brought the pregnancy discrimination lawsuit on behalf of a former employee of Cassone, Katie Payne (Payne). In this article, our Marion County, Florida wrongful discharge lawyers explain the EEOC's allegations against Cassone.
EEOC'S Allegations Of Unlawful Firing
Cassone, which is based in Long Island, New York, sells new and used office trailers and storage containers. In April 2018, Payne began working for Cassone as an assistant dispatcher. When she was hired, Payne was twelve weeks pregnant. However, Payne's pregnancy was not visible, and Payne did not inform Cassone that she was pregnant. On May 10, 2019, Payne received her 30-day performance evaluation. During the review, Cassone's Operations Manager, who was Payne's direct supervisor, praised her work performance. The written performance evaluation reflected a rating of "89" or "Above Average," which was just one point short of "Excellent" under the performance review's rating system.
On May 11, 2019, according to the EEOC, the Operations Manager learned that Payne was pregnant. On May 14, 2018, Cassone fired Payne. The Operations Manager made the termination decision. The EEOC claims that Cassone terminated Payne's employment because of her pregnancy in violation of the PDA. On behalf of Payne, the EEOC seeks back pay, mental and emotional damages, and punitive damages based on Payne's alleged unlawful termination.
Pregnant Employees Must Be Allowed To Work
The EEOC is the administrative agency of the United States responsible for interpreting and enforcing federal laws forbidding employment discrimination. In enforcing the federal civil rights laws, the EEOC is also authorized by federal law to bring lawsuits on behalf of victims of employment discrimination, including victims of pregnancy discrimination. In a press release issued by the EEOC regarding the case, a Regional Attorney for the EEOC's New York District Office, Jeffrey Burstein, stated that "[a]n employee who is ready, willing, and able to work should not be fired merely because she is pregnant."In commenting on the case, the Director of the EEOC's New York District Office, Kevin Berry, stated that "[i]t is regrettable that this company saw fit to deprive a pregnant employee of her employment just when she needed her salary the most."
Free Consultation With Ocala Wrongful Discharge Lawyers
Based in Ocala, Florida and representing employees throughout Central Florida, we have represented employment discrimination victims in hundreds of cases before the EEOC. If you have been wrongfully fired on the basis of pregnancy or have questions about your protection against pregnancy discrimination, please contact our office for a free consultation with our Marion County, Florida wrongful termination attorneys. Our employment and labor law attorneys take wrongful discharge cases on a contingency fee basis. This means that there are no attorney's fees incurred unless there is a recovery and our attorney's fees come solely from the monetary award that you recover.