EEOC Files Discriminatory Discharge Case Where Hispanic Employee Told She Must Know How To Speak English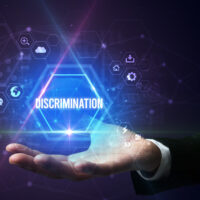 In a press release issued on December 16, 2019, the U.S. Equal Employment Opportunity Commission (EEOC) announced that it has filed a national origin discrimination lawsuit against Blackstone Consulting, Inc. (Blackstone). On November 22, 2019, the EEOC filed the lawsuit, U.S. Equal Employment Opportunity Commission v. Blackstone Consulting, Inc., Case No. 9:10-cv-03365, in the U.S. District Court for Maryland after initially attempting to reach a pre-litigation settlement through its statutorily mandated conciliation process. 
The EEOC has brought the national origin discrimination lawsuit pursuant to Title VII of the Civil Rights Act of 1964 (Title VII) on behalf of a former employee of Blackstone, Marta Rivers (Rivers). Under Title VII, it is an unlawful employment practice for employers to discriminate against employees on the basis of national origin. In Espinoza v. Farah Manufacturing Company, Inc., 414 U.S. 86 (1973), the U.S. Supreme Court defined the term "national origin" for purposes of Title VII as the "country where a person was born, or, more broadly, the country from which his or her ancestors came." Under the Supreme Court's definition of national origin, employers are prohibited from discriminating against employees because of where they were born or from where their ancestors came. The EEOC claims that Blackstone unlawfully discriminated against Rivas by discharging her because of her national origin. In this article, our Marion County, Florida discriminatory discharge attorneys explain the EEOC's allegations against Blackstone.
Employee Claims Discriminatory Discharge
Blackstone provides environmental and facilities management to clients. Rivas was born in El Salvador and came to the United States in January 2016 not knowing any English. In March 2017, Blackstone hired Rivas as a part-time cleaner to perform work at the medical center of its client in Hyattsville, Maryland. Rivas was responsible for cleaning offices, kitchens, and bathrooms at the medical center. Rivas' employment with Blackstone was her first job in the United States. Blackstone interviewed and trained Rivas in Spanish. Blackstone assigned Rivas to work with a Spanish-speaking supervisor and another Spanish-speaking cleaner. Although her English-speaking skills were limited, according to the EEOC, Rivas performed her job satisfactorily.
Employee Told She Must Learn English
In May 2017, Rivas went to Blackstone's Environmental Services Department in Largo, Maryland to obtain a uniform. While discussing uniform sizes with the HR Generalist, Blackstone's Environmental Services Director, a woman named Vought, approached Rivas and began screaming at her in English. When it was clear that Rivas did not understand, Vought switched to Spanish telling Rivas, "how is it that you do not know how to speak English?" Vought further told Rivas, "[i]n this company, you are not allowed to work here if you don't know how to speak English."
Vought then brought Rivas into her cubicle and called someone on the phone. Although Rivas could not understand the conversation, it was evident to her that the telephone conversation was about her. Vought then hung up the phone and told Rivas in Spanish, "Hispanics don't do anything in this country—all they do is watch Telemundo and Univision." Vought then gave Rivas her business card, telling her that she would give her 30 days to go back to school to learn English and if she spoke English perfectly, she could have her job back. Vought thereafter terminated Rivas' employment.
EEOC Enforces Civil Rights Laws
The EEOC is the administrative agency of the United States responsible for interpreting and enforcing federal laws prohibiting employment discrimination, including national origin discrimination. In enforcing the federal civil rights laws, the EEOC is also authorized by federal law to bring lawsuits on behalf of victims of national origin discrimination, including employees unlawfully fired because of their national origin. In a press release issued by the EEOC regarding the case, an EEOC District Director, Jamie R. Williamson, stated that "an employer can only have a language requirement if it is truly necessary to perform the job effectively." In commenting on the case, a Regional Attorney for the EEOC, Debra M. Lawrence, explained that the "EEOC is committed to ensuring that all workers are judged on their ability to do the job and not based on their national origin or characteristics tied to national origin."
Free Consultation With Ocala Discrimination Lawyers
Based in Ocala, Florida and representing employees throughout Central Florida, our Marion County, Florida discriminatory discharge attorneys have been representing employees for almost twenty years. If you have been unlawfully fired or have questions about your protection against discriminatory discharge, please contact our office for a free consultation with our Marion County, Florida discriminatory discharge lawyers.Our employment and labor law attorneys take discriminatory discharge cases on a contingency fee basis. This means that there are no attorney's fees incurred unless there is a recovery and our attorney's fees come solely from the monetary award that you recover.