EEOC Files Racial Harassment Lawsuit Claiming Employee Was Forced To Quit Due To Racial Abuse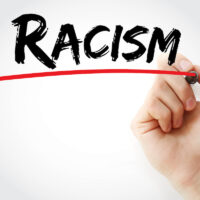 In a press release issued on October 16, 2019, the U.S. Equal Employment Opportunity Commission (EEOC) announced that it has filed a racial harassment lawsuit against TGS Garage & Doors (TGS). On October 15, 2019, the EEOC filed the racial harassment case, United States Equal Employment Opportunity Commission v. Total Garage Solutions, LLC, d/b/a TGS Garage & Doors, Case No. 4:19-cv-18965, in the U.S. District Court for the District of New Jersey after initially attempting to reach a pre-litigation settlement through its statutorily mandated conciliation process. 
The EEOC has brought the racial harassment lawsuit pursuant to Title VII of the Civil Rights Act of 1964 (Title VII) on behalf of a former employee of TGS, Kevin Perkins (Perkins). Under Title VII, it is an unlawful employment practice for employers to discriminate against employees on the basis of their race. Racial harassment is a form of race discrimination forbidden by Title VII. The EEOC alleges that Perkins, who is African-American, was subjected to hostile work environment racial harassment in violation of Title VII. The EEOC further claims that Perkins was forced to quit because of the racial harassment. In this article, our Citrus County, Florida racial discrimination lawyers explain the EEOC's allegations against TGS.
EEOC Claims Racial Abusive Work Environment
TGS sells, installs, and repairs garage doors and garage door openers. In August 2018, Perkins began working for TGS as a service technician. Perkins was the only non-white service or sales technician. The EEOC claims that Perkins was subjected to pervasive racially harassing behavior by his supervisor and co-workers. The racial harassment directed at Perkins included racial slurs, racial jokes, and racially offensive remarks. The EEOC contends that the supervisor's racial abuse continued event after Perkins told the supervisor to stop and that he was offended by his use of racial slurs.
The EEOC further alleges that a General Manager of TGS was aware of the racially offensive behavior but did nothing to address it. During a staff meeting, according to the EEOC, the General Manager laughed at an employee's racist comments. When Perkins' discomfort with the racially offensive conduct was brought the General Manager's attention, the General Manager made light of Perkins' discomfort. The EEOC contends that because of the racially abusive work environment, Perkins' working conditions were so intolerable that he was forced to quit. When an employee quits because of a racial hostile work environment, as explained by the U.S. Supreme Court in Green v. Brennan, 542 U.S. 129 (2016), Title VII "treats that resignation as tantamount to an actual discharge."
EEOC Protects Workers From Racist Behavior
The EEOC is the administrative agency of the United States responsible for interpreting and enforcing federal laws prohibiting employment discrimination, harassment, and retaliation. In enforcing the federal anti-discrimination laws, the EEOC is also authorized by federal law to bring lawsuits on behalf of victims of racial harassment. In a press release issued by the EEOC on October 16, 2019 regarding the case, the Director of the EEOC's New York District Office, Kevin Berry, stated that "the law is clear—employers have a responsibility to ensure that their workplaces are free from racial harassment and cannot ignore employees' racist behavior, much less condone it."
Consultation With Inverness Discrimination Lawyers
Based in Ocala, Florida and representing employees throughout Central Florida, our Citrus County, Florida racial discrimination attorneys have almost two decades of experience representing victims of racial harassment in cases before the EEOC. If you have been subjected to racist behavior in the workplace or have questions about an employer's obligation to ensure that the workplace is free from racial harassment, please contact our office for a free consultation with our Citrus County, Florida racial discrimination lawyers. Our employee rights law firm takes race discrimination and racial harassment cases on a contingency fee basis. This means that there are no attorney's fees incurred unless there is a recovery and our attorney's fees come solely from the monetary award that you recover.