EEOC Lawsuit Claims Vulnerable Employees Were Targeted For Sexual Harassment & Retaliation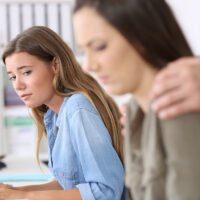 On September 17, 2020, the U.S. Equal Employment Opportunity Commission (EEOC) issued a press release announcing that it has filed a sexual harassment and retaliation lawsuit against GIPHX10, LLC, d/b/a Hawthorn Suites by Wyndham (Hawthorn Suites). On September 17, 2020, the EEOC filed the case, U.S. Equal Employment Opportunity Commission v. GIPHX10, LLC, d/b/a Hawthorn Suites by Wyndham, Case No. 2:20-cv-01369, in the U.S. District Court for the Western District of Washington. Before commencing the civil action, the EEOC initially endeavored to resolve the case through its statutorily mandated conciliation process. Conciliation efforts having failed to resolve the case, the EEOC then elected to address the alleged unlawful employment practices by filing the lawsuit. In this article, our Lecanto Florida attorneys for sexual harassment explain the EEOC's allegations against Hawthorn Suites.
Protection Against Sexual Hostile Environment
The EEOC has filed the sexual harassment and retaliation lawsuit pursuant to Title VII of the Civil Rights Act of 1964 (Title VII) on behalf of two employees of Hawthorn Suites, Sofia Vera Rodriguez (Vera) and Maria Cruz Conteras Ramirez (Conteras). Title VII, which is the foundation of Congressional efforts to eradicate discrimination from the American workplace, protects employees from discrimination on the basis of gender. Sexual harassment is a form of gender discrimination prohibited by Title VII. Sexual harassing behavior which is sufficiently severe or pervasive to alter the conditions of the victim's employment and create a hostile working environment is forbidden by Title VII. Under Title VII, employees are also protected from retaliation when they lodge a complaint about perceived sexual harassment in the workplace.
The EEOC claims that Hawthorn Suites violated Title VII by requiring Vera and Conteras to work in a sexual hostile work environment. The EEOC further claims that Hawthorn Suites constructively discharged Vera in violation of Title VII by forcing her to quit in order to escape the hostile work environment. The EEOC also alleges that Hawthorn Suites unlawfully retaliated against Conteras in violation of Title VII.
Employees Claim Hostile Work Environment
Vera and Conteras, who are both monolingual Spanish speakers, were employed as housekeepers by Hawthorn Suites at its hotel in Kent, Washington. Vera's employment began in March 2018. Conteras' employment began in February 2018.
The EEOC contends that Vera and Conteras were subjected to hostile work environment sexual harassment by the housekeeping manager of the hotel. The alleged sexual harassment by the housekeeping manager included multiple instances of unwelcome physical contact, sometimes when each woman was alone in a room cleaning. The EEOC also claims that the housekeeping manager made numerous unwelcome comments of a sexual nature, including mocking Vera's protests that she did not want to be touched by him and telling Conteras that he was going to sexually assault her. Left with no reasonable alternative and fearing for her safety because of the housekeeping manager's unwanted sexual harassment, according to the EEOC, Vera involuntarily resigned her employment in July 2018.
Employee Claims Unlawful Retaliation
In October 2018, the EEOC alleges, Conteras complained to her immediate supervisor about the housekeeping manager's verbal and physical sexual harassment, including his threats to sexually assault her. Days later, Conteras met with the hotel's General Manager along with a co-worker who spoke English and Spanish to help translate her description of the sexual harassment Conteras had experienced. The General Manager, the EEOC claims, conducted a cursory investigation of Conteras' sexual harassment complaint by asking the housekeeping supervisor whether he had sexually harassed Conteras, and the housekeeping manager denied doing so.
Following her complaint, according to the EEOC, the General Manager retaliated against Conteras by directing the bilingual employee who helped translate at the meeting not to assist Conteras again, which left her unable to complain about the housekeeping manager to the General Manager. The EEOC further contends that the General Manager retaliated against Conteras by threatening to call the police on Conteras if she brought her English-speaking son to the hotel where he could translate for her, and then also threatened to fire her if she did so. The EEOC also maintains that the General Manager retaliated against Conteras by reducing her hours from five days a week to three days a week, when other housekeepers only had their hours reduced from five days a week to four days a week.
Lawyers For Sexual Harassment Victims
The EEOC is the administrative agency of the United States responsible for interpreting and enforcing federal labor laws forbidding discrimination, harassment, and retaliation in the workplace. As part of its administrative enforcement of the federal labor laws, the EEOC files lawsuits on behalf of victims of unlawful employment discrimination, including victims of unlawful sexual harassment and retaliation. In a press release issued by the EEOC on September 17, 2020 regarding the case, the Director of the EEOC's Seattle Field Office, Nancy Sienko, explained that "according to the EEOC's Select Task Force on the Study of Harassment in the Workplace, the risk of harassment often increases in workplaces with significant power disparities, isolated workplaces, and employees with limited English proficiency." In further commenting on the case, Ms. Sienko stated that "employers should ensure that workers receive information regarding harassment policies in a language and manner they understand." "In this case," Ms. Sienko added, "both women were monolingual Spanish speakers, but none of Hawthorn's anti-discrimination policies and procedures were available in Spanish."
Sexual Harassment Lawyers In Lecanto, FL
Based in Ocala, Florida and representing employees throughout Central Florida, our Citrus County, Florida sexual harassment attorneys have dedicated their practice to fighting for employee rights. If you have been subjected to unwanted sexual conduct in the workplace or have questions about an employer's duty to prevent sexual harassment in the workplace, please contact our office for a free consultation with our Lecanto, Florida sexual harassment lawyers. Our employment and labor law attorneys take sexual harassment cases on a contingency fee basis. This means that there are no attorney's fees incurred unless there is a recovery and our attorney's fees come solely from the monetary award that you recover.