EEOC Resolves Pregnancy Discrimination Case Alleging Applicant Not Hired Because Of Pregnancy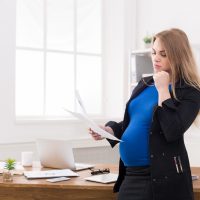 Having represented employment discrimination victims for more than twenty years, our Marion County, Florida employment attorneys know those job applicants who are pregnant continue to face significant obstacles in their efforts to gain employment. In far too many cases, our Ocala, Florida employment lawyers have learned, employers refuse to hire job applicants after learning they are pregnant. In this article, our Marion County, Florida employment attorneys explain how a pregnancy discrimination lawsuit recently resolved by the U.S. Equal Employment Opportunity Commission (EEOC) demonstrates that federal employment discrimination law prohibits employers from failing or refusing to hire job applicants because they are pregnant.
Pregnancy Discrimination Lawsuit
On August 26, 2021, the EEOC issued a press release announcing that it has entered into a Consent Decree settling a pregnancy discrimination lawsuit against Labor Source, LLC, doing business as Wise Staffing (Labor Source). On August 23, 2021, the EEOC filed the pregnancy discrimination lawsuit, U.S. E.E.O.C. v. Labor Source, LLC, Case No. 3:21-cv-00187, in the U.S. District Court for the Northern District of Mississippi after initially attempting to resolve the alleged unlawful employment practices through conciliation. In the Consent Decree, which was signed by U.S. District Court Judge Michael P. Mills on August 25, 2021, Labor Source agreed to pay $40,000 to resolve the pregnancy discrimination lawsuit.
The EEOC brought the pregnancy discrimination lawsuit pursuant to Title VII of the Civil Rights Act of 1964, as amended by Pregnancy Discrimination Act of 1978, on behalf of an individual who applied for employment with Labor Source, a woman named Harwell (Harwell). The PDA makes it an unlawful employment practice for employers to discriminate against employees or job applicants on the basis of pregnancy. In forbidding pregnancy discrimination, the PDA mandates that employers treat pregnant employees and job applicants the same as non-pregnant employees and job applicants. The EEOC contends that Labor Source discriminated against Harwell in violation of the PDA by failing to hire her after she disclosed her pregnancy during an employment interview.
EEOC Claims Discriminatory Failure To Hire
In May 2019, Harwell applied to work for Labor Source. Three days after she applied, Harwell was interviewed by a hiring official for Labor Source, Westmoreland. During the interview, Harwell told Westmoreland that she was pregnant. On May 17, 2019, Westmoreland interviewed Howell for a second time. That same day, Harwell sent Westmoreland a text message asking when a hiring decision would be made. Westmoreland replied that she would try to let applicants know a decision by May 29, 2019.
On May 24, 2019, Harwell received a text message from Westmoreland informing Harwell that she would not be hired. Westmoreland stated that she wanted to save Harwell for one of the next training classes after the one starting June 3, 2019. Westmoreland, however, never contacted Harwell about the next training class after the one starting June 3, 2019. Instead, according to the EEOC, Labor Source hired less qualified non-pregnant job applicants between May 2019 and September 2019.
Lawyers For Discrimination Victims
The EEOC is the administrative agency of the federal government responsible for interpreting and enforcing federal employment discrimination law. As part of its administrative and enforcement machinery, the EEOC is authorized to file lawsuits in federal court on behalf of victims of unlawful employment discrimination, including employees and job applicants discriminated against on the basis of pregnancy. In a press release issued on August 26, 2021, regarding the case, the Director of the EEOC's Memphis District Office, Edmond Sims, explained that the "Pregnancy Discrimination Act requires employers to treat qualified pregnant employees and job applicants the same as they would treat other qualified applicants and employees." "The EEOC will continue," Mr. Sims added, "to enforce that important law."
Marion County, FL Employment Attorneys
Based in Ocala, Florida and representing workers throughout Central Florida, our Marion County, Florida employment lawyers have fought for the rights of pregnant employees and job applicants for more than two decades. If you have suffered discrimination because of pregnancy or have questions about your rights as a pregnant employee or job applicant, please contact our office for a free consultation with our Ocala, Florida employment attorneys. Our employee rights law firm takes pregnancy discrimination cases on a contingency fee basis. This means that there are no attorney's fees incurred unless there is a recovery and our attorney's fees come solely from the monetary award that you recover.