EEOC Settles Age Discrimination Case Alleging Employer Fired Employee After Learning His Age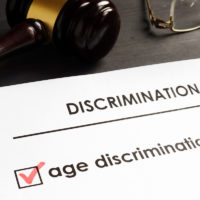 Having litigated age discrimination lawsuits for nearly twenty years, our Marion County, Florida age discrimination lawyers have learned that age discrimination remains a serious problem in the American workplace. As explained by the U.S. Supreme Court in Hazen Paper Co. v. Biggins, 507 U.S. 613 (1993), Congress enacted the Age Discrimination in Employment Act (ADEA) in 1967 because of "its concern that older workers were being deprived of employment opportunities on the basis of inaccurate and stigmatizing stereotypes." Thus, as determined by the Supreme Court in Western Air Lines, Inc. v. Criswell, 472 U.S. 400 (1985), the ADEA mandates that "employers are to evaluate their employees . . . on the basis of their merits and not their age." Despite the ADEA's command, older workers continue to face significant obstacles in their efforts to retain employment. The alleged facts in an age discrimination case recently settled by the U.S. Equal Employment Opportunity Commission (EEOC) are illustrative of an older employee's plight to retain employment.
Age Discrimination Is Unlawful
On July 30, 2019, the EEOC issued a press release announcing that it has entered into a Consent Decree to settle an age discrimination lawsuit against Keer America Corporation (Keer). In the Consent Decree, Keer agreed to pay $32,000 to settle the age discrimination lawsuit. On September 1, 2017, the EEOC filed the lawsuit, U.S. Equal Employment Opportunity Commission v. Keer America Corporation, Case No. 0:17-cv-2360, in the U.S. District Court for South Carolina after initially attempting to reach a pre-litigation settlement through its statutorily mandated conciliation process. The EEOC brought the age discrimination lawsuit on behalf of a former employee of Keer, Scott Gamble (Gamble). In this article, our Marion County, Florida age discrimination lawyers explain the EEOC's allegations against Keer.
EEOC's Allegations Of Age Discrimination
On April 18, 2015, Gamble received an offer of employment from Keer for the position of Sales Leader. The offer was made by Keer's then-Human Resources Generalist. On April 27, 2015, Gamble began his employment with Keer. On April 29, 2015, Gamble spoke with the Human Resources Generalist who made him the offer of employment. The Human Resources Generalist advised Gamble that around April 22, 2015, after Keer's Plant Manager learned Gamble's age and before Gamble began working for Keer, the Plant Manager instructed the Human Resources Generalist to revoke Gamble's offer of employment. The EEOC alleges that the Plant Manager also instructed the Human Resources Generalist not to hire persons who were age 40 or older. The Plant Manager terminated Gamble's employment on May 8, 2015. When he was fired, Gamble was 47 years old. According to the EEOC, Gamble was replaced by a person who was 30 years old at the time of replacement. The EEOC claims that Keer fired Gamble because of his age in violation of the ADEA. 
Employees Protected Against Age Discrimination
The EEOC is the administrative agency of the United States responsible for interpreting and enforcing federal laws prohibiting employment discrimination. In enforcing the federal anti-discrimination laws, the EEOC is also authorized by federal law to bring lawsuits on behalf of victims of employment discrimination, including age discrimination. In a press release issued by the EEOC regarding the case, a Regional Attorney for the EEOC's Charlotte District Office, Lynette Barnes, stated that "[e]mployers who made age-based employment decisions are at risk of violating the ADEA when those decisions impact persons over the age of 40." "The EEOC is committed to combatting this practice," Ms. Barnes added, "and enforcing the ADEA against employers who discriminate against older workers."
Free Consultation With Ocala Age Discrimination Lawyers
Based in Ocala, Florida and representing employees throughout Central Florida, our Marion County, Florida age discrimination attorneys have represented employment discrimination victims in hundreds of cases before the EEOC. If you have experienced age discrimination in the workplace or have questions about your protection against age discrimination, please contact our office for a free consultation with our Marion County, Florida age discrimination lawyers. Our employment and labor law attorneys take employment discrimination cases on a contingency fee basis. This means that there are no attorney's fees incurred unless there is a recovery and our attorney's fees come solely from the monetary award that you recover.