EEOC Settles Pregnancy Discrimination Case Alleging Employer Revoked Job Offer After Learning Applicant Was Pregnant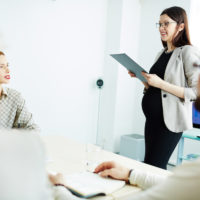 Having represented victims of pregnancy discrimination for almost twenty years, our Marion County, Florida employment discrimination attorneys have learned that pregnant women continue to face substantial disadvantages in their efforts to gain employment. In some cases, pregnant job applicants are told they can reapply for employment after giving birth. In other cases, pregnant job applicants have their job offers rescinded after an employer learns they are pregnant. Title VII of the Civil Rights Act of 1964 (Title VII), as amended by the Pregnancy Discrimination Act of 1978 (PDA), makes it unlawful for employers to discriminate against women on the basis of pregnancy, childbirth, or related medical conditions. Under the PDA, employers are prohibited from refusing to hire a qualified job applicant because of pregnancy.
In a press release issued May 28, 2019, the U.S. Equal Employment Opportunity Commission (EEOC) announced that it has entered into a Consent Decree to settle a pregnancy discrimination lawsuit filed by the EEOC against Scribe-X Northwest (Scribe-X). In 2017, the EEOC filed the pregnancy discrimination lawsuit, U.S. Equal Employment Opportunity Commission v. Scribe-X, LLC, d/b/a Scribe-X Northwest, Case No. 3:17-cv-1520, in the U.S. District Court for the District of Oregon after initially attempting to reach a pre-litigation settlement through its statutorily mandated conciliation process. The EEOC brought the pregnancy discrimination lawsuit pursuant to the PDA on behalf of Brittany Frisby (Frisby). In this article, our Marion County, Florida employment discrimination lawyers explain the EEOC's allegations against Scribe-X and the Consent Decree.
EEOC'S Allegations Of Pregnancy Discrimination
Scribe-X is a medical document service company based in Portland, Oregon. On December 31, 2015, Scribe-X gave Frisby a written offer for a medical scribe position. Frisby accepted the job offer, successfully completed all the pre-hire screening procedures, was added to Scribe-X's office e-mail system, and was scheduled to start her employment on January 11, 2016. On January 4, 2016, Frisby notified Scribe-X that she was pregnant and would need maternity leave in April 2016. On January 8, 2016, Scribe-X's co-owner and CEO called Frisby and rescinded the job offer. The CEO told Frisby that had the company known of her pregnancy, she would not have been hired. The EEOC claims that Scribe-X violated the PDA by rescinding Frisby's job offer because of her pregnancy.
Consent Decree Settling Discrimination Lawsuit
In the Consent Decree settling the lawsuit, which was signed by U.S. District Judge Michael H. Simon, Scribe-X agreed to pay $80,000 to Frisby to resolve the pregnancy discrimination case. In the Consent Decree, Scribe-X also agreed to develop and implement written policies that prohibit discrimination, with particular attention to the prohibition against pregnancy discrimination. Scribe-X further agreed to provide anti-discrimination and anti-retaliation training to all employees. The EEOC also required Scribe-X to provide the EEOC, for a three-year period, with information regarding all complaints of sex or pregnancy discrimination, including the name of the complainant and a summary of the complaint. The EEOC further required Scribe-X to take actions to protect Frisby's rights. The EEOC obligated Scribe-X to provide Frisby with a positive employment reference and to amend its personnel records to state that Frisby voluntarily resigned.
EEOC Defends Workplace Rights
The EEOC is the administrative agency of the United States responsible for interpreting and enforcing federal laws forbidding employment discrimination. In enforcing the federal anti-discrimination laws, the EEOC is also authorized by federal law to bring lawsuits on behalf of victims of employment discrimination. In a press release issued by the EEOC regarding the case, the Director of the EEOC's Seattle District Office, Nancy Sienko, stated that "[p]regnancy discrimination continues to be a serious problem." "This case raises awareness of pregnancy issues," Ms. Siendo added, "and the settlement gives the company a chance to set the right example for all employers[.]"
Free Consultation With Ocala Labor Law Attorneys
Based in Ocala, Florida and representing employees throughout Central Florida, we have represented employment discrimination victims in hundreds of cases before the EEOC. If you have been denied a job because of pregnancy or you have questions about your protection against pregnancy discrimination, please contact our office for a free consultation with our Marion County, Florida employment discrimination attorneys. Our employment and labor law attorneys take employment discrimination cases on a contingency fee basis. This means that there are no attorney's fees incurred unless there is a recovery and our attorney's fees come solely from the monetary award that you recover.