EEOC Settles Unlawful Failure To Hire Case On Behalf Of Disabled Job Applicant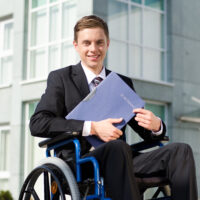 In a press release issued on November 6, 2019, the U.S. Equal Employment Opportunity Commission (EEOC) announced that it has entered into a Consent Decree to settle a disability discrimination lawsuit against Family Dollar Stores of Michigan, LLC (Family Dollar). On September 27, 2018, the EEOC filed the case, U.S. Equal Employment Opportunity Commission v. Family Dollar Stores, Case No. 4:18-cv-13030, in the U.S. District Court for the Eastern District of Michigan after initially attempting to reach a pre-litigation settlement through its statutorily mandated conciliation process.
The EEOC filed the disability discrimination lawsuit pursuant to the Americans with Disabilities Act (ADA) on behalf of Dennis Credit (Credit). The ADA protects employees and job applicants from discrimination on the basis of disability. Under the ADA, the term "disability" means a physical or mental impairment that substantially limits one or more major life activities of an individual. Major life activities include seeing, hearing, speaking, breathing, learning, communicating, interacting with others, and working. The EEOC claims that Family Dollar violated the ADA by refusing to hire Credit because of his disability. In this article, our Inverness, Florida employment discrimination lawyers explain the EEOC's allegations against Family Dollar and the Consent Decree.
EEOC Claims Discriminatory Failure To Hire
Credit is an individual with a disability within the meaning of the ADA. Credit has paralysis in his left arm, which causes him to wear an arm brace. This condition affects his physiological functioning. In January 2017, Credit applied to work for Family Dollar at a store in Detroit as a customer service representative. After interviewing with three managers, the store manager told Credit that he was hired, but it would be a few weeks before he could start working. However, Credit was never scheduled to work. In February 2017, Credit was told that he was being terminated due to budget cuts. Instead of scheduling Credit to work, Family Dollar hired other non-disabled individuals to work as customer service representatives at the same store where Credit sought employment.
Consent Decree Resolving Discrimination Lawsuit
In the Consent Decree settling the disability discrimination case, which was signed by U.S. District Court Judge Matthew F. Leitman on November 6, 2019, Family Dollar agreed to pay Credit $25,000 to resolve the case. In the Consent Decree, Family Dollar agreed to provide training to human resources personnel and management employees on the requirements of the ADA, including providing certification to the EEOC that such managers and human resources personnel have been trained. In the Consent Decree, the EEOC also required Family Dollar to maintain a record of all complaints alleging disability discrimination that are filed by employees who work at the same store where Credit sought employment, and to provide the EEOC with a copy of the complaint upon request by the EEOC.
EEOC Fights Unlawful Failure To Hire
The EEOC is the administrative agency of the United States responsible for interpreting and enforcing federal laws prohibiting employment discrimination. In enforcing the federal anti-discrimination laws, the EEOC is also authorized by federal law to bring lawsuits on behalf of victims of disability discrimination. In a press release issued by the EEOC on November 6, 2019 regarding the case, a trail attorney for the EEOC, Nedra Campbell, stated that "failing to employ an individual because of his disability violates the ADA."
Consultation With Inverness Discrimination Lawyers
Based in Ocala, Florida and representing employees throughout Central Florida, our Inverness, Florida employment discrimination attorneys have almost twenty years of experience representing employees who have been discriminated against on the basis of disability. If you have endured disability discrimination in the workplace or have questions about your protection from disability discrimination as an employee or job applicant, please contact our office for a free consultation with our Inverness, Florida employment discrimination lawyers. Our employment and labor law attorneys take employment discrimination cases on a contingency fee basis. This means that there are no attorney's fees incurred unless there is a recovery and our attorney's fees come solely from the monetary award that you recover.