EEOC Settles Unlawful Termination Lawsuit Alleging Worker Was Fired After Disclosing His Disability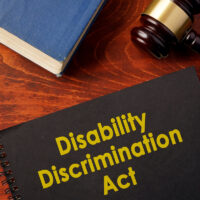 In a press release issued on July 1, 2020 out of Detroit, Michigan, the U.S. Equal Employment Opportunity Commission (EEOC) announced that it has entered into a Consent Decree to settle a disability discrimination lawsuit against Busse Combat Knife Company (Busse Knife). On January 21, 2018, the EEOC filed the lawsuit, U.S. Equal Employment Opportunity Commission v. Busse Combat Knife Company,Case No. 3:18-cv-00144, in the U.S. District Court for the Northern District of Ohio after initially trying to settle the case through its lawfully mandated conciliation process. Unable to settle the case through conciliation efforts, the EEOC then attempted to remedy the alleged unlawful employment practices through litigation. In the Consent Decree, which was signed by U.S. District Court Judge Jack Zouhary on June 30, 2020, Busse Knife agreed to pay $20,900 to resolve the disability discrimination lawsuit.
The EEOC filed the disability discrimination lawsuit pursuant to the Americans with Disabilities Act (ADA) on behalf of a former employee of Busse Knife, Grant Boss (Boss). Under the ADA, employers are prohibited from discriminating against employees on the basis of disability. The EEOC claims that Busse Knife violated the ADA by firing Boss because of his disability. In this article, our Citrus County, Florida unlawful termination lawyers explain the EEOC's allegations of disability discrimination against Busse Knife.
Employee Claims Unlawful Termination
Boss was employed by Busse Knife at its facility in Wauseon, Ohio. The EEOC contends that Boss is disabled within the meaning of the ADA based on his health condition of a generalized anxiety disorder. On June 15, 2016, Boss suffered an anxiety attack and left work early. Boss notified his supervisor via a text message that he had suffered an anxiety attack and asked if he could return to work the next day.
That same day, the owner of Busse Knife responded to Boss' text message. In his text message, the owner told Boss that he was being "written up for leaving work without permission" and that he "may be let go for not disclosing" his anxiety disorder "in your interview or any time since your initial date of hire." The owner further declared that he needed a note within five days from Boss' doctor stating that Boss was allowed to work around weapons and that Boss' medication "does not have any side effects that could hamper your job performance or endanger you and/or fellow employees before you can return to work."
On June 22, 2016, Boss submitted a medical note stating that he was suffering from generalized anxiety disorder but that he was able to perform all job functions "without reservations." After meeting with the owner on July 1, 2016, Boss was then fired. The EEOC claims that Busse Knife unlawfully terminated Boss because of his generalized anxiety disorder in violation of the ADA.
Laws Against Unlawful Termination
The EEOC is the administrative agency of the United States responsible for interpreting and enforcing federal employment laws prohibiting discrimination, including disability discrimination. In fulfilling its Congressional mandate of enforcing the federal employment laws, the EEOC has the statutory right to file lawsuits on behalf of employees who have been unlawfully terminated because of their disability. In a press release issued by the EEOC on July 1, 2020 regarding the case, an attorney for the EEOC's Detroit Field Office, Dale Price, explained that the "ADA is clear: an employer cannot fire an employee because he reveals a disability." "With this resolution," Mr. Price added, Busse Knife "has taken a positive step towards protecting the rights of employees with disabilities in the workplace."
Unlawful Discharge Lawyers In Citrus County, FL
Based in Ocala, Florida and representing employees throughout Central Florida, our Citrus County, Florida unlawful termination attorneys have been fighting for employee rights for more than two decades. If you have been unlawfully fired or have questions about your protection against unlawful termination under the federal employment laws, please contact our office for a free consultation with our Inverness, Florida unlawful termination lawyers. Our employee rights law firm takes unlawful termination cases on a contingency fee basis. This means that there are no attorney's fees incurred unless there is a recovery and our attorney's fees come solely from the monetary award that you recover.