Employee Claims He Was Demoted Because Of Age Where Manager Said "We Need Younger Blood"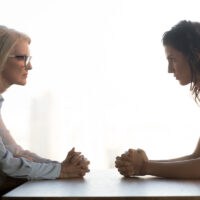 Having litigated age discrimination cases for more than two decades, our Alachua County, Florida age discrimination lawyers know that older workers continue to face significant obstacles in their efforts to retain employment. Unfortunately, many employers seek to push out older employees by targeting them for demotion in hopes that they will quit. In this article, our Gainesville, Florida age discrimination attorneys explain how the facts alleged in Sandvik v. Sears Holding/Sears Home Improvement Products, Inc., 2014 WL 24225 (S.D. N.Y. Jan. 2, 2014) illustrate how an employer's demotion of an older worker which culminates in his or her resignation can backfire on the employer when the employee seeks protection under the federal anti-discrimination laws.
Employee Alleges Discriminatory Demotion
In that case, Giles Sandvik (Sandvik) brought an age discrimination case against his former employer, Sears Home Improvement Products, Inc. (Sears), pursuant to the Age Discrimination in Employment Act (ADEA). Sandvik alleges that he was the subject of age discrimination when he was demoted from upper-level management positions and constructively discharged from his thirty-eight year tenure at Sears.
Sandvik began working for Sears in 1978. In 2006, when he was forty-seven, Sandvik was promoted to District General Manager (DGM) for the Long Island District. In this position, Sandvik reported a Regional Sales Manager, Sprotte, who in turn reported to a Regional Vice President, Moore. During his tenure as DGM, the Long Island District met or exceeded certain performance goals. In Sandvik's 2009 mid-year review, however, Sprotte stated that there were customer service issues in the Long Island District. In February 2010, Sprotte demoted Sandvik to a District Sales Manager (DSM) position in New Rochelle, in the New York City District. According to Sprotte, customer service and compliance issues with area contractors prompted the demotion. A younger employee replaced Sandvik immediately after the demotion.
Employer Wants To "Get Rid Of These Old Guys"
As DSM in New Rochelle, Sandvik was supervised by a Regional Sales Manager named Adam. In April 2010, Adam demoted Sandvik from DSM to Field Services Manager on Long Island. Sandvik claims that Adam gave no reason for the demotion. A younger employee replaced Sandvik immediately after the demotion. After his demotion, Sandvik contacted a Regional Human Resources Manager. The Regional Human Resources Manager was unaware of the demotions and found no documentation regarding the demotions, such as a performance improvement plan or other explanation. In June 2010, Sandvik resigned from Sears and assumed a position with Home Depot.
Sandvik claims that the management in Sears' Northwest Region sought to orchestrate terminations and force older employees to resign. Sandvik was frequently told that Sears "needed more young blood in the organization" and "to get rid of the old wood." At job fairs, Moore allegedly said, "I don't know what's wrong with these older guys, they don't want to work, we need younger blood." Sprotte also allegedly said, "We got to get rid of these old guys, we have to fill them with new, younger blood." According to Sandvik, "there just seemed to be a perception with all the individuals that we need younger people in the organization because they felt that the younger people had more energy, and they wanted to mirror other parts of the country where there was an overall younger organization in the home improvement business."
Policy To Push Out Older Employees
Sears filed a motion with the trial court seeking dismissal of Sandvik's age discrimination case. In doing so, Sears argued that Sandvik had not produced sufficient evidence to establish that he was demoted because of his age or that his working conditions were so intolerable that he was forced to resign. The trial court denied Sears' motion for dismissal and ruled that Sandvik was entitled to proceed to a jury trial on his claims that he was demoted on the basis of age and forced to quit because age discrimination made his working conditions intolerable.
In denying Sears' motion for dismissal, the trial court focused on the ageist comments by Sandvik's supervisors. The trial court found that the ageist comments suggested instead of demoting Sandvik for alleged performance-based reasons, Sandvik's "demotion was part of a policy to push out older workers." The trial court also pointed out that younger employees replaced Sandvik immediately after each demotion. This evidence, the trail court concluded, would enable a reasonable jury to find that Sandvik's age was the real reason for his demotion. The trial court also found that given the "extensive evidence of ageist comments and actions," a reasonable jury could find that Sandvik's "situation was so intolerable that a reasonable person would have felt compelled to resign."
Consult With Gainesville Discrimination Lawyers
Based in Ocala, Florida and representing employees throughout Central Florida, our Alachua County, Florida age discrimination attorneys have represented age discrimination victims for more than twenty years. If you have been discriminated against on the basis of age or have questions about an employer's attempt to push out older employees, please contact our office for a free consultation with our Gainesville, Florida age discrimination lawyers. Our employees' rights law firm takes age discrimination cases on a contingency fee basis. This means that there are no attorney's fees incurred unless there is a recovery and our attorney's fees come solely from the monetary award that you recover.