Employee Claims Requests For Sexual Favors Created Sexually Hostile Work Environment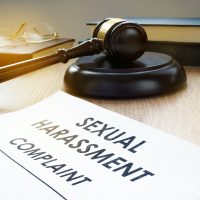 For more than twenty years, our Sumter County, Florida workplace harassment attorneys have fought for the rights of sexual harassment victims. Having litigated sexual harassment sexual harassment cases in Florida courts for decades, our Wildwood, Florida workplace harassment lawyers know that one of the most egregious and oppressive types of sexual harassment is unwanted requests for sexual favors. As observed by the U.S. Ninth Circuit Court of Appeals in Nichols v. Frank, 42 F.3 503 (9th Cir. 1994), "[m]ost workers subjected to sexual pressure in the workplace have little means of defense—other than the law." In this article, our Sumter County, Florida workplace harassment attorneys explain how the alleged facts in Carey v. Chadds Ford Tavern, 2021 WL 5448960 (E.D. Pa. Nov. 22, 2021) illustrate that federal employment discrimination law, the words of the Frank court, "entitles individuals to a workplace that is free from the evil of sexual intimidation or repression."
Workplace Sexual Harassment Lawsuit
In that case, a woman named Carey brought a sexual harassment lawsuit against her former employer, Chadds Ford Tavern (the Tavern), pursuant to Title VII of the Civil Rights Act of 1964 (Title VII). Title VII makes sexual harassment an unlawful employment practice. To violate Title VII, sexual harassment must be sufficiently severe or pervasive to alter the conditions of the victim's employment and create a hostile working environment. Carey claims that the Tavern violated Title VII by requiring her to work in a sexually hostile work environment.
In April 2018, Carey was hired as a line cook at the Tavern. She alleges that a man named Ferro, the chef and owner of the Tavern, began to sexually harass her in May 2018, subjecting her to unwanted sexual remarks despite her requests to stop. Specifically, Carey contends that Ferro subjected her to unwelcome verbal conduct of a sexual nature on at least four occasions when they were alone, including asking about her sexual history with her boyfriend and whether Ferro should have sex with another employee. Carey further maintains that Ferro requested that she perform oral sex on him at least three times. Carey also claims that, while she was bent over, Ferro thrust his genitals in her face and then whispered in her ear. Carey asserts that each time she asked Ferro to stop the sexual behavior, Ferro would "simply laugh."
Additionally, Carey alleges that she was subjected to an on-the-spot drug test on July 2, 2018 by a woman named Maher, the Tavern's General Manager and Ferro's sister. Carey claims that Maher forced her to show her genitals while taking the test. The test was negative. On July 10, 2018, Maher terminated Carey's employment via a text message for alleged unprofessionalism and poor work ethic. Maher sent the text message after a "cold steak" incident in which a customer sent back a steak twice and Carey, after placing the steak in the microwave, reacted strongly.
Employee Endured Severe Sexual Harassment
The Tavern filed a motion with the trial court seeking dismissal of Carey's sexual harassment claim. In support of its motion for dismissal, the Tavern argued that alleged sexual harassment was not sufficiently severe or pervasive to alter the conditions of Carey's employment and create a hostile working environment. The trial court denied the Tavern's motion for dismissal and ruled that Carey's allegations were sufficient to establish that she worked in a sexually hostile work environment in violation of Title VII to proceed to a jury trial.
In denying the Tavern's motion for dismissal, the trial court found that the Tavern's argument "sets a bar for the severity of sexual harassment far higher than the one the Supreme Court has set." As observed by the U.S. Second Circuit Court of Appeals in Richardson v. New York State Dep't of Correction Serv., 180 F.3d 426 (2d Cir. 1999), "the appalling conduct alleged in prior cases should not be taken to mark the boundary of what is" severe enough to create a sexually hostile work environment. Guided by this principle, the trial court rejected the Tavern's assertion that Ferro's "conduct was not so bad" and found that Ferro's alleged conduct was severe enough to trigger relief under Title VII because "Carey has introduced evidence of recurring unwanted sexual advances, including thrusting his genitals in her race." These allegations, the trial court reasoned, "go far beyond innocuous teasing" that "will not amount to discriminatory changes in the terms and conditions of employment."
Free Consultation For Employees
When seeking to protect and vindicate their employee rights, one of the most important decisions employees must make is deciding which employment law attorneys to consult with about their workplace issues. At our employee rights law firm, an experienced employment law attorney will speak with you personally and you will receive the individualized attention your case deserves. We provide employees with free confidential case evaluations and employees will not have to pay to speak with our employment law attorneys regarding their workplace issues. We are available for consultation at your convenience and are able to schedule telephone consultations for evenings and weekends.
Workplace Harassment Lawyers In Wildwood, FL
Based in Ocala, Florida and representing workers throughout Florida, our workplace harassment attorneys in Sumter County, Florida have dedicated their practice to representing sexual harassment victims. If you have worked in a sexually hostile work environment or have questions about your rights as a sexual harassment victim, please contact our office for a free consultation with our workplace harassment lawyers in Wildwood, Florida. Our employees' rights attorneys take sexual harassment cases on a contingency fee basis. This means that there are no attorney's fees incurred unless there is a recovery and our attorney's fees come solely from the monetary award that you recover.