Employers Cannot Fire Employees Who They Think Are Disabled Even Though They Are Not Disabled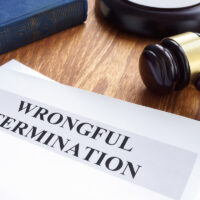 Having represented employees who have been wrongfully fired for almost two decades, our Ocala, Florida wrongful discharge attorneys have learned that many employers mistakenly believe that they are lawfully permitted to fire employees who they think are disabled so long as the employees are not, in fact, disabled. Under the Americans with Disabilities Act (ADA), it is an unlawful employment practice for an employer to fire employees who are disabled and employees who they regard as disabled. The recent decision by the U.S. Sixth Circuit Court of Appeals in Babb v. Maryville Anesthesiologists, P.C., Case No. 19-5148 (6th Cir. Nov. 6, 2019) illustrates the broad scope of protection afforded by the ADA to employees who are regarded by employers as disabled even though, in reality, they are not disabled.
Employee Claims Wrongful Discharge
In that case, Paula Babb (Babb) brought an employment discrimination lawsuit against her former employer, Maryville Anesthesiologists, P.C. (Maryville), pursuant to the ADA. Babb claims that Maryville fired her in violation of the ADA because it thought she is visually disabled, even though, in reality, she is not visually disabled.
Babb is a Certified Registered Nurse Anesthetist (CRNA). In June 2015, Babb began working as a CRNA at Maryville. Approximately one month into her employment, one of Maryville physician-owners, Coleman, observed Babb "place her face very close to a computer screen," and asked Babb why she was doing that. Babb informed Coleman that she suffered from a "degenerative retinal condition" that made it hard for her to read certain screens and medical records. But, Babb reassured Coleman that this disorder did not affect her ability to do the job. Coleman relayed this information to another Maryville physician-owner, Robertson, responsible for personnel decisions, and added that, as she understood it, Babb "would be blind in ten years."
Employer Thought Employee Might Have A Disability
On October 30, 2015, Babb met with Robertson and another Maryville physician-owner, Proffitt, regarding her degenerative eye condition. During the meeting, Babb insisted that the disorder did not affect her ability to do the job and that her vision was otherwise "stable." In response, Robertson and Proffitt first reassured Babb that, her vision notwithstanding, she was a "good fit" and was "doing well." Then the two physicians asked Babb to schedule an appointment with her eye doctor and report back. Robertson, in turn, asked Babb if she had "disability insurance" because in, Robertson's words, she thought Babb "might have a disability."
In December 2015, Maryville discovered that Babb had made a clinical error. In January 2016, Maryville learned that Babb made another clinical error. About one week later, on January 13, 2016, Maryville physician-owners held their regular monthly meeting. At this meeting, the physician-owners discussed Babb "at length," and touched on Babb's vision difficulties and Babb's clinical errors. At the end of the discussion, the physician-owners voted to fire Babb. According to Maryville, the physician-owners reached this decision solely because Babb's clinical errors demonstrated that "she could no provide safe and appropriate patient care." Consequently, when communicating the termination decision to Babb, Maryville focused exclusively on the clinical errors and did not mention Babb's vision.
Employer Admits Employee Was Fired For Vision Problems
Hours after Babb was terminated, one of Babb's fellow CRNA's, Aycocke, stated in an email to the other CRNA's that Maryville had fired Babb almost entirely for the other issue discussed in the January 13 meeting, namely, Babb's "worsening eyesight." It was undisputed that Aycocke wrote the email at Proffitt's direction, shortly after conversing with Proffitt regarding Maryville's decision to terminate Babb.
The trial court dismissed Babb's disability discrimination claim. In doing so, the trial court adopted Maryville's narrative that it fired Babb solely because of clinical errors unrelated to her impaired vision. On appeal, the Sixth Circuit reversed the trial court's decision and reinstated Babb's disability discrimination claim.
Smoking Gun Evidence Warrants Jury Trial
In reversing the trial court, the Sixth Circuit found that Babb had presented sufficient evidence to establish that Maryville regarded her as disabled. The appellate court explained that Maryville physician-owners openly expressed concerns about Babb's degenerative retinal condition, including during the meeting at which Maryville decided to fire Babb. The court of appeals also observed that Maryville's head of personnel, Robertson, met with Babb to discuss her vision, and, during that meeting, asked Babb if she had disability insurance. "This is more than enough evidence," the Sixth Circuit concluded, from which a reasonable jury could find that Maryville regarded Babb as disabled.
Turning to the issue of whether Maryville fired Babb because it regarded her as disabled, the Sixth Circuit found that a reasonable jury could conclude that Babb's clinical errors were not what actually motivated Maryville to fire Babb. The appellate court pointed out that just hours after Maryville decided to fire Babb, Aycocke wrote an email to her follow CRNA's "essentially stating that Maryville was firing Babb because of her impaired vision." Moreover, Aycocke admitted that she prepared the email "at the direction of Proffitt—one of the key players involved in Babb's termination—shortly after Proffitt informed her of Babb's termination." "If this kind of 'smoking gun' evidence cannot get an employment discrimination plaintiff" to a jury, the Sixth Circuit reasoned, "it is hard to imagine what could."
Free Consultation With Ocala Wrongful Discharge Attorneys
Based in Ocala, Florida and representing employees throughout Central Florida, our Ocala, Florida wrongful lawyers have been litigating employment law cases on behalf of employees for almost twenty years. If you have been wrongfully discharged or have questions about your protection against disability discrimination, please contact our office for a free consultation with our Ocala, Florida wrongful discharge attorneys. Our employee rights law firm takes wrongful discharge cases on a contingency fee basis. This means that there are no attorney's fees incurred unless there is a recovery and our attorney's fees come solely from the monetary award that you recover.