Florida ICE Officer Sues Over Anti-Muslim Harassment in the Workplace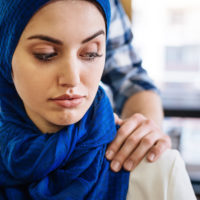 Title VII of the federal Civil Rights Act of 1964 prohibits discrimination against employees in the workplace based on race, color, national origin, sex, and religion. Sexual harassment and harassment otherwise leading to a hostile work environment are forms of discrimination under the law. Thankfully, harassment and discrimination in the workplace are being recognized and addressed more now than in previous years, but they are by no means a shrinking problem. Incidents of religious discrimination and harassment, especially against those of the Muslim faith, are becoming more rampant across the country. While race and gender-based claims make up the bulk of discrimination claims filed, religious discrimination around the country and in the workplace remains a pervasive problem. A recent federal case brought by a Muslim officer at a federal agency illustrates the ongoing problem.
ICE officer sues in Florida federal court based on "terrorist" comments, sexual harassment
An officer at the U.S. Customs and Immigration Enforcement Agency (ICE), within the Department of Homeland Security, recently filed a lawsuit in Florida federal court against her employer. The officer is of Muslim faith. The plaintiff's claims include allegations of sexual harassment, but the bulk of her complaint alleges harassment based on her religion. She alleges that, for example, other federal officers called her a "hijabist" and a "terrorist," otherwise mocked her Hijab hair scarf, and stated that she was a member of the terrorist group ISIS. These statements create a clear case of hostile work environment harassment based on religion. To the extent her superiors failed to prevent or address these incidents, she may be entitled to recovery. 
Statistics show an increase in religion-based discrimination and harassment in recent years
Unfortunately, the harassment of the federal officer is symptomatic of a larger trend. According to hate crime statistics from the Federal Bureau of Investigation as analyzed by the Pew Research Center, incidents of assault against Muslims have skyrocketed since 2014, surpassing even 2001 levels. Anti-Muslim hate crimes rose 16 percent from 2015 to 2016, but had already risen an alarming 67 percent from 2014 to 2015. The Pew Research Center noted that in 2016 people of Jewish faith were targeted the most in terms of religion-based harassment, as in previous years. Further, the data are drawn from voluntary reports by law enforcement agencies around the country, meaning they likely under-represent the actual number of incidents per year.
Statistics from the U.S. Equal Employment Opportunity Commission likewise show an increase in workplace discrimination claims filed based on religion in recent years. The EEOC received over 3,400 complaints involving religion-based charges in 2017, up from 2,900 in 2007 and double the 1,700 filed in 1997. Around 7.5 percent of those charges were filed in Florida. Religion-based charges made up about 4.1 percent of the total charges filed in 2017 and have steadily increased in proportion of the total charges filed since 2005. 
Free Consultation With Marion County Discrimination Lawyers
Based in Ocala, Florida and representing employees throughout Central Florida, we have almost twenty years of experience representing employees who have been the victims of discrimination and harassment in the workplace. If you have been subjected to discrimination or harassment at work or have questions about your rights as an employee, please contact our office for a free consultation with our Marion County, Florida employment discrimination attorneys. Our employee rights law firm takes employment discrimination and harassment cases on a contingency fee basis. This means that there are no attorney's fees incurred unless there is a recovery, and our attorney's fees come solely from the monetary award that you recover.