U.S. House Passes Expansive LGBT Protection Bill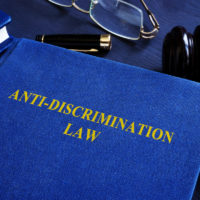 Title VII of the Civil Rights Act of 1964 (Title VII) makes it illegal for any employer to discriminate against any employee in terms of hiring, promotion, compensation, or other terms or conditions of employment based on their sex or gender. Many states around the country expanded these protections to explicitly prohibit discrimination based on sexual orientation, but the letter of the law is unclear under federal law. Some federal cases have held that federal law prohibits discrimination against people based on their sexual orientation under some circumstances, but opponents of LGBT protections continue to fight against such views of the law, and the extent of protections for LGBT people remains unclear. The U.S. House of Representatives just passed a sweeping and historic bill amending Title VII and other federal nondiscrimination laws to explicitly address protections for LGBT people. Whether the bill becomes law depends on the Senate.
U.S. House lawmakers pass bill amending Title VII
On Friday, May 17, the U.S. House of Representatives voted to approve H.R. 5, dubbed the "Equality Act." The Equality Act's stated purpose is to "prohibit discrimination on the basis of sex, gender identity, and sexual orientation," as well as for "other purposes." The Equality Act bans discrimination in education, housing, credit, jury selection, and employment based on sexual orientation and gender identity. Regarding employment, the bill would specifically amend federal nondiscrimination laws to replace the word "sex" with "sex (including sexual orientation and gender identity)" wherever discrimination based on "sex" is referenced. 
The bill was passed by a vote of 236-173, primarily based on party lines: Every Democrat and eight Republicans voted for the bill. Rep. Mario Diaz-Balart of Florida was one of the few Republicans to cross party lines and support the bill. House Democrats such as Rep. Donna Shalala of Florida's 27th district, which covers Miami, celebrated the bill because "in Florida and many other states, LGBTQ Americans are still at risk of being fired, evicted, denied services because of their sexual orientation or gender identity." Advocates praise the bill and its passage but recognize that it is unlikely to survive the Senate. 
The vast majority of House Republicans vocally opposed the bill, calling it "bad for freedom" and lambasting it for exposing "religious schools and universities and faith-based organizations to legal liability for simply following their earnest beliefs." Senate Republicans are expected to similarly oppose the bill, and President Trump is widely expected to veto the legislation if it does reach his desk. Regardless, advocates such as Equality Florida celebrate the Equality Act's passage in the House as a "historic milestone in the fight to protect LGBTQ Americans from discrimination."
Free Consultation With Marion County Discrimination Lawyers
Based in Ocala, Florida and representing employees throughout Central Florida, we have almost twenty years of experience representing employees who have been the victims of discrimination and retaliation in the workplace. If you have been subjected to discrimination or retaliation at work or have questions about your rights as an employee, please contact our office for a free consultation with our Marion County, Florida employment discrimination attorneys. Our employee rights law firm takes employment discrimination and retaliation cases on a contingency fee basis. This means that there are no attorney's fees incurred unless there is a recovery and our attorney's fees come solely from the monetary award that you recover.