How Employers Minimize Sexual Harassment Complaints By Employees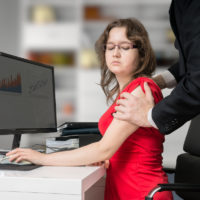 Under Title VII of the Civil Rights Act of 1964 (Title VII), sexual harassment that creates a hostile work environment is a form of prohibited sex discrimination. In order to comply with Title VII, employers have a duty to investigate and remedy sexual harassment in the workplace. Once an employer actually knows or reasonably should know about sexually harassing behavior an employee is experiencing, the employer is required to undertake remedial measures that are reasonably calculated to end the harassment.
Having long represented victims of sexual harassment, our Marion County, Florida sexual harassment attorneys have learned that employers often fail to investigate and remedy sexual harassment after learning of it. Rather than take steps that are reasonable calculated to end and deter sexual harassment, employers frequently focus on the ostensible benign intent of the harasser. For example, employers will minimize the abusive effect on the workplace environment of the harasser's conduct by focusing on whether the harasser intended to be offensive or to cause harm. In doing so, employers invariably reach the self-serving conclusion that the harasser acted with benign intent and, thus, the victim should not consider the harasser's conduct to be threatening, humiliating, or offensive.
"That's Just How They Treat Their Women Over There"
The decision by the U.S. Sixth Circuit Court of Appeals in West v. Tyson Foods, Inc., No. 08-6516 (6th Cir. 2010) is instructive in showing how employers minimize a victim's sexual harassment complaint by claiming that the harassers did not intend to be offensive or to cause harm. In that case, Amanda West (West) brought a sexual harassment claim against her former employer, Tyson Foods, Inc. (Tyson), pursuant to Title VII. West testified that during her first week of work at Tyson's chicken processing plant, several male employees began sexually harassing her. West alleged that she was continuously subjected to sexual propositions, comments about her breasts and buttocks, sexual remarks, and wolf whistling.
West reported the harassment to a supervisor named Parks. West testified that Parks' initial reaction was to tell her "don't take it offensively; that's just how they treat their women over there," and then "well, you know, you are hot," after which Parks laughed. When West did not laugh, Parks promised West that he would see to it that the behavior was resolved and asked West not to go to human resources because he wanted to resolve it first. In response to West's complaint, Parks' only action was to move West to a different place on the plant floor, and, possibly, to watch her occasionally over the next several days.
Despite her complaint to Parks, West testified, the sexually harassing behavior continued unabated in its frequency and severity. On one occasion, a co-worker touched her breasts and groped her buttocks. On other occasions, co-workers grabbed her buttocks. Two weeks after she complained to Parks, West quit after she was followed home in her car one night, making her fear for her physical safety.
When she went to Tyson to pick up her final paycheck, West was told that she was required to have an exit interview with the HR Manager. During a 45-minute meeting, West told the HR Manager about the sexual harassment that she had endured. The HR Manager promised West that he would start an investigation even though she no longer worked at Tyson. However, the HR Manager ultimately admitted that he never began an investigation into West's complaint of sexual harassment.
Employer's Response Justified & Perpetuated Harassment
After a trial, a jury returned a verdict in favor of West on her sexual harassment claim. On appeal, Tyson argued that the trial court should have dismissed West's sexual harassment claim and West should not have been allowed to bring her sexual harassment claim before a jury. In support of this position, Tyson claimed that Parks' actions in response to West's complaint were appropriate and the jury could not have reasonably found otherwise.
In rejecting Tyson's argument and upholding the jury's verdict, the Sixth Circuit found that Parks' response "was neither reasonably prompt nor effective." Parks' initial response to West's complaint, the appellate court explained, "was to justify and perpetuate the harassment" by saying "that's just how they treat their women over there" and "well, you know, you are hot." After initially emboldening the harassers to continue their behavior, the only action Parks took in response to West's complaint was to move her to a different place on the plant floor, and, possibly, to watch her occasionally over the next few days. "[T]his action," the Sixth Circuit concluded, "was woefully insufficient" to satisfy Tyson's obligation to take prompt and effective remedial action to prevent the sexual harassment from recurring.
Free Consultation With Hostile Work Environment Lawyers
Based in Ocala, Florida and representing employees throughout Central Florida, we have almost twenty years of experience representing employees who have been the victim of hostile work environment harassment. If you have experienced sexual harassment in the workplace or have questions about an employer's response to your sexual harassment complaint, please contact our office for a free consultation with out Marion County, Florida hostile work environment harassment attorneys. Our employee rights law firm takes sexual harassment cases on a contingency fee basis. This means that there are no attorney's fees incurred unless there is a recovery and our attorney's fees come solely from the monetary award that you recover.