How Employers Try To Get Rid of Pregnant Employees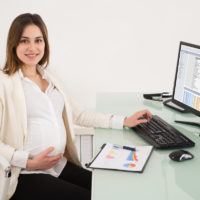 Having dedicated their practice to fighting for victims of employment discrimination, our Citrus County, Florida employment law attorneys have learned that many employers want to get rid of pregnant employees. A tactic commonly used by employers to get rid of pregnant employees is to force them to take a leave of absence and tell them that they can come back to work after giving birth. The promise of future re-employment is usually illusory as employers routinely tell employees who seek to return to work after giving birth that their job has been filled. After severing the employment relationship and creating the false impression that the severance was intended to be temporary, employers then hope that the employees will simply go away quietly. The alleged facts in Bobak v. Bright Star Ambulance, No. 16-10397 (N.D. Ill. Feb. 12, 2019) are illustrative of this employer tactic.
Employee Plans To Work Until Going Into Labor
In that case, Wendy Bobak (Bobak) brought an employment discrimination lawsuit against her former employer, Bright Star Ambulance, Inc. (Bright Star). Bobak claimed that Bright Star fired her because of her pregnancy in violation of the Pregnancy Discrimination Act (PDA). Bobak began working for Bright Star in October 2014. Bright Star hired Bobak as an EMT Basic and then promoted her to supervisor. As a supervisor, Bobak's duties evolved. In addition to her responsibilities as an EMT Basic, Bobak began to take care of day-to-day operations, which included ensuring the ambulances were operating, filling in for absent employees, handling inventory, reviewing paperwork, and training new EMT's.
Bobak learned that she was pregnant in October 2015. Bobak informed her supervisor, a man named Bailey, of her pregnancy in December 2015 or January 2016. Bobak was due on June 16, 2016 and planned to work until she went into labor, then take six weeks of leave. Bobak never changed this plan.
In January 2016, while working a 24-hour shift, Bobak encountered a 600-pound patient. Unlike the day shift, where EMT Basics pre-determined patients according to a set schedule, Bright Star required EMT Basics on the 24-hour shift to be available for a call at any time and EMT Basics did not know beforehand which patients they would be assisting. Around February 2016, Bobak asked Bailey if she could have a full-time office position later in her pregnancy. The parties disagreed over the reason Bobak requested this change. According to Bobak, she did not want to work the 24-hour shifts later in her pregnancy because of the uncertainty regarding the patients she would encounter. Bobak asserted that she did not have any concerns working the day car shifts. According to Bailey, Bobak expressed concern with working on an ambulance in any capacity later in her pregnancy.
Employee Could Return To Work After Giving Birth
In February 2016, Bobak and Bailey discussed the idea of her moving to an office position near the end of her pregnancy. According to Bobak, this position would have consisted of her continuing to do her supervisory duties. Bailey told Bobak that the thought this move was a good idea and that he thought there would be no problem with it, but that the temporary change in position had to be approved by Bright Star's owner. Although the move required the owner's approval, Bailey did not discuss the position change with the owner in February 2016.
In late March 2016, Bobak and Bailey had another discussion about the position change. Once again, the parties disagreed about what was said. Bailey testified that Bobak told him that she would no longer be working on an ambulance and that her statement was not limited to 24-hour shifts. Bobak, however, testified that her statement was limited to 24-hour shifts. After this discussion, Bailey finally approached the owner about the temporary position change. The owner denied Bobak's desired position change. However, Bailey never informed Bobak of the owner's decision.
On April 8, 2016, Bailey had a conversation with Bobak during which he informed her that there was no full-time office position available. Bobak testified that Bailey also told her that she was being let go and that she could apply for unemployment. Bobak was aware, however, that she could return to work after she had her baby.
Forced Leave Is Unlawful If Employee Can Do Her Job
Bright Star filed a motion with the trial court seeking dismissal of Bobak's pregnancy discrimination claim. Bright Star argued that it never terminated Bobak's employment because "she knew she could come back to work after she had the baby." Thus, Bright Star maintained that it could force Bobak to take a leave of absence because of her pregnancy so long as it promised to re-employ her after she gave birth. The trial court denied Bright Star's motion for dismissal and ruled that Bobak was entitled to bring her pregnancy discrimination claim before a jury for resolution.
In denying Bright Star's motion for dismissal, the trial court identified the fatal flaw in Bright Star's argument. Under the PDA, the trial court explained, employers are prohibited from "forcing pregnant women who remain able to work to take leave unless the leave is necessary because the condition of pregnancy is incompatible with continued employment." In other words, an employer cannot require an employee to take leave because she is pregnant so long as she is able to do her job. Under the PDA, as explained by the U.S. Supreme Court in UAW v. Johnson Controls, 499 U.S. 187 (1991), the "decision to work while [ ] being pregnant . . . is reserved for each individual woman to make for herself" and "pregnant women who are able to work must be permitted to work under the same conditions as other employees."
In applying this principle to the facts, the trial court observed that there was "nothing in the record to suggest that Bobak's pregnancy inhibited her ability to do her job." Despite Bobak's ability to perform her job while pregnant, Bright Star nonetheless forced Bobak to take leave until she gave birth. In forcing Bobak to take leave under such circumstances, the trial court reasoned, Bright Star not only terminated her employment, Bright Star's termination of Bobak's employment was "prohibited by the PDA" because she could still do her job while pregnant. Consequently, the trial court determined that a reasonable jury "could conclude that Bright Star discriminated against Bobak because of her pregnancy."
Free Consultation With Inverness Discrimination Lawyers
Based in Ocala, Florida and representing employees throughout Central Florida, we have extensive experience litigating pregnancy discrimination cases in Florida state and federal courts. If you have been the victim of pregnancy discrimination or have questions about your protection against pregnancy discrimination, please contact our office for a free consultation with our Citrus County, Florida employment discrimination attorneys. Our employment and labor law attorneys take employment discrimination cases on a contingency fee basis. This means that there are no attorney's fees incurred unless there is a recovery and our attorney's fees come solely from the monetary award that you recover.