Is it Illegal to Not Hire Someone Because of Age?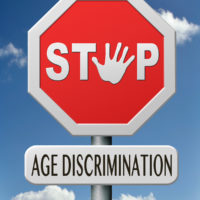 Having represented victims of age discrimination for nearly twenty years, our Marion County, Florida age discrimination attorneys have learned that older workers continue to face significant disadvantages in their efforts to regain employment after being discharged. In many cases, employers refuse to hire older workers on the basis of inaccurate and stigmatizing stereotypes about employees nearing retirement. To many employers, employees nearing retirement are less productive, energetic, and motivated than younger employees. The decision by the U.S. District Court for the Western District of Tennessee in Smith v. Chester County Board of Education, 216 F.Supp.3d 619 (W.D. Tenn. 2016) is instructive in showing that asking an older job applicant how long he or she intends to continue working can be evidence of age discrimination. To clarify, it is illegal to not hire someone on the basis of age.
"How Much Longer Are You Going To Work"
In that case, James Smith (Smith) brought an employment discrimination lawsuit against the Chester County Board of Education (the Board) pursuant to the Age Discrimination in Employment Act (ADEA). Smith claimed that he was discriminated against on the basis of his age in violation of the ADEA when he was not selected by the Board for the position of automotive technology teacher.
In January 2012, the Board began seeking a new teacher for Chester County High School's automotive technology program. The "auto tech" teacher at the time, a man named Rimmer, had recently announced that he would retire at the end of the school year. Having seen an advertisement in a local newspaper reporting the upcoming vacancy, Smith decided to apply for the position. Smith had previously worked for General Motors for thirty years, holding a variety of jobs, including assembly line worker, service engineer, warranty consultant, and area service manager. Smith also had relevant formal education, including an associate's and bachelor's degree in automotive and heavy equipment repair.
On January 20, 2012, Smith went to the Board of Education office to apply for the teaching position. There he submitted his application and resume, and briefly met with the Director of Schools for the Board, a woman named Pipkin. In this position, Pipkin was responsible for making the decision about who would be hired for the auto tech position. During this interview, Pipkin asked Smith how much longer he planned to work. Smith claimed that Pipkin prefaced this question by making note of his age, with the remark, "you're 64, how much longer are you going to work?" Smith alleged that he replied that he "was in perfect health and would probably work until his eighties or nineties."
"A Young Instructor Will Be A Great Asset"
In addition to Smith, the Board also considered a forty-two year old man named Carter for the auto tech position. Carter was interviewed by Pipkin. At Pipkin's suggestion, Carter observed Rimmer's classes on three or four occasions, and after speaking with Pipkin again about his interest in the position, he became a substitute teacher at the high school. In April 2012, Pipkin sent an email to Rimmer asking him for his opinion of Carter. In reply, Rimmer stated that he thought Carter would be "great" and a "young instructor will be a great asset to the automotive program." Later that month, the Board selected Carter for the position.
"Not A Mere Inquiry Into Retirement Plans"
The Board filed a motion with the trial court seeking dismissal of Smith's age discrimination claim. In doing so, the Board maintained that Smith's age discrimination claim was meritless and Smith was not entitled to bring his case before a jury for resolution. The trial court denied the Board's motion for dismissal and ruled that Smith had presented sufficient evidence of age discrimination to proceed to trail.
In denying the Board's motion for dismissal, the trial court found that Pipkin's remark to Smith during the interview that "you're 64, how much longer are you going to work," constituted direct or smoking gun evidence of age discrimination. The trial court explained that the remark was made by the person who made the hiring decision and "related to the decision-making process." The trial court also rejected the Board's argument that Pipkin's remark "concerned retirement, not age, and therefore does not relate to age at all." The trial court pointed out that Pipkin directly referenced Smith's age by saying, "you're 64." Thus, the trial court reasoned, Pipkin's remark was not "a mere inquiry into retirement plans" but reflected that Pipkin "considered" Smith's age in making the hiring decision.
Illegal to Not Hire on the Basis of Age
Based in Ocala, Florida and representing employees throughout Central Florida, we have been in the trenches fighting for victims of employment discrimination for nearly twenty years. If you have been subjected to age discrimination or have questions about your rights under age discrimination laws, please contact our office for a free consultation with our Marion County, Florida age discrimination lawyers. Our employment and labor law attorneys take employment discrimination cases on a contingency fee basis. This means that there are no attorney's fees incurred unless there is a recovery and our attorney's fees come solely from the monetary award that you recover.