Is An Employee Required To Show That The Harasser Intended To Be Offensive In Order To Establish A Racial Harassment Claim?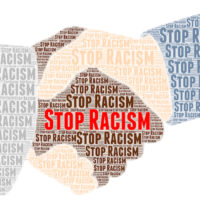 Title VII of the Civil Rights Act of 1964 (Title VII) prohibits racial harassment that creates a hostile work environment. This happens when the workplace is permeated with discriminatory intimidation, ridicule, and insult that is sufficiently severe or pervasive to alter the conditions of the victim's employment and create an abusive working environment. Read on to learn more about making a racial harassment claim.
Generally, an employee's racial hostile work environment claim is based on offensive conduct directed at him or her. In other words, the employee is the specific target of the offensive conduct. However, as the U.S. Supreme Court instructed in Harris v. Forklift Sys., Inc., 510 U.S. 17 (1993), courts must consider the totality of the circumstances when considering the existence of a racial hostile work environment. Included within the totality of circumstances of a victim's work environment is offensive conduct that occurs in the victim's presence—regardless of whether the conduct was intentionally directed specifically at the victim or not. Thus, as determined by the U.S. Eleventh Circuit Court of Appeals in Reeves v. C.H. Robinson Worldwide, Inc., 594 F.3d 798 (11th Cir. 2010), an employee can establish a racial hostile work environment harassment claim by showing that the offensive conduct was "directed against her protected group, even if she herself is not singled out in the offensive conduct."
When employees bring hostile work environment harassment claims based, in whole or in part, on offensive conduct that was not directed at them, our Marion County, Florida hostile work environment harassment attorneys have learned that employers endeavor to ascribe a benign intent to the harasser and claim that the harasser did not intend to be offensive because the victim was not the specific target of the conduct. In doing so, employers seek to seek to minimize the offensiveness of the racially discriminatory conduct by turning the case into a question about what the harasser's true motivations were. The decision by the U.S. Tenth Circuit Court of Appeals in Lounds v. Lincare, Inc., 812 F.3d 1208 (10th Cir. 2015) is instructive in showing that the existence of a hostile work environment is not determined by the harasser's purported motivation or intent; instead, the existence of a hostile work environment is determined by the effects or consequences of the harasser's conduct.
Employee Endures Egregious Racial Harassment
In the case, Shawron Lounds (Lounds) brought a racial hostile work environment harassment claim against her former employer, Lincare, Inc. (Lincare), pursuant to Title VII. Lounds, who is African-American, worked as a customer service representative at Lincare's facility in Wichita, Kansas. Throughout the duration of her employment with Lincare, Lounds was the Wichita office's only African-American employee.
Lounds alleged that during her employment she was subjected to a sustained campaign of racially harassing behavior. The Wichita facility manager, an employee named Kraft, asked Lounds whether her name is "Shaquita" and referred to Lounds as "the cute black girl." When an angry customer called the Wichita office and threatened to harm employees, Kraft instructed Lounds to give the customer "attitude" and to "get ghetto" with him. Kraft was overheard commenting about how "mean" this customer was and saying that "by the sounds of his voice she imagined that he was a big African-American man." When the customer later visited the office, Kraft approached Lounds and said of him, "no offense, he's a little white guy." Kraft further asked Lounds why African-American parents choose names like "Roshonda" and "Shawron" for their children, and asked Lounds "why all black people smoke Newport" cigarettes. Kraft also instructed to employees to address the company's vice-president by saying, "yes massa."
On one occasion, Lounds heard co-workers discussing an African-American man who had recently killed his wife. An employee named Kunz stated, "we need to bring back lynching, because we have enough tress." According to Lounds, Kunz attempted to explain that he was "not racist, and there was nothing wrong with lynching, before he approached her to say, "I'm not trying to offend you; it's not like I said let's go down to 9th and Grove and drag every black person with a noose, tie them to a truck and drag them after hanging them." On another occasion, Kunz kept saying things like "I never go in the ghetto; the hood has gangsters." When a co-worker standing near Lounds asked Kunz what he meant, Kunz replied that there were "a lot of minorities there and it's dirty, it's run down." Another co-worker named Kempke once entered the office, announced that she had "just come back from the 'hood' seeking a patient," began changing, "Boom" and used a racial slur. 
Trial Court's Legal Error & Skewed Assessment Of Evidence
In dismissing Lounds' racial hostile work environment harassment claim, the trial court ruled that no reasonable jury could find the "remarks and actions were so negative and insulting or humiliating that they created a discriminatory working condition or a hostile work environment." In reaching its conclusion, the trial court focused on the harassers' purported motivations, and found that the harassers did not intend to be offensive to cause harm. Rather, according to the trial court, the harassers acted with benign intent. Indeed, the trial court specifically found that "no opprobrious insults or epithets were pointed at" Lounds, and that the remarks Lounds considered offensive "were not made with animosity or scorn." Because the harassers did not intend to be offensive or cause harm, and acted with benign intent, the trial court determined that the behavior was not sufficiently offensive to create a racial hostile work environment. On appeal, the Tenth Circuit reversed the trial court's decision and reinstated Lounds's racial hostile work environment harassment claim.
Harasser's Motivation Or Intent Is Irrelevant
In reversing the decision, the Tenth Circuit harshly criticized the trial court's willingness to "discount[ ] the offensiveness of the identified racially harassing conduct" by focusing on whether the harassers intended to be offensive to cause harm. Indeed, the appellate court pointed out that the trial court "repeatedly focused" on whether the harassers had "the purpose to insult or ridicule" Lounds, acted "for the purpose of offending" Lounds, or made statements that were "hostile in the sense of being intentionally antagonistic or scornful." Incredulously, the appellate court noted, the trial court "answered these mental-state queries in Lincare's favor, finding that the alleged harassers acted with benign intent." 
For example, the appellate court explained, the trial court focused on Kunz's "ostensibly race-neutral intent or motivation, and more specifically his explanation that he was not trying to offend Lounds." Finding that the Kunz allegedly acted with "benign intent," the trial court concluded that Kunz's discussion, "which expressly and necessarily involved an invocation of the mental image of a nose, a potent and threatening symbol for African-Americans," would only "be viewed as mildly offensive by a reasonable jury." Likewise, the appellate court observed, the trial court discounted the racial offensiveness of Kempke's use of a racial slur because it "was not made for the purpose of offending [Lounds] and indeed was not made directly to [Lounds]."
In focusing on the harassers' motivation and "discounting the discriminatory effect on the workplace environment of the alleged harassers' conduct," the Tenth Circuit found that the trial court committed legal error because whether a workplace is sufficiently "polluted" to create a hostile work environment is not "based on whether an alleged harasser possessed the motivation or intent to cause discriminatory harm or offense." Indeed, the appellate court observed, whether a harasser intends to "offend or harm" is "legally immaterial." 
Rather, the appellate court determined, the question is whether "a reasonable jury could find that the subjective and objective effect of [the harassers] conduct was to pollute the environment with harassing conduct that was racially humiliating, offensive, or insulting." In other words, the focus is not on whether the harasser "intended to be offensive to cause harm," but on the "effect of the harasser's actions." Because "a reasonable jury could find that Lounds' workplace was permeated with discriminatory conduct that was sufficiently pervasive to alter the terms and conditions of her employment," Lounds was entitled to have her racial hostile work environment claim "resolved by a jury [rather] than a judge."
Free Consultation With Marion County Discrimination Lawyers 
Based in Ocala, Florida and representing employees throughout Central Florida, we have substantial experience litigating hostile work environment harassment cases, including cases involving racial harassment. If you have been the victim of a hostile work environment or have questions about being subjected to racially discriminatory harassing conduct, please contact our office for a free consultation with our Marion County, Florida race discrimination attorneys. Our employee rights law firm takes race discrimination cases on a contingency fee basis. This means that there are no attorney's fees incurred unless there is a recovery and our attorney's fees come solely from the monetary award that you recover.