Is Encouraging Older Workers To Retire Evidence Of Age Discrimination?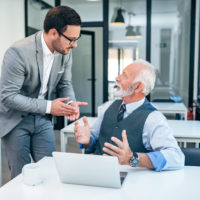 Having litigated cases under the Age Discrimination in Employment Act (ADEA) for nearly twenty years, our Marion County, Florida employment discrimination lawyers have learned that one approach used by employers to "weed out" older workers is to encourage, if not coerce, them to retire. In doing so, employers believe they will be insulated from liability for age discrimination because the employment relationship did not end based on a termination, but, rather, based on the employee's "voluntary" decision to retire. The decision by the U.S. District Court for the Northern District of Mississippi in Dockery v. Tunica County, Mississippi, No. 15-139 (N.D. Miss. Dec. 1, 2016) is instructive in showing that encouraging older employees to retire can be evidence of age discrimination.
Older Worker Repeatedly Encouraged To Retire
In that case, Tommie Dockery (Dockery) brought an employment discrimination lawsuit against his former employer, Tunica County, Mississippi (the County), pursuant to the ADEA. Dockery alleged that the County violated the ADEA by forcing him to retire from his position as a member of the County's road department after working there for twenty years. By forcing him to retire, Dockery claimed that the County constructively discharged him.
Dockery, who was sixty-eight years old at the time of his retirement, maintained that he only elected to retire after his supervisor, a man named Hawkins, repeatedly made it clear that the older road department workers should consider retiring, otherwise a budgetary crises affecting the County would force him to make layoffs. Dockery further maintained that this generalized pressure to retire became specifically directed towards him during a March 2014 meeting at which Hawkins informed Dockery that his longtime co-worker, Watson, was retiring and inquired about what he planned to do.
Dockery believed that Hawkins wanted to get rid of the older workers in the road department. After Hawkins took over the road department, the five oldest members of the road department, all over sixty-five, retired. After these employees, including Dockery, retired, there were no employees on the road crew over sixty-four years old. Thus, the tenure of the manager who repeatedly offered encouragement for workers to retire saw the oldest members of the road department choosing to do so.
Dockery maintained that his retirement was not voluntary, and that he only retired because he believed he was being forced out because of his age. Dockery testified that he and Watson "couldn't satisfy" Hawkins because he "don't like old men." The day after Dockery had told Hawkins that he would retire, his daughter angrily called the road department to ask why he was being forced to retire. In her deposition, Dockery's daughter testified that her father believed that "pressure and stress was being placed on him and Watson because they were older people, older employees."
Road Map To "Weed Out" Older Workers
The County filed a motion with the trial court seeking dismissal of Dockery's age discrimination claim. In doing so, the Country argued that Dockery was not forced to retire and thereby constructively discharged because "if a particular employee chooses to retire, then it is not in a position to prevent him from doing so." The trial court denied the County's motion for dismissal and ruled that Dockery had presented sufficient evidence of age discrimination to proceed to a jury trial.
In denying the County's motion for dismissal, the trial court explained that age discrimination "is a potential reason for encouraging older workers to retire." The "suggestion of potential age discrimination" as the reason for encouraging the older workers of the road department to retire was particularly strong, the trial court reasoned, because the "five individuals who retired from the road department during Hawkins' tenure were the five oldest members, each of whom was over sixty-five." Thus, the trial court found that the "sheer effectiveness of the approach used by [Hawkins] in encouraging older workers to retire" reflected proof of his discriminatory intent.
Given such evidence, the trial court believed that dismissal of Dockery's age discrimination claim "might serve to create a quite effective road map for employees to 'weed out' older workers." Indeed, the "very same strategy" used by Hawkins of encouraging older workers to retire "might be used to great effect by a manager who simply believes that older workers are less effective and should be encouraged to leave." Thus, the trial court was unwilling to "place its judicial seal of approval on the approach" utilized by the County. Consequently, the trial court concluded that "it would be better for a jury" to decide whether Dockery's retirement was voluntary or involuntary.
Encouragement To Retire Bore "Considerable Fruit"
The trial court also rejected the County's argument that Hawkins' repeated pressure on Dockery to retire was negated by Hawkins telling Dockery that he did not have to retire. The trial court explained that the County's argument, taken to its logical conclusion, "might serve to legitimize a strategy where a supervisor who did not like older (or black or female) workers might decide, on a systematic basis, to gently, yet repeatedly, make clear to workers in those groups that their presence was not appreciated and that they would be better off either retiring or working somewhere else."
The trial court believed that "such a practice would raise legitimate concerns under federal anti-discrimination laws, even assuming the supervisor 'backs off' and makes clear to the worker that he does not have to leave in cases where there is 'pushback' from the employee." Such concerns were heightened, the trial court reasoned, because "Hawkins' encouragement for older workers to consider retiring may have borne considerable fruit, in the retirements of the five oldest members of the road department."
Free Consultation With Ocala Discrimination Lawyers
Based in Ocala, Florida and representing employees throughout Central Florida, we have been in the trenches fighting for victims of employment discrimination for nearly twenty years. If you have been subjected to age discrimination or have questions about an employer pressuring you to retire, please contact our office for a free consultation with our Marion County, Florida age discrimination lawyers. Our employment and labor law attorneys take employment discrimination cases on a contingency fee basis. This means that there are no attorney's fees incurred unless there is a recovery and our attorney's fees come solely from the monetary award that you recover.