Is Mocking An Employee's Accent Evidence Of A Discriminatory Employment Decision?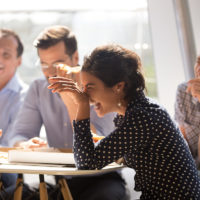 Having fought for the rights of workers for almost two decades, our Citrus County, Florida employment discrimination lawyers have learned that the most compelling evidence of discrimination is discriminatory remarks by employees who were involved in making the challenged employment decision. Although not necessary to prove that an employment decision was motivated by illegal discrimination, discriminatory remarks by a decision-maker are almost always enough, standing alone, to prove the employer's discriminatory intent and warrant a jury trial. The recent decision by the U.S. Court of Appeals for the District of Columbia in Mayorga v. Merdon, No. 18-5045 (D.C. Cir. June 28, 2019) illustrates that a decision-maker's mocking of an employee's accent, just like discriminatory remarks by a decision-maker, is evidence of a discriminatory employment decision.
Employee Claims Discriminatory Failure To Promote
In that case, Javier Mayorga (Mayorga) brought an employment discrimination lawsuit against his employer, the Architect of the Capital (AOC), pursuant to Title VII of the Civil Rights Act of 1964 (Title VII). Mayorga alleges that selecting officials at the AOC denied him promotion on the basis of his race and national origin in violation of Title VII. More specifically, Mayorga claims that he would have been selected for promotion but for the discriminatory motive of employees involved in the decision to deny him promotion.
Mayorga emigrated to the United States from Nicaragua in 1990. Since 2007, Mayorga has been employed at the AOC, a federal agency that operates and maintains certain buildings and historic monuments in the District of Columbia, such as the Capital, the Capital Visitor Center, and the Supreme Court. During his employment, Mayorga worked primarily at the Capital and Capital Visitor Center as an Electronic Industrial Controls Mechanic. Mayorga received numerous awards at the AOC and his work was rated "Outstanding" in his previous two evaluations.
In 2014, Mayorga sought promotion to the position of Electronics Technician. The AOC formed a panel to select two individuals to fill the position. The selecting official, Bieber, a white male, designated Wallace, a white male, and Watson, a white female, to participate with him on the selection panel. Mayorga maintains that Bieber and Wallace had abused him in the past because of his Nicaraguan national origin. Mayorga alleges that Bieber and Wallace ridiculed his Hispanic first name by regularly calling him "Caviar" instead of Javier, and that Bieber mocked his accent. The panel ultimately chose two white males to fill the position. 
Mocking An Employee's Accent Is Discriminatory
The trial court dismissed Mayorga discriminatory failure to promote claim. In doing so, the trial court concluded that Mayorga failed to provide sufficient evidence that the failure to promote him was impermissibly motivated by his race or national origin. On appeal, the D.C. Circuit reversed the trial court's decision and reinstated Mayorga's discriminatory failure to promote claim.
In reversing the trial court, the D.C. Circuit focused on the discriminatory behavior of Bieber and Wallace. The appellate court found that the name-calling ("Caviar" instead of Javier) and the mocking of Mayorga's accent by Bieber and Wallace was evidence that could lead a reasonable jury to conclude that the panel denied Mayorga a promotion for discriminatory reasons. The court of appeals explained that although Mayorga's evidence of discrimination "would be stronger if he had drawn a direct connection between the discriminatory name-calling and the selection decision," the disparaging comments were "nonetheless probative evidence" of the "discriminatory attitude" of Bieber and Wallace. From this evidence, the appellate court reasoned, a reasonable jury could conclude that the panel acted, at least in part, for a discriminatory reason. Thus, the D.C. Circuit ruled that Mayorga was entitled to bring his discriminatory failure to promote claim before a jury for resolution.
Free Consultation With Inverness Discrimination Lawyers
Based in Ocala, Florida and representing employees throughout Central Florida, our Citrus County, Florida employment discrimination attorneys have represented discrimination victims for almost twenty years. If you have been discriminated against because of your accent or have questions about your employee rights under the federal civil rights laws, please contact our office for a free consultation with our Citrus County, Florida employment discrimination attorneys. Our employment and labor law attorneys take employment discrimination cases on a contingency fee basis. This means that there are no attorney's fees incurred unless there is a recovery and our attorney's fees come solely from the monetary award that you recover.