Medical Leave and the Coronavirus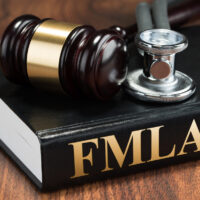 Having litigated claims made under the Family and Medical Leave Act (FMLA) for decades, our Marion County, Florida, retaliation lawyers know that FMLA and paid sick leave rights are vital for Florida workers. These rights are triggered when they are most needed, such as during the current coronavirus pandemic. The federal government is dragging its feet in passing measures aimed to protect workers during these troubled times, but certain emergency laws have, thankfully, passed and been signed into law.
On March 19, 2020, the President signed into law the Families First Coronavirus Response Act, which includes the Emergency Family and Medical Leave Expansion Act (Expansion Act) and Emergency Paid Sick Leave Act (Sick Leave Act). The law requires that employers update their FMLA and sick leave policies by April 2, 2020, and comply with the rules imposed by the new regulations. Learn more about both provisions of the new law below.
Emergency Family and Medical Leave Expansion Act
Under the Expansion Act, employers must add coronavirus-related illness to their list of qualifying reasons for FMLA leave. Employers must provide partial paid leave for employees who must take sick leave for an illness related to the coronavirus. Employees can take FMLA leave starting from 15 days after the date of enactment until December 31, 2020. The Expansion Act applies to all employers with fewer than 500 employees and all public employers, with certain exemptions, and applies to any worker who has been employed for at least 30 calendar days by that employer.
The scope of the act is, unfortunately, quite narrow: Paid coronavirus-FMLA leave is available only if an employee is unable to work (or telework) because they need to care for their minor child due to school or daycare closure, or if their child's usual care provider is unavailable, as a result of a public health emergency declared by a federal, state, or local authority. A qualifying employee can take up to 12 weeks of coronavirus-FMLA leave and must have job protection and partial pay (at least two-thirds of the employee's regular pay up to $200/day and $10,000 total). The first ten days may be unpaid.
Emergency Paid Sick Leave Act
The Sick Leave act applies to the same employers as the Expansion Act. It covers any employee who is unable to work or telework for any of the following reasons:
The employee is subject to quarantine or isolation order
The employee has been advised by a healthcare provider to self-quarantine due to coronavirus concerns
The employee is experiencing symptoms of coronavirus and seeking a diagnosis
The employee must care for an individual subject to quarantine
The employee must care for their child due to a school or daycare closure
The employee is experiencing "any other substantially similar condition specified by" the Secretary of Health and Human Services
Qualified employees are entitled to 80 hours of paid sick time (for full-time employees) and an amount equal to the two-week average for part-time employees. If you have coronavirus concerns, follow any official recommendations by government health officials or from your healthcare provider. If your employer tries to refuse you the leave you are guaranteed under the law, speak with a Florida employee rights attorney for help.
Free Consultation With Citrus County FMLA Lawyers
Based in Ocala, Florida, and representing employees throughout Central Florida, we have substantial experience litigating FMLA and wrongful termination claims. If your FMLA rights have been violated, or if you have questions about your rights under federal and state medical leave laws, please contact our office for a free consultation with our Citrus Florida FMLA attorneys. Our employee rights law firm takes FMLA cases on a contingency fee basis. This means that there are no attorney's fees incurred unless there is a recovery, and our attorney's fees come solely from the monetary award that you recover.