Nooses & Racial Slurs Created Racial Hostile Work Environment EEOC Lawsuit Claims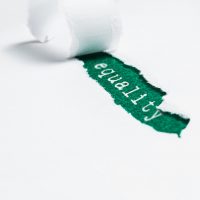 For more than two decades, our Marion County, Florida discrimination attorneys have fought for the rights of racial harassment victims. Although racial harassment has been an unlawful discriminatory employment practice for decades, racial harassment has not been eradicated from the American workplace. Despite having an obligation under federal employment discrimination law to prevent racial harassment in the workplace, our Ocala, Florida discrimination lawyers have learned, many employers require employees to work in a racial hostile work environment by doing nothing to stop known racial harassment. In this article, our Marion County, Florida discrimination attorneys explain how the alleged facts in a racial harassment lawsuit recently filed by the U.S. Equal Employment Opportunity Commission (EEOC) illustrate that employees continue to experience egregious racist behavior in the workplace.
Racial Harassment Lawsuit
On September 14, 2021, the EEOC issued a press release announcing that it has filed a racial harassment lawsuit against Coastal Drilling East, LLC (Coastal Drilling). On September 13, 2021, the EEOC filed the racial harassment lawsuit, U.S. E.E.O.C. v. Coastal Drilling East, LLC, Case No. 2:21-cv-01220, in the U.S. District Court for the Western District of Pennsylvania after first attempting to address the alleged unlawful employment discriminatory practices through its conciliation program. The EEOC has filed the racial lawsuit under Title VII of the Civil Rights Act of 1964 (Title VII) on behalf of a former employee of Coastal Drilling, an African-American man named Pryce. The EEOC claims that Coastal Drilling violated Title VII by requiring Pryce to work in a racially hostile work environment.
Protection From Workplace Racism
Title VII, which was enacted at the height of the American Civil Rights Movement, makes discrimination against employees on the basis of race an unlawful discriminatory employment practice. In construing Title VII, courts have uniformly determined that racial harassment is a form of race discrimination forbidden by Title VII. To violate Title VII, racial harassment must be sufficiently severe or pervasive to alter the conditions of the victim's employment and create a hostile working environment. Under Title VII, employers are obligated to protect employees from racial harassment in the workplace. Once an employer knows or should know that an employee is being harassed on the basis of race, Title VII requires the employer to take prompt and effective remedial measures to protect the employee and prevent the racial harassment from continuing.
Employee Claims Workplace Racism
In March 2019, Pryce began working for Coastal Drilling at its drill site in Graysville, Pennsylvania. Beginning on his first day of work and continuing throughout his employment, according to the EEOC, Pryce was subjected to a sustained campaign of egregious racially harassing behavior from co-workers. The racial harassment Pryce endured included racial slurs and display of nooses. After observing a noose in the workplace for the second time in April 2019, Pryce lodged a complaint with a supervisor. The EEOC maintains that the supervisor laughed about the noose and failed to take any action to remove the noose.
In late October 2019, an employee tapped Pryce on the shoulder and said that he had a gift for Pryce. The employee then handed Pryce the third noose. That same day, Pryce reported the noose to another supervisor. In response to Pryce's complaint about the noose, the supervisor laughed and said he would talk to Pryce's co-workers. The EEOC contends that Coastal Drilling never investigated Pryce's complaints of racial harassment or took any corrective action to stop the racial harassing behavior from recurring. Because of the continuous racial harassment and Coastal Drilling's failure to stop the racial harassment, the EEOC claims that Pryce was compelled to resign his employment in January 2020 in order to escape the racially hostile working environment.
Lawyers For Workplace Racism Victims
The EEOC is the administrative agency of the United States government responsible for administering, interpreting, and enforcing federal employment discrimination law. In order to protect and preserve the rights guaranteed to employees under federal employment discrimination law, the EEOC brings lawsuits in federal court on behalf of employees who have been subjected to unlawful discriminatory employment practices, including racial harassment victims.
In a press release issued on September 14, 2021 regarding the case, a regional attorney for the EEOC's Philadelphia District Office, Debra Lawrence, observed that "some people say that workplace racism in the United States has become more subtle, more covert, and perhaps less common than it was in the past." "But those of us who enforce federal anti-discrimination laws everyday," Ms. Lawrence explained, "know that on-the-job racial bigotry has not gone underground." "Rather," Ms. Lawrence emphasized, "it remains a pervasive problem that exists out in the open to be seen by anyone who bothers to look."
Marion County, FL Discrimination Lawyers
Based in Ocala, Florida and representing workers throughout Central Florida, our Marion County, Florida discrimination attorneys have represented employment discrimination victims for more than twenty years. If you have experienced workplace racism or have questions about your protection from workplace racism under federal anti-discrimination laws, please contact our office for a free consultation with our Ocala, Florida discrimination lawyers. Our employee rights law firm takes race discrimination cases on a contingency fee basis. This means that there are no attorney's fees incurred unless there is a recovery and our attorney's fees come solely from the monetary award that you recover.