EEOC Settles National Origin Hostile Work Environment Harassment Lawsuit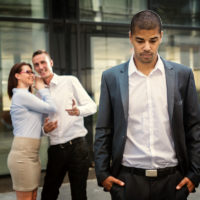 In a press release issued on May 14, 2019, the U.S. Equal Employment Opportunity Commission (EEOC) announced that it has entered into a Consent Decree to settle a national origin harassment lawsuit filed by the EEOC against Pape Material Handling, Inc. (Pape Material). On September 27, 2017, the EEOC filed the lawsuit, U.S. Equal Employment Opportunity Commission v. Pape Material Handling, Inc., Case No. 1:17-cv-1291, in the U.S. District Court for the Eastern District of California after initially attempting to reach a pre-litigation settlement through its statutorily mandated conciliation process.
The EEOC filed the national origin harassment lawsuit pursuant to Title VII of the Civil Rights Act of 1964 (Title VII) on behalf of a former employee of Pape Material, Marin Ayala (Ayala), and other employees who were allegedly subjected to national origin harassment. National origin harassment is a form of national origin discrimination that is prohibited by Title VII. In this article, our Marion County, Florida harassment lawyers explain the EEOC's allegations against Pape Material.
EEOC's Allegations Of Discriminatory Harassment Against Pape
Pape Material is a nationwide company that sells, rents, and services forklift products. Ayala worked at Pape Material's facility in Fresno, California. The EEOC claims that, since at least 2012, Ayala and other employees were subjected to ongoing harassment based on their national origin (Hispanic or Mexican). According to the EEOC, the hostile work environment harassment included racial slurs, telling Hispanic employees to go back where they came from, threatening to beat up Hispanic employees, and bragging about membership in white supremacy groups.
The EEOC alleges that Ayala and other Hispanic employees opposed the harassing conduct by complaining to human resources personnel, their supervisors, and by filing a charge of discrimination with the EEOC. The EEOC further alleges that the harassment was committed in front of supervisors. Because the employees complained about the harassment and the harassment occurred in the presence of supervisors, the EEOC claims that Pape Material knew or should have known of the harassment. Despite having actual or constructive knowledge of the harassment, the EEOC contends that Pape Material failed to take prompt and effective correction action to prevent the harassment from continuing. The EEOC further claims that some of the employees were compelled to resign because their working conditions were intolerable.
Consent Decree Settling Harassment Lawsuit
In the Consent Decree settling the lawsuit, which was signed by U.S. District Court Judge Anthony W. Ishii on May 13, 2019, Pape Material agreed to pay $650,000 to resolve the national origin harassment case. In the Consent Decree, Pape Material also agreed to provide training for all employees on discrimination, harassment, and retaliation. Pape Material further agreed to develop and provide to all employees a policy prohibiting discrimination, harassment, and retaliation, including procedures for reporting complaints, investigating complaints, and maintaining the confidentiality of complaints. Pape Material was also required to take protective measures to protect the rights of employees who participated in the lawsuit, including removing from their personnel files all references to any charges of discrimination filed with the EEOC against Pape Material and to refrain from giving negative references about the employees.
EEOC Fights National Origin Discrimination
The EEOC is the administrative agency of the United States responsible for interpreting and enforcing federal laws prohibiting employment discrimination, including national origin harassment. The EEOC is also authorized by federal law to bring lawsuits on behalf of victims of employment discrimination, including national origin harassment. In a press release issued by the EEOC regarding the case, a Regional Attorney for the EEOC's Los Angeles District Office, Anna Park, stated that "[e]mployers have a responsibility to create a respectful work environment for all of their employees." The Director for the EEOC's Fresno Local Office, Melissa Barrios, added "[p]eople should not have to give up their livelihood because they are harassed at work."
Free Consultation With Ocala Harassment Lawyers
Based in Ocala, Florida and representing employees throughout Central Florida, we have represented employment discrimination and harassment victims in hundreds of cases before the EEOC. If you have been subjected to harassment at work or have questions about your rights under the federal anti-discrimination laws, please contact our office for a free consultation with our Marion County, Florida employment harassment attorneys. Our employment and labor law attorneys take employment harassment cases on a contingency fee basis. This means that there are no attorney's fees incurred unless there is a recovery and our attorney's fees come solely from the monetary award that you recover.