EEOC Claims Employer Failed To Promote Employee Because She Might Become Pregnant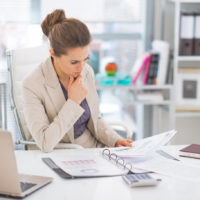 Having fought for the rights of employment discrimination victims for nearly twenty years, our Marion County, Florida employment discrimination lawyers have learned that employers frequently discriminate against women because they intend to or might become pregnant. Under the Pregnancy Discrimination Act (PDA), employers are prohibited from discriminating against an employee because of her intention or capacity to become pregnant. As explained by the U.S. District Court for the Northern District of Illinois in Pacourek v. Island Steel Co., 858 F.Supp. 1393 (N.D. Ill. 1994), "[d]iscrimination against an employee because she intends to, is trying to, or simply has the potential to become pregnant is . . . illegal discrimination." A pregnancy discrimination lawsuit recently settled by the U.S. Equal Employment Opportunity Commission (EEOC) illustrates that employers are forbidden from discriminating against women because they intend to or might become pregnant.
Discrimination Based On Potential Pregnancy
In a press release issued on August 9, 2019, the EEOC announced that it has entered into a Consent Decree to settle a pregnancy discrimination lawsuit filed by the EEOC against The Glenridge on Palmer Ranch, Inc. (Glenridge). In the Consent Decree, Glenridge agreed to pay $70,000 to settle the pregnancy discrimination case. On September 21, 2018, the EEOC filed the lawsuit, EEOC v. The Glenridge on Palmer Ranch, Inc., Case No. 8:18-cv-2340, in the U.S. District Court for the Middle District of Florida after initially attempting to reach a pre-litigation settlement through its statutorily mandated conciliation process. The EEOC brought the pregnancy discrimination lawsuit pursuant to the PDA on behalf of Michelle Fredricks (Fredricks). The EEOC claims that Glenridge violated the PDA by failing to promote Fredricks because she might become pregnant.
EEOC's Allegations Of Pregnancy Discrimination
Glenridge is a retirement community in Sarasota, Florida. In December 2007, Fredricks began working for Glenridge. During her employment, Fredricks worked in several positions in the Dining Department, including working as a server, busser, bartender, and food purchasing clerk. In 2015, there was a vacancy for a dining supervisor position at Glenridge. Glenridge management informed Fredricks of the job opening and encouraged her to apply for it.
Prior to Fredricks' application for the position, a manager in the Dining Department, Irwin, contacted Fredricks to discuss the position. Irwin asked Fredricks, "when do you plan on having another baby?" Irwin explained, "with this position it doesn't leave a lot of time off for long periods of time." Fredricks told Irwin that, while she was not actively trying to get pregnant, she could not guarantee that she would never have another child.
On September 1, 2015, Fredricks applied for the dining supervisor position. Glenridge did not interview Fredricks for the position. On September 4, 2015, Glenridge fired Fredricks. Glenridge subsequently hired a woman named Tudri for the dining room supervisor position. Glenridge, according to the EEOC, did not believe that Tudri would become pregnant while working as the dining room supervisor. 
EEOC Fights For Pregnant Employees
The EEOC is the administrative agency of the United States responsible for interpreting and enforcing federal laws prohibiting employment discrimination. In enforcing the federal anti-discrimination laws, the EEOC is also authorized by federal law to bring lawsuits on behalf of victims of employment discrimination. In a press release issued by the EEOC regarding the case, a Regional Attorney for the EEOC's Miami District Office, Robert E. Weisberg, stated that "[t]oo often, companies sideline employees who are pregnant or may become pregnant." The "EEOC will continue to seek vigorous enforcement of the laws," Mr. Weisberg added, "that protect women from this kind of intentional and harmful discrimination."
Free Consultation With Ocala Discrimination Lawyers
Based in Ocala, Florida and representing employees throughout Central Florida, our Marion County, Florida employment discrimination attorneys have been litigating pregnancy discrimination lawsuits for almost twenty years. If you have been the victim of pregnancy discrimination or have questions about your protection against discrimination because you intend to or might become pregnant, please contact our office for a free consultation with our Marion County, Florida employment discrimination lawyers. Our employment and labor law attorneys take employment discrimination cases on a contingency fee basis. This means that there are no attorney's fees incurred unless there is a recovery and our attorney's fees come solely from the monetary award that you recover.