Pregnancy Discrimination Case Where Employee Fired After Disclosing Pregnancy Restrictions Settled By EEOC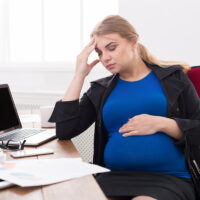 On January 10, 2020, the U.S. Equal Employment Opportunity Commission (EEOC) issued a press release announcing that it has entered into a Consent Decree to settle a pregnancy discrimination lawsuit against Rainbow USA, Inc. (Rainbow). On September 27, 2018, the EEOC filed the pregnancy discrimination lawsuit, U.S. Equal Employment Opportunity Commission v. Rainbow USA, Inc., Case No. 2:18-cv-09007, in the U.S. District Court for the Eastern District of Louisiana after initially attempting to reach a pre-litigation settlement through its statutorily mandated conciliation process. 
The EEOC brought the pregnancy discrimination lawsuit pursuant to the Pregnancy Discrimination Act of 1978 (PDA) on behalf of a former employee of Rainbow, Shenethiea Brazil (Brazil). The PDA forbids employers from discriminating against employees on the basis of pregnancy, including childbirth and pregnancy-related medical conditions. Under the PDA, employers must also treat women affected by pregnancy, childbirth, or related medical conditions the same as non-pregnant employees, whether male or female, who are similar in their ability or inability to work. The EEOC claims that Rainbow violated the PDA by firing Brazil because of her pregnancy. In this article, our Citrus County, Florida employees' rights lawyers explain the EEOC's allegations against Rainbow and the Consent Decree.
Employee Claims Pregnancy Discrimination
Rainbow is a specialty apparel chain in Louisiana. In 2008, Brazil began working for Rainbow. In April 2017, Brazil was in her first trimester of pregnancy. In late April 2017, Brazil submitted a doctor's note to the Store Manager of the store where she worked. The doctor's note indicated medical restrictions and accommodations were needed due to Brazil's pregnancy. The Store Manager informed the District Manager of the doctor's note. The District Manager then informed human resources personnel of the doctor's note. On May 3, 2017, human resources personnel instructed the District Manager to suspend Brazil indefinitely. That same day, the District Manager suspended Brazil indefinitely and informed Brazil that she needed to have the pregnancy-related restrictions removed or she would be terminated immediately.
On May 3, 2017, the District Manager asked Brazil to sign paperwork requesting a leave of absence under the Family Medical Leave Act (FMLA). Because she did not request to go on leave and did not need to do so, Brazil did not sign the FMLA paperwork. On May 5, 2017, Rainbow provided Brazil a letter stating that she had been out of work since May 3, 2017 and her alleged request for FMLA leave had been denied because she had not worked the requisite number of hours to qualify for FMLA leave. The letter also stated that the company would seek a permanent replacement for Brazil's position and, if she was unable to return before a replacement was found, the company would consider her application for rehire. Rainbow hired Brazil's replacement on May 15, 2017.
Fired Because of Pregnancy
Brazil declined to resign when Rainbow refused to accommodate her pregnancy-related restrictions and forced Brazil on indefinite unpaid leave which she did not request or desire. On multiple occasions, Brazil attempted to contact Rainbow's human resources personnel to discuss some means for her to be allowed to return to work. Brazil's efforts, according to the EEOC, were futile. The EEOC claims that by refusing to accommodate Brazil's pregnancy related restrictions and refusing to allow Brazil to return to work, Rainbow "preemptively fired" Brazil because of her pregnancy in violation of the PDA.
Discriminatory Discharge Victim Compensated
In the Consent Decree settling the lawsuit, which was signed by U.S. District Court Judge Nanette J. Brown on December 30, 2019, Rainbow agreed to pay Brazil $11,000 to resolve the pregnancy discrimination lawsuit. In the Consent Decree, the EEOC also required Rainbow to maintain an anti-discrimination policy prohibiting discrimination against any employee on the basis of pregnancy. Rainbow's anti-discrimination policy must state that any employee who engages in discrimination prohibited by the PDA will be disciplined, up to and including discharge. The Consent Decree also mandates that Rainbow provide training to employees on employees' rights under the federal anti-discrimination laws.
EEO Law Protects Employees' Rights
The EEOC is the administrative agency of the United States responsible for interpreting and enforcing federal laws forbidding employment discrimination, including pregnancy discrimination. In enforcing the federal anti-discrimination laws, the EEOC is also authorized by federal law to bring lawsuits on behalf of victims of pregnancy discrimination. In a press release issued by the EEOC on January 10, 2020 regarding the case, a regional attorney for the EEOC's New Orleans District Office, Rudy Sustaita, stated that "no one should have to decide between having a family and having a job."
Consultation With Inverness Employees' Rights Lawyers
Based in Ocala, Florida and representing employees throughout Central Florida, our Citrus County, Florida employees' rights attorneys have represented employees in hundreds of cases before the EEOC. If you have been discriminated against on the basis of pregnancy or have questions regarding requesting an accommodation of a pregnancy-related work restriction, please contact our office for a free consultation with our Citrus County, Florida employees' rights lawyers. Our labor law attorneys take employment discrimination cases on a contingency fee basis. This means that there are no attorney's fees incurred unless there is a recovery and our attorney's fees come solely from the monetary award that you recover.