Pregnancy Discrimination Reflected By Complaints About Woman's Need To Miss Work For Doctors' Appointments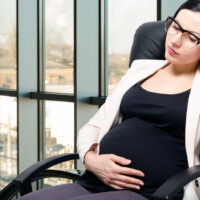 Having represented employees who have been fired because of their pregnancy for more than two decades, our Marion County, Florida pregnancy discrimination lawyers know that employers frequently resist providing pregnant employees with leave from work for doctors' appointments. Under the Pregnancy Discrimination Act (PDA), women are protected from discrimination on the basis of pregnancy, childbirth, or related medical conditions. In protecting pregnant employees against discrimination, the PDA mandates that pregnant employees be treated the same as non-pregnant employees with respect to leave from work for medical appointments. When an employer accommodates non-pregnant employees by allowing them to miss work for doctors' appointments, the PDA mandates that the employer provide the same accommodation to pregnant employees.
Employee Claims Pregnancy Discrimination
In this article, our Ocala, Florida pregnancy discrimination lawyers explain how the decision in May v. PNC Bank, Case No. 18-2933 (E.D. Pa. Jan. 22, 2020) illustrates that an employer's disparaging remarks about a pregnant employee's need to take leave for medical appointments may be used to prove that the employee was fired because of her pregnancy. In that case, May Jo May (May) brought a pregnancy discrimination lawsuit against her former employer, PNC Bank, pursuant to the PDA. May claims that PNC violated the PDA by firing because of her pregnancy. May's employment with PNC Bank began in 2009 when she was hired as a bank teller. In 2016, May became the branch manager at PNC Bank's branch in Morrisville, Pennsylvania. In June 2017, May notified her supervisor, a regional manager named DiSandro, that she was pregnant. May also told DiSandro that she would need to attend blood work and other doctors' appointments because of her pregnancy. From June 2017 until her termination in September 2017, May attended these medical appointments.
May testified that from the day she told DiSandro about her pregnancy until the day she was fired, DiSandro daily complained that it was inconvenient to have a manager out, and he inquired into how frequently and for how long May would need time off. May further testified that DiSandro stated that the branch needed leadership and management and asked how May would ensure the branch's success in her absence. In late July 2017, according to May, DiSandro stated that the Marrisville branch may need to close for lack of production. These comments, May testified, were made in direct response to her notices to DiSandro of time she needed off to manage her pregnancy-related medical issues.
On August 11, 2017, May requested that her subordinate seek a refund on her joint account on which here husband was the primary user. On September 19, 2017, PNC Bank fired May for allegedly violating PNC Bank's Code of Ethics by misusing her position and authority by instructing her subordinate to refund fees on her joint account. DiSandro testified that he made the decision to fire May.
Evidence Reflects Employee Fired Because Of Pregnancy
PNC Bank filed a motion with the trial court seeking dismissal of May's pregnancy discrimination claim. In doing so, PNC Bank argued that the evidence established that May was fired for a legitimate, non-discriminatory reason and not on the basis of her pregnancy. The trial court denied PNC Bank's motion for dismissal and ruled that May was entitled to proceed to a jury trial on the issue of whether she was fired because of her pregnancy in violation of the PDA.
In denying PNC Bank's motion for dismissal, the trial court focused on DiSandro's disparaging comments about May's need to take leave from work for medical appointments because of her pregnancy. The trial court observed that DiSandro's disparaging comments regarding May's pregnancy-related absences "were made almost daily leading up to May's termination, and they were made in response to May's notices to DiSandro that she may need time away from the office to address pregnancy-related issues." DiSandro's disparaging comments, the trial court concluded, raise an "inference of [pregnancy] discrimination" and "raise the requisite doubt as to whether PNC Bank terminated May for a legitimate reason.
Consult With Ocala Pregnancy Discrimination Lawyers
Based in Ocala, Florida and representing employees throughout Central Florida, our Marion County, Florida pregnancy discrimination attorneys have been fighting for the rights of pregnancy discrimination victims for more than twenty years. If you have been discriminated against on the basis of pregnancy or have questions about your protection against pregnancy discrimination under the federal anti-discrimination laws, please contact our office for a free consultation with our Ocala, Florida pregnancy discrimination lawyers. Our employee rights law firm takes employment discrimination cases on a contingency fee basis. This means that there are no attorney's fees incurred unless there is a recovery and our attorney's fees come solely from the monetary award that you recover.