Proving Age Discrimination By Showing An Employer's Pattern Of Firing Older Workers & Replacing Them With Younger Hires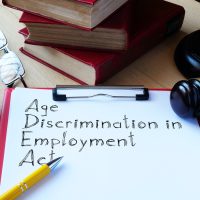 For more than two decades, our Marion County, Florida age discrimination attorneys have fought for the rights of age discrimination victims. Through their extensive experience representing age discrimination victims, our Ocala, Florida age discrimination lawyers know that many employers engage in a pattern of firing older employees and replacing them with younger hires. In this article, our Marion County, Florida age discrimination attorneys explain how the recent decision in Harris v. Therapy Management, Inc., Case No. 2:20-cv-10512 (E.D. Mich. Dec. 10, 2021) demonstrates that an older worker can prove that he or she was fired because of age by showing that the employer engaged in a pattern of firing older employees and replacing them with younger hires.
Worker Claims Fired Because Of Age
In that case, a woman named Harris (Harris) brought an age discrimination lawsuit against her former employer, Therapy Management, Inc. (TMI), pursuant to the Age Discrimination in Employment Act (ADEA). The ADEA prohibits employers from discriminating against employees on the basis of age. Harris claims that TMI fired her because of her age in violation of the ADEA. Harris was seventy-one years old when she was fired.
TMI is a nursing facility. Harris was employed by TMI as a physical therapy assistant. On November 14, 2018, Harris was caring for a comatose patient alongside another physical therapy assistant employed by TMI, Teffault, and an unidentified nurse not employed by TMI. The patient's treatment area was surrounded by a curtain and in a room with a door. The applicable patient privacy policy requires that, any given time, either the curtain or door be closed in order to protect a patient from being visible and exposed. The nurse exited the room, and unbeknownst to Harris or Teffault, left the door open on her way out. At some point, Harris opened the curtain to exit, not knowing the door was also open, which left the patient exposed. A state inspector, who was on site conducting a routine inspection of the facility, happened to walk by at that moment and witnessed the violation.
Worker "Not The Same As She Used To Be"
After witnessing the violation, the state inspector spoke with Harris. Harris then notified her supervisor, Garadharan, of what happened. No more than one hour later, Garadharan notified Harris that she was being terminated. Harris was provided no explanation for her termination. As a result of the privacy violation, TMI received a citation from the state. Although Teffault was also present during the privacy violation, she was not fired and received only a verbal warning.
A few days before her termination, Harris' supervisor, Garadharan, remarked that she was "not the same as she used to be," which Harris understood to be a negative comment about her age. Harris also alleges that TMI engaged in a pattern of phasing out older employees for younger hires and has a company-wide practice of targeting older employees for termination because of their age. Harris supports this claim through observations made by herself and another physical therapy assistant, Leclair, describing a pattern of TMI firing older employees and replacing them with much younger hires.
Evidence Of Age Discrimination
TMI filed a motion with the trial court seeking dismissal of Harris' age discrimination claim. In moving for dismissal of the case, TMI argued that the evidence established Harris was fired because she violated the facility's privacy policy by leaving both the curtain and door open while cleaning a comatose patient, thereby exposing the patient. The trial court denied TMI's motion for dismissal and ruled that Harris had presented sufficient evidence of age discrimination to proceed to a jury trial.
In denying TMI's motion for dismissal, the trial court pointed out that it was "undisputed that the privacy violation occurred" and that Harris "played some role in causing it." However, the trial court explained, the issue in an age discrimination lawsuit is whether TMI's proffered reason did, in fact, motivate Harris' termination. The trial court concluded that a reasonable jury could find that Harris' privacy violation did not actually motivate her termination.
In support of its conclusion, the trial court focused on two pieces of evidence. First, the trial court pointed to evidence showing that Teffault, who is forty-eight years younger than Harris, not fired even though she also participated in the privacy violation. Thus, the trial court reasoned, a substantially younger employee who engaged in the same conduct as Harris was treated more favorably than Harris. Second, the trial court pointed to testimony from Harris and Leclair that TMI engaged in a pattern of firing older employees and replacing them with younger hires. "If a jury found these accounts convincing," the trial court observed, "this evidence could lead them to conclude there is a pattern of age discrimination at [TMI] and that the proffered reason for this termination" was a pretext for terminating an older employee because of her age.
Age Discrimination Lawyers In Ocala, FL
Based in Ocala, Florida and representing workers throughout Central Florida, our age discrimination attorneys in Marion County, Florida have litigated age discrimination cases in Florida courts for more than twenty years. If you experienced age discrimination in the workplace or have questions about your rights as an age discrimination victim, please contact our office for a free consultation with our age discrimination lawyers in Ocala, Florida. Our employees' rights law firm takes age discrimination cases on a contingency fee basis. This means that there are no attorney's fees incurred unless there is a recovery and our attorney's fees come solely from the monetary award that you recover.