Race Discrimination Case Sent To Jury Where Manager Used Racially Derogatory Phrase "You People"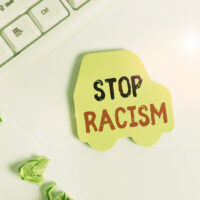 Having represented discriminatory discharge victims for more than twenty years, our Alachua County, Florida race discrimination lawyers know that employees are often subjected to racially derogatory phrases, such as referring to employees who are members of a protected race class as "one of them," "all of you," and "you people." When an employee who was involved in the challenged employment decision uses racially derogatory phrases in the workplace, courts have ruled that such remarks reflect racial bias and are evidence that racial animus motivated the challenged employment decision. In this article, our Gainesville, Florida racial discrimination attorneys explain how the decision by the U.S. District Court for the Western District of New York in Battle v. Carroll, Case No. 11-cv-624 (W.D. N.Y. Apr. 28, 2014) demonstrates that a decisionmaker's use such racially derogatory phrases can be used to prove a racially motivated discriminatory discharge.
Employee Claims Fired Because Of Race
In that case, Ola Battle (Battle) brought a race discrimination case against her former employer, Hart Hotels, Inc. (Hart Hotels), pursuant to Title VII of the Civil Rights Act of 1964 (Title VII). Under Title VII, it is an unlawful employment practice to discharge an employee because of his or her race. Battle, who is African-American, claims that her termination was motivated by unlawful race discrimination.
Battle began working at the downtown Buffalo Holiday Inn as a housekeeper in 1993. Hart Hotels owns the Holiday Inn where Battle worked. Battle was eventually promoted to a supervisory position where she was responsible for supervising other housekeepers. In May 2010, the hotel's General Manager, Carroll, sent Battle an email expressing displeasure with the entire housekeeping department. Carroll, who is white, concluded the email by stating that "if things don't change," he would "clean house and start from scratch."
After receiving the email, Battle requested a meeting with Carroll to discuss it. The two eventually met in Carroll's office, where Battle confronted Carroll, disputing the accusations Carroll made in the email. At one point during the meeting, Carroll told Battle that "you people are never satisfied." "You people," Battle believed, meant African-American people. Carroll and Hart Hotels disputed that characterization, claiming that Carroll was referring to the housekeeping department. As a result of the meeting, Carroll fired Battle. At one time, Carroll contended that he fired Battle only after she swore at him during the meeting. During the course of the litigation, however, Hart Hotels maintained that Battle was fired because she "confronted and challenged Carroll about management decisions."
Derogative Phrase Shows Racial Prejudice
Hart Hotels filed a motion with the trial court seeking dismissal of Battle's race discrimination claim. In support of its motion for dismissal, Hart Hotels argued that Carroll's remark, "you people are never satisfied," was not racial in nature and was insufficient to support Battle's claim that she was fired because of her race. The trial court denied Hart Hotels' motion for dismissal and ruled that Battle had presented sufficient evidence to establish that Carroll's decision to fire her was motivated by her race.
In denying Hart Hotels' motion for dismissal, the trial court focused on Carroll's comment "you people are never satisfied." The trial court explained that a reference "connecting 'you people' to an undesirable trait may be construed as a reflection of discriminatory motivation directed toward the [employee]." The trial court also pointed out that Carroll uttered the "potentially racially derogative phrase in the course of a conversation that led to [Battle's] discharge." Thus, the trial court concluded, the remark was "probative" of Carroll's discriminatory state of mind.
The trial court also observed that Hart Hotels proffered inconsistent reasons for Battle's termination. In moving for dismissal of Battle's race discrimination claim, Hart Hotels represented that Battle was fired for "insubordination," which allegedly took the form of Battle "confronting and challenging Carroll about management decisions." This proffered explanation, the trial court pointed out, was contradicted by Carroll himself, and "thereby exposed as a potentially post-hoc litigation-crafted justification." In an email to human resources personnel, Carroll wrote that he fired Battle only after she swore at him during the meeting. In a separate memorandum he drafted shortly after the meeting, Carroll wrote that it was "never my intention during the entire conversation" to fire Battle. These shifting explanations, the trial court observed, "weaken Hart Hotels' credibility and thus weaken its contention that race was not a motivating factor" in Battle's discharge. Based on Carroll's "potentially racially derogatory remark toward Battle in the same conversation in which he ultimately fired her, coupled with the vacillating explanations for her discharge," the trial court concluded, a jury could reasonably find that Battle was fired because of her race.
Consult With Gainesville Discrimination Lawyers
Based in Ocala, Florida and representing employees throughout Central Florida, our Alachua County, Florida race discrimination attorneys have been fighting for employee rights for more than twenty years. If you have been fired on the basis of race or have questions about your protection against racial discrimination in the workplace under the federal civil rights laws, please contact our office for a free consultation with our Gainesville, Florida race discrimination lawyers. Our employment and labor law attorneys take race discrimination cases on a contingency fee basis. This means that there are no attorney's fees incurred unless there is a recovery and our attorney's fees come solely from the monetary award that you recover.