Race Discrimination Lawsuit Claims Worker Was Targeted For Discharge Because Of His Race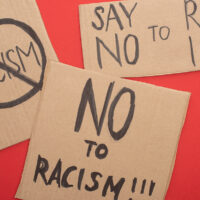 Having represented Florida race discrimination victims for more than twenty years, our Marion County, Florida race discrimination victims' lawyers have learned that the most common form of race discrimination is disparate treatment. As explained by the U.S. Tenth Circuit Court of Appeals in Ortega v. Safeway Stores, Inc., 943 F.2d 1230 (10th Cir. 1991), disparate treatment "occurs where the employer simply treats some people less favorably than others because of their [race] or other protected characteristic."
In most cases, disparate treatment race discrimination occurs when employees of different races engage in the same conduct but the employer only fires an employee of a particular race for engaging in the conduct. In some circumstances, however, disparate treatment race discrimination occurs when employees of a particular race engage in conduct more egregious than the conduct of the terminated employee who is a member of a different race. In this article, our Ocala, Florida race discrimination victims' attorneys explain how the decision in Morgan v. City of Columbus, Ohio,Case No. 2:17-cv-829 (S.D. Ohio Aug. 25, 2020) illustrates that evidence showing that an employer's treatment of a member of a particular race differs from that accorded to employees of a different race is a form of circumstantial evidence used to prove race discrimination.
Employee Claims Fired Because Of Race
In that case, Kevin Morgan (Morgan) filed a race discrimination lawsuit against his former employer, the City of Columbus, Ohio (the City), pursuant to Title VII of the Civil Rights Act of 1964 (Title VII). Under Title VII, employees are protected from race discrimination in employment decisions. Morgan, who is African-American, claims that the City violated Title VII by firing him because of his race.
From July 2002 until September 2015, Morgan was a police officer with the Columbus Police Department (CPD). During his employment, Morgan engaged in several "special duty" activities, in which he performed police duties for private businesses and property owners. One of his assignments was an office complex, where he began working in early 2013. The coordinating officer for special duty assignments, Roberts, asked Morgan to work at the office complex on Wednesdays, and Morgan understood that he could work on different days depending on family obligations. At first, Morgan would notify Roberts when he needed to switch shifts. Roberts stated that the reporting was an honor system, in which each officer was responsible to work the shift they were scheduled. Roberts would submit invoices on behalf of an officer once a shift took place unless he was notified of a change.
Members Of Different Race Treated Better
At a certain point, Morgan stopped notifying Roberts of his shift changes. On a number of occasions, he also failed to notify the CPD radio room of the start of his special duty shifts. In November 2013, the property manager of the office complex contacted Roberts saying she was looking for Morgan on his regularly scheduled Wednesday shift but could not find him. Two days later, Roberts notified Morgan that the office complex no longer wanted Morgan working as a special duty officer and removed him from the schedule. Morgan was relieved of duty and assigned to the administrative office of the CPD, where he remained until he was fired almost two years later.
The CPD began a criminal inquiry into Morgan's conduct. The assistant county prosecutor declined to prosecute, concluding that there was insufficient evidence to disprove any claim by Morgan that he had, in fact, worked other days and hours than his regular Wednesday shift. After the conclusion of the criminal inquiry, the CPD began an internal disciplinary investigation. Based on its internal investigation, the CPD concluded that Morgan did not report for duty for eleven entire shifts and five partial shifts at the office complex. Based on this finding, the City fired Morgan for time infractions.
Morgan produced evidence that white officers also committed time infractions. However, the white officers, unlike Morgan, were not fired. In many instances, the white officers' offenses were considered more serious given their higher rank and the greater number of hours of work they missed. When they were charged with time infractions, the white officers were also allowed to continue working and were not relieved of duty while being investigated. In contrast, Morgan had to surrender his firearm and badge when he was being investigated for time infractions.
Differences In Treatment Reflect Race Discrimination
The City filed a motion with the trial court seeking dismissal of Morgan's race discrimination claim. In doing so, the City argued that it had a legitimate, non-discriminatory reason for firing Morgan: he falsely claimed to be working a special duty job. The trial court denied the City's motion for dismissal and ruled that Morgan's evidence was sufficient to proceed to trial on the issue of whether Morgan was fired because of his race in violation of Title VII.
In denying the City's motion for dismissal, the trial court focused on evidence showing that white officers who engaged in the same conduct as Morgan, and in some cases more egregious misconduct than Morgan, were not fired. Because the white officers' conduct "was at least as serious as Morgan's," the trial court explained, a reasonable jury could find that Morgan was treated differently and less favorably because of his race. In other words, the trial court reasoned, because the CPD treated Morgan more harshly than white officers when they engaged in the same conduct, a reasonable jury could conclude that Morgan's race was the real reason for the differences in treatment and termination.
Ocala, FL Lawyers For Race Discrimination Victims
Based in Ocala, Florida and representing employees throughout Central Florida, our Marion County, Florida race discrimination victims' attorneys have dedicated their practice to fighting for employment discrimination victims. If you have been the victim of race discrimination or have questions about your protection against race discrimination under the federal labor laws, please contact our office for a free consultation with our Ocala, Florida race discrimination victims' lawyers. Our employees' rights law firm takes race discrimination cases cases on a contingency fee basis. This means that there are no attorney's fees incurred unless there is a recovery and our attorney's fees come solely from the monetary award that you recover.